Huawei Unveils the Huawei Mate 9
2016-11-21
Munich – November 3, 2016. Huawei Consumer Business Group unveiled the highly anticipated Mate 9, at an exclusive global launch event. Building on Huawei's success in delivering beautifully-designed, powerful mobile devices, the newest member of the Mate Series provides users with an all-new Android experience – featuring the Kirin 960 for the fastest computing performance, Super-Charge technology, a second generation Leica dual-lens camera and a stunning new UX.
.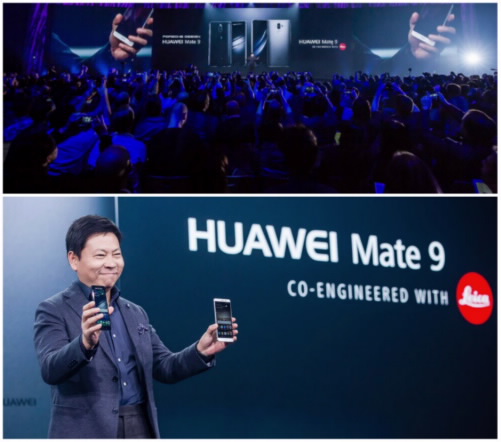 Richard Yu, CEO, Huawei Consumer Business Group unveils the Huawei Mate 9, the newest addition to Huawei's Mate lineup.
.
"In developing the HUAWEI Mate 9, we started with a simple question – how can we improve every element of the smartphone experience?" said Richard Yu, CEO, Huawei Consumer Business Group. "We know that for today's business users, a fast and functional smartphone is just the beginning. Consumers also want a gorgeous design and intuitive features, so we created a new device at the forefront of hardware and software innovation. The result is a device that is breathtakingly new, inside and out."
.
Event attendees get hands-on with the all-new Huawei Mate 9.
.
Key features of the Huawei Mate 9 include:
-The new Kirin 960 chipset, the world's highest performing mobile phone processor*.
-EMUI 5.0, an intuitive user interface that streamlines that users' experience with the Android OS.
-SuperCharge technology, delivering a full day's battery charge in just 20 minutes.
-A dual-lens Leica camera with a 12-megapixel RGB sensor, 20-megapixel monochrome sensor and Hybrid Zoom, for a superior smartphone photography experience.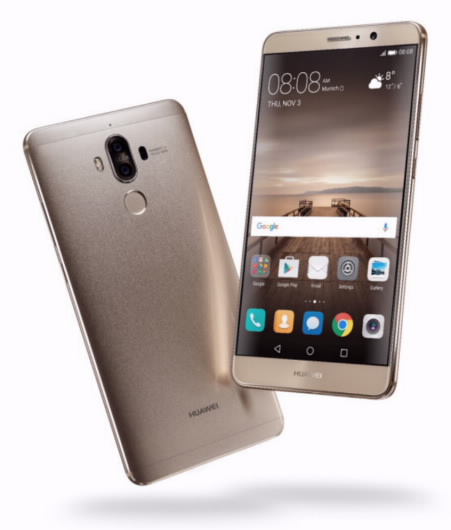 Mate 9 features the Kirin 960 for the fastest computing performance, superior battery life, a ground-breaking dual-lens Leica camera and a stunning new UX.
.
Maximised Performance and Speed with Kirin 960
The Kirin 960 is the world's first chipset to feature an ARM Cortex-A73/A53 Octa-core CPU and Mali G71 Octa-core GPU. The CPU reduces power consumption by 15%, with its GPU boosting energy efficiency by 40% as compared to its predecessor. Graphics performance is also improved by up to 400%.
The Android Experience Reimagined
The newest iteration of Huawei's EMUI interface reimagines the Android operating system to improve the Mate 9's aesthetics and functionality. With EMUI 5.0, the Huawei Mate 9 becomes more intelligent and efficient over time by understanding consumers' behaviour patterns, and ensures that highest priority applications are given preference subject to system resources.
A Safe, Faster-Charging Battery
The Huawei Mate 9 incorporates a 4,000 mAh battery with Huawei's new SuperCharge technology, delivering over two days of uninterrupted performance. This includes a 20% increase in gaming time and a 40% increase in call time.
The Huawei Mate 9's Super-Charge technology enables a 50% improvement over the previous generation, providing enough battery power to watch two movies from 10 minutes on charge, or a full day's use within only 20 minutes.
A New Standard for Smartphone Photography
Following the success of the Huawei P9, the Huawei Mate 9 features the second generation dual-lens camera co-engineered with Leica. The Mate 9's improved camera module includes a 12-megapixel/F2.2 RGB sensor and a 20-megapixel/F2.2 monochrome sensor, which capture both true-to-life colours and depth. When paired with the leading dual-lens Optical Image Stabilisation (OIS) solution and the industry's first dual-camera pixel binning technology, the Huawei Mate 9 has superior night shot capabilities.
*Geekbench 4.0.0 multi-core CPU performance and DDR performance.
- ENDS -
About Huawei Consumer Business Group

Huaweis products and services are available in more than 170 countries and are used by a third of the world's population, ranking third in the world in mobile phone shipments in 2015. Sixteen R&D centers have been set up in the United States, Germany, Sweden, Russia, India, and China. Huawei Consumer Business Group is one of Huaweis three business units and covers smartphones, mobile broadband devices, home devices and cloud services. Huaweis global network is built on 20 years of expertise in the telecom industry and is dedicated to delivering the latest technological advances to consumers around the world.