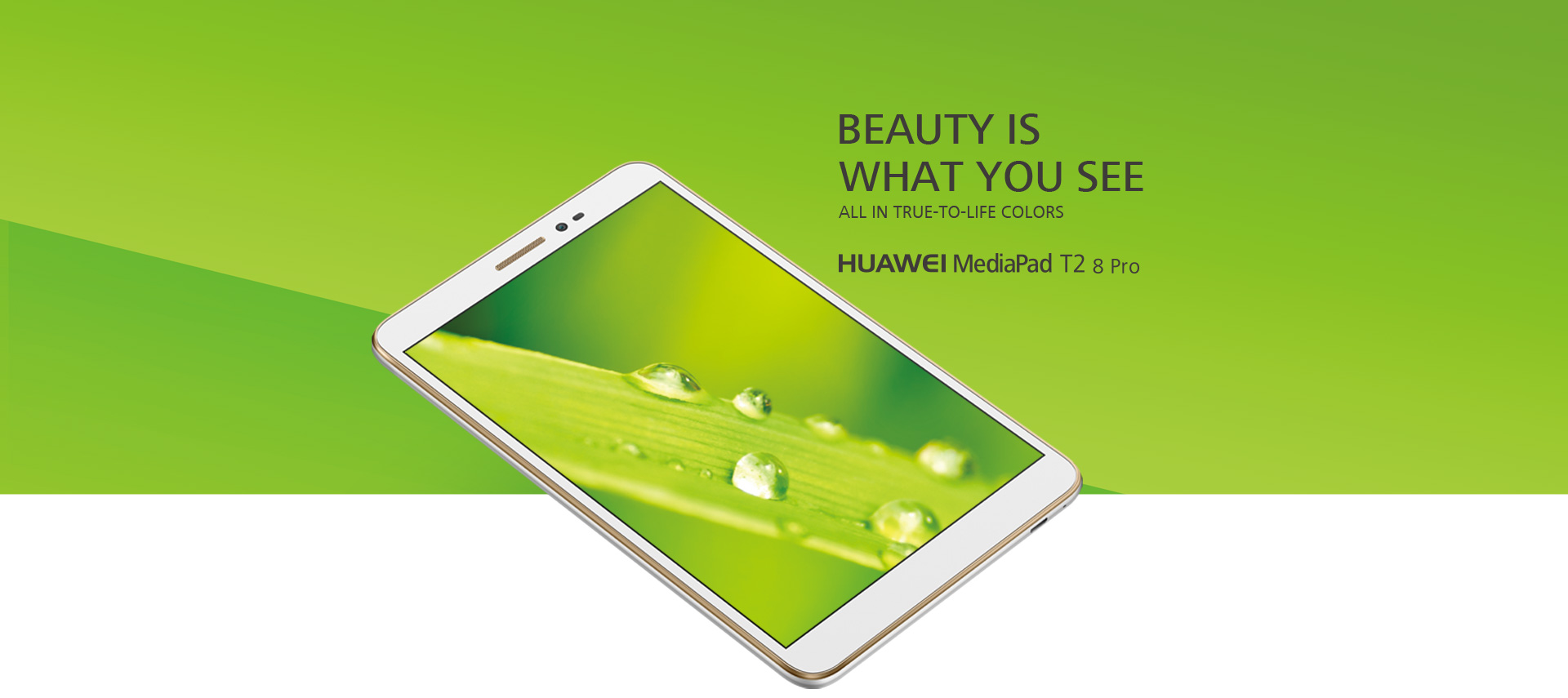 DESIGN FROM THE CORE
DESIGN FROM THE CORE
The Huawei MediaPad T2 8 Pro is beautiful from the inside out. Its elegant design combines a natural, pleasant look with ergonomic comfort. The thin, lightweight, and inspired by purity minimalistic design reaches the point of perfect balance between simplicity and function.

SHARP, VIVID, PERFECT
SHARP, VIVID, PERFECT
Watch images and video come to life, right before your eyes, on the 8-inch Full HD IPS display. This high resolution display is designed to support a clearer, crisper picture, and delivers sharper, lifelike video performance.

CLARITY, IN A FRAME
CLARITY, IN A FRAME
The ClariVu Super Resolution technology enhances color, creating a lifelike visual experience. Sharp and vivid, the viewing experience with the Huawei MediaPad T2 8 Pro is sure to be a delight. The eye-care mode filters out harmful blue light, reducing eye strain, even late at night. The dynamically adjusted lighting helps compensate for glare, making your experience with the Huawei MediaPad T2 8 Pro picture-perfect.

PERSISTENT EXCELLENCE
PERSISTENT EXCELLENCE
The Huawei MediaPad T2 8 Pro will be your faithful companion for hours. Whether for work or play, the high-capacity 4800 mAh battery gives you long-lasting performance. This device delivers 450 hours of standby time, 11 hours of uninterrupted HD video playback, and almost 5 hours of continuous 3D gameplay.*(Date is based on Huawei methods and usage models.) Enjoy your entertainment with the option of a beautiful leather cover.*(The HUAWEI MediaPad T2 8 Pro leather will be sold separately.)

POWER, FAST
POWER, FAST
Exceptional performance of the Qualcomm® Snapdragon™ processor allows multitasking with multi-screen capability. The high-speed connection hardware gives you speed and almost instant access to what you love.

LIFE, IN HD
LIFE, IN HD
Never let a moment go to waste. With the HD photo technology, the MediaPad T2 8 Pro lets you create beautiful photos with its 8MP camera, capable of wide F2.0 aperture.