2020/09/10
Huawei expands all-scenario product portfolio with six new products
Themed 'Innovation Inspires Serendipity,' Huawei's new product global launch event unveils new all-scenario products that make life easier and smarter
Huawei Consumer Business Group (BG) today hosted the Huawei Seamless AI Life New Products Global Launch event, where the company announced six new products1 that further enrich the 1+8+N all-scenario ecosystem.
The new products revealed during today's keynote include: HUAWEI MateBook X and HUAWEI MateBook 14, two new lightweight notebooks that revolutionise mobile productivity with compact form factors and smart experiences enabled by the innovative Huawei Share feature; HUAWEI FreeBuds Pro and HUAWEI FreeLace Pro, new pro-variants of the highly acclaimed audio products featuring improved Active Noise Cancellation (ANC), new designs and user-centric features; HUAWEI WATCH GT 2 Pro and HUAWEI WATCH FIT, the latest entries to Huawei's wearable product line-up with striking aesthetics, new fitness data tracking features and workout modes.
During the keynote, Huawei also reaffirmed its commitment to the All-scenario Seamless AI Life Strategy and working with partners to nurture the 1+8+N ecosystem. The products launched today are all designed to bring a more cohesive connected experience to consumers in their everyday lives, in scenarios ranging from work, health and fitness to audio entertainment, echoing Huawei's mission to build a better connected world.
Richard Yu, Executive Director and CEO of Huawei Consumer BG, said: "Great user experiences are always founded on innovation, but our journey of innovation always begins and ends with consumers. In future, we will continue working with our valued partners to offer more smart and high-quality experiences to consumers worldwide."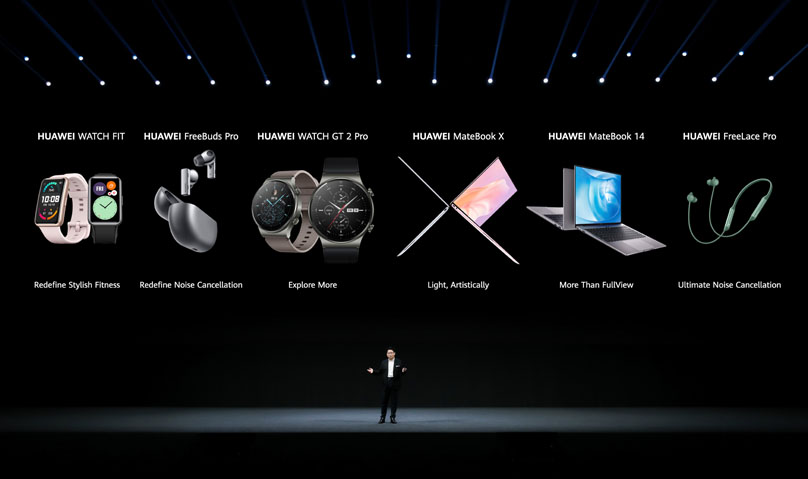 HUAWEI MateBook X & HUAWEI MateBook 14: mobile productivity redefined
The latest entry to Huawei's flagship PC product line, HUAWEI MateBook X combines the flagship series' iconic design and innovative technology with improved lightweight design and smart features. Weighing just 1 kg2, the lightweight notebook measures just 13.6 mm3 at its thickest part and is smaller than a piece of A4 paper, so users can easily slide it into a backpack and carry it with them wherever they go.
The new HUAWEI MateBook X is the first notebook to feature the 3K Infinite FullView Display4, realised with a borderless design that offers an immersive viewing experience and stunning image quality. The display is also multitouch-enabled with gesture support such as Fingers Gesture Screenshot, which lets users quickly take a screenshot by swiping downwards on the screen with three fingers, as easy as it is on a smartphone.
Based on Huawei's distributed technology, the improved Multi-screen Collaboration5 adds even more versatility to the HUAWEI MateBook X, allowing users to more seamlessly tap into the capabilities of multiple devices at once. Accessing the feature is easier than ever with the Huawei Share tag now embedded into the improved touchpad. Users can control both the PC and a paired smartphone on a single screen, make video or audio calls on the notebook, transfer files between the devices or even edit files saved on the smartphone directly using the PC. Huawei smartphone users can also take advantage of Instant Hotspot to connect their notebook to Internet via tethering6.
Powered by a 10th Generation Intel® Core™ processor, the new flagship notebook delivers the performances needed for daily tasks. The touchpad is 26 percent larger compared to the previous generation for better ease-of-use, and now features HUAWEI Free Touch to offer full haptic feedback. The new full-size keyboard features scissors switches that offer 1.3 mm of key travel to make typing a joy, and comes with two tweeters and woofers forming a quad-speaker sound system that provides immersive surround sound right in front of the user.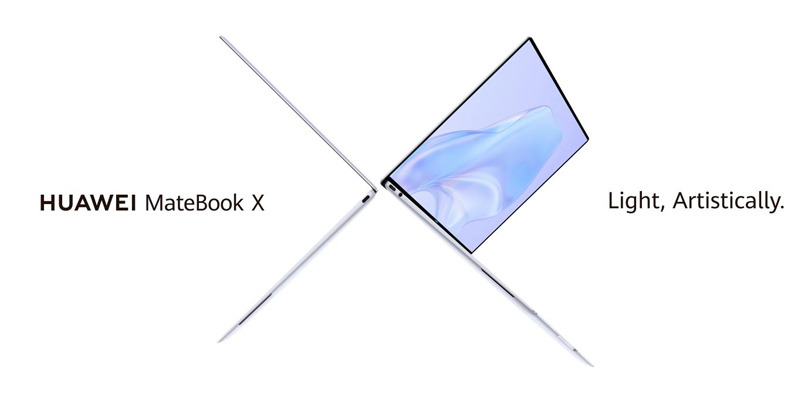 HUAWEI MateBook X is also the first Huawei notebook to support Wi-Fi 6, which features three times the data transfer speed7 of Wi-Fi 5 for faster connectivity and better productivity.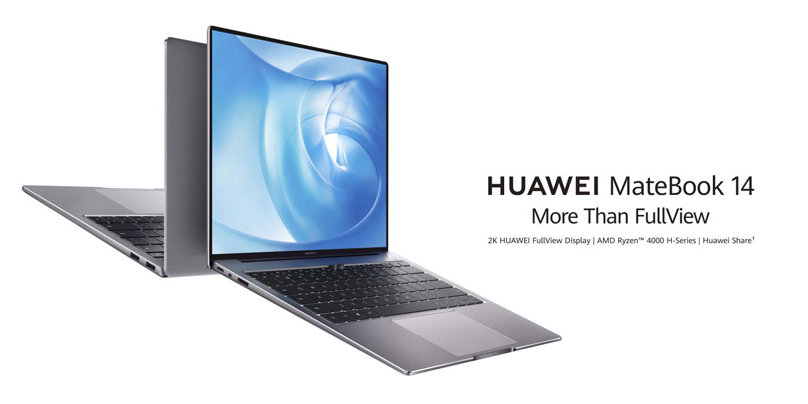 During the virtual launch, Huawei also unveiled HUAWEI MateBook 14. Featuring a highly portable design and powerful performance, HUAWEI MateBook 14 integrates the AMD Ryzen 4000 H Series processor, with HUAWEI Shark Fin Fans delivering superior thermal performance even under intense workloads. Besides performance, it has a 2K HUAWEI FullView Display8 and supports smart features including Multi-screen Collaboration to help consumers stay productive on the road.
HUAWEI FreeBuds Pro: ANC and immersive audio on demand
HUAWEI FreeBuds Pro is the world's first true wireless stereo (TWS) earphones to support intelligent dynamic noise cancellation. Featuring a hardware and software integrated solution, the new TWS earphones intelligently identify the type of ambient noise based on the user's immediate surroundings and switch between three profiles – General, Cosy and Ultimate – to offer the optimal noise cancelling performance. Further, HUAWEI FreeBuds Pro delivers the best noise cancelling performance yet on a Huawei audio product with an industry-leading noise cancellation rating of 40 dB9 . Dual Connection with Android, iOS and Windows smart systems means users can seamlessly switch between devices without being tied to one brand, and the new gesture control enables users to easily take control of the earphones by performing a swipe or a pinch on the cubic earphone stem.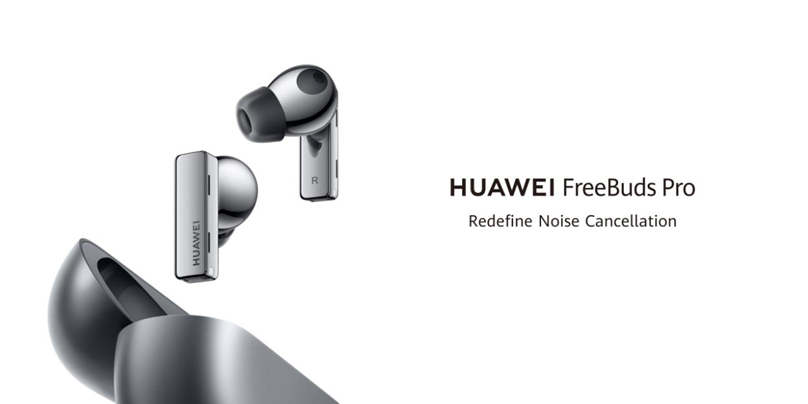 HUAWEI WATCH GT 2 Pro & HUAWEI WATCH FIT: practical pro-grade features for everyday use
Huawei continues to expand the HUAWEI WATCH family with new products that are steeped in innovations that add scientific flair to make keeping fit and healthy easy.
The new HUAWEI WATCH GT 2 Pro not only come with features that consumers have come to love on the HUAWEI WATCH GT Series, the elegantly modern smartwatch also offers up to two weeks of battery life, more than 100 workout modes, plus pro-grade fitness data tracking features.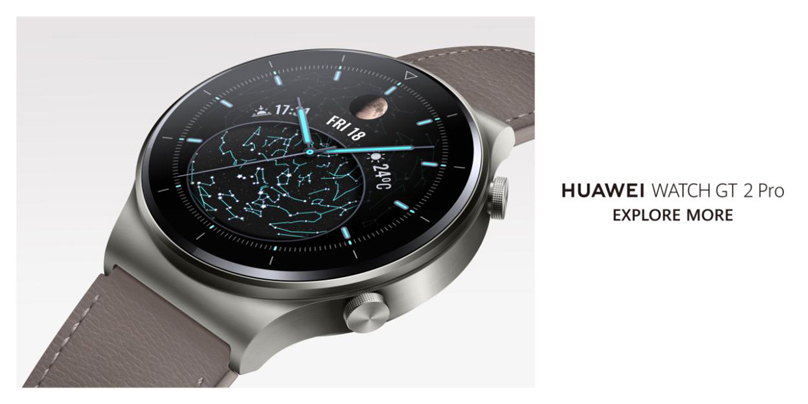 Health tracking features are at their most advanced yet with the upgraded HUAWEI TruSeen™ 4.0+ providing more accurate heart rate readings. Huawei has introduced new workout modes including Skiing, Cross Country Skiing, Snowboarding and Golf Driving Range. These join the existing range to provide users with real-time performance tracking and analyses for professional sports.
The new flagship smartwatch launches with a rugged design featuring premium materials, including a sapphire watch crystal, titanium case and skin-friendly ceramic case back that combines with another sapphire glass black to enhance monitoring accuracy and wearing comfort. Additionally, HUAWEI WATCH GT 2 Pro supports apps to provide a convenient means for users to get even more features. Huawei also plans to further augment the smart experience on offer in the future.
Launched alongside the HUAWEI WATCH GT 2 Pro, the HUAWEI WATCH FIT is the first Huawei sports smartwatch to feature a rounded rectangular watch face design. The smartwatch combines a dazzling 1.64-inch AMOLED HD display, which lends itself to displaying more content and a better interaction experience. At 34 g, the HUAWEI WATCH FIT feels as light as a sports wristband. While compact, the smartphone supports up to 10-day battery in typical scenarios10. HUAWEI WATCH FIT also supports Huawei's fast charging technology. Five minutes of charging can provide enough charge to sustain the smartwatch for an entire day ical scenarios11.
The watch features newly upgraded HUAWEI TruSeen™ 4.0 heart rate technology provides more accurate, 24-hour heart monitoring to track changes in blood oxygen, sleep and stress conditions. All the data is also analysed to generate fitness advice that helps users lead better, healthier lives.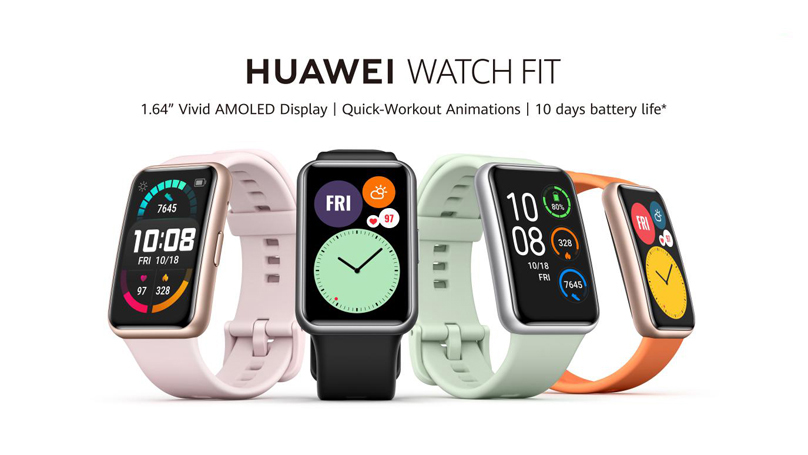 HUAWEI WATCH FIT is the first Huawei smartwatch to support Quick-workout Animations12. By combining 44 standard fitness routines (including fat burn, shoulder muscle relief, body sculpting and other routines) into 12 animations, this feature provides a quick and easy way for users to work out at a moment's notice. HUAWEI WATCH FIT offers 13 running classes that are specifically tailored for jogging enthusiasts. Running pace is analysed scientifically with results provided in real time to help users optimise their workout. Further, as the ideal outdoor companion, the smartwatch comes with 96 workout modes, built-in GPS and 5ATM water resistance.
HUAWEI FreeLace Pro
Also announced during the event, the new HUAWEI FreeLace Pro offers great audio and a stylish design. Supporting noise cancellation up to 40 dB, the neckband earphones take advantage of industry-leading algorithms to provide stable noise cancelling performance in any situation. HUAWEI FreeLace Pro features a pair of 14 mm aluminium-magnesium alloy dynamic drivers with bass tubes to offer the high fidelity audio for the ideal listening experience. Pairing and charging are as seamless as ever with HUAWEI HiPair13, a Huawei-developed solution that lets users easily do both at the same time by plugging the earphones to smartphone with a USB-C port. A five-minute charge gives enough battery to sustain five hours of music playback, and a full charge offers a full day's use14.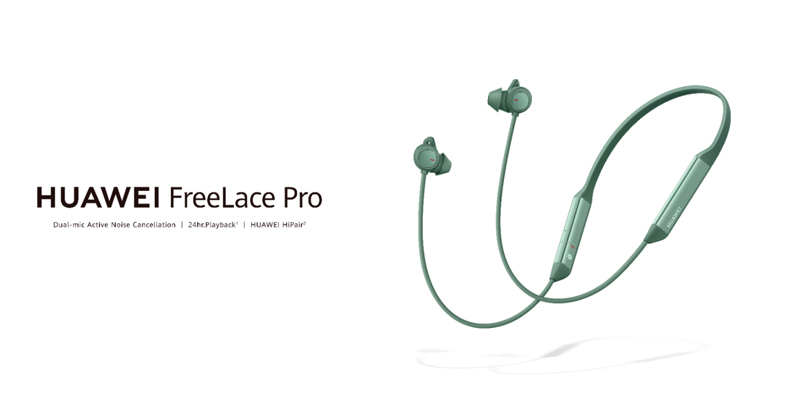 1.Measurements of product dimensions are obtained from Huawei labs.
2.Data obtained from Huawei labs. Actual measurement may vary due to manufacturing tolerance and difference in measurement methods. For reference only.
3.Laptop feet not included. Actual measurement may vary due to manufacturing tolerance and difference in measurement methods. For reference only.
4."Infinite FullView Display" is defined as Huawei's borderless display design. Borderless displays refer to displays with ultra-slim bezels and feature high screen-to-body ratio.
5.Multi-Screen Collaboration supports connection between Huawei notebooks and smartphones. Devices connected must meet system requirements. For more information, please visit https://consumer.huawei.com/en/support/huaweishare/
6.Requires a supported Huawei smartphone.
7.Source: Intel.
8.Multi-touch support is available as an option. Feature availability may vary by region.
9.Data obtained from real-person based model tests conducted in Huawei laboratory. 40 dB is the maximum of noise cancellation. Actual effect may vary depending on the user's ear size, the ear tips used, ear canal structure, wearing position, user status (chewing, exercising etc.) and other conditions.
10.Data obtained from Huawei labs. The smartwatch supports a 10-day battery life with typical use and 7-day battery life with heavy use. Typical and heavy use cases are defined on Huawei's official website.
11.Data obtained from Huawei labs. Typical and heavy use cases are defined on Huawei's official website.
12.Feature will be enabled by a Huawei OTA update. Please stay tuned to Huawei's official website for more information.
13.The HUAWEI HiPair feature is only supported on USB-C port devices of certain editions running EMUI 9.1 or later. For details please check the official website.
14.Data obtained from Huawei labs. Actual battery life may vary depending on user behaviours and environmental factors.