2020/11/19
Dystopia: Contest of Heroes Launches Exclusively on AppGallery
Beetroot Lab turns to Huawei for official game launch featuring former UFC champion Conor McGregor as in-game character
Huawei, the leading global technology company, has announced that Beetroot Lab, the growing independent game development studio, is launching its new post-apocalyptic, cyberpunk style game, Dystopia: Contest of Heroes exclusively on the AppGallery.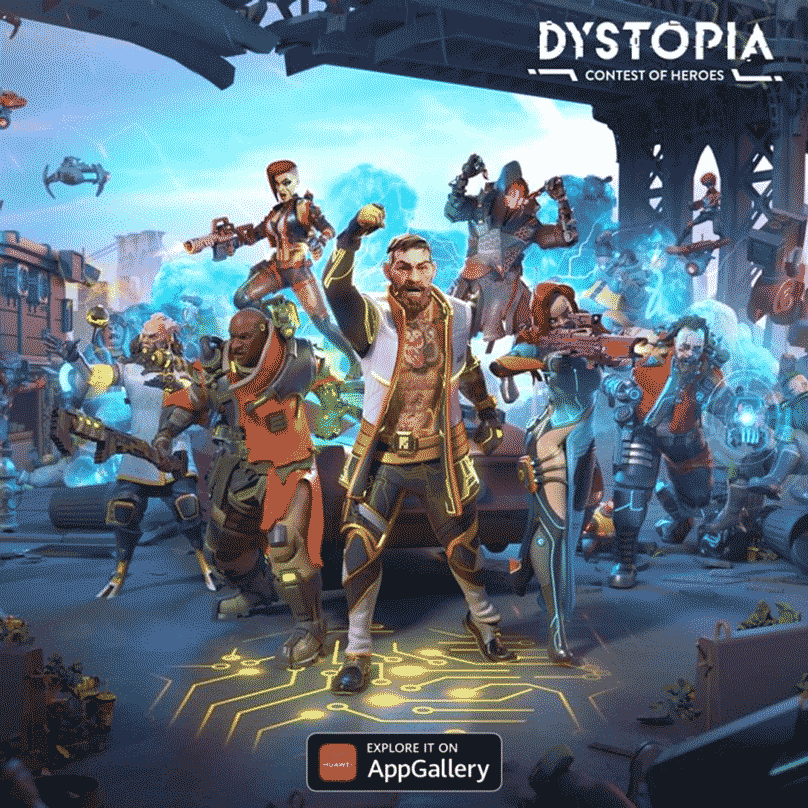 Dystopia: Contest of Heroes is a free-to-play, multiplayer combat game featuring high quality, intense colour graphics and a collection of fully customisable 3D heroes with player-controlled abilities. Set in a dystopian New York in 2065, the objective of the game is for players to build an empire by taking over districts and collecting sci-fi themed gear, to manage raids on other players and build social alliances.
A key feature of this strategy title, which has been three years in development, is a series of in-game tournaments which allow multiple players from all over the world to compete. This is further enhanced by an annual tournament, hosted by the game's brand character Conor McGregor*, the Irish professional mixed martial artist and boxer, and former UFC champion.
Huawei is working in close partnership with Latvia-based Beetroot Lab and supporting the launch of the game across its AppGallery platform worldwide. The game is exclusively available to new Huawei customers before becoming available on other platforms, and users will be encouraged to install through a recommended app prompt.
"We are very excited to partner with Huawei AppGallery, and appreciate their huge interest in helping us to globally launch our latest mobile strategy title: Dystopia: Contest of Heroes," said Davis Ziedins, Co-Founder and Business Developer of Beetroot Lab. "Having the well-known celebrity Conor McGregor as our business partner and the face of our game, puts a huge responsibility on our shoulders, so it is important to be working with a trusted technology partner like Huawei, which is bolstering every step of our integration, on-boarding and user acquisition."
Currently, AppGallery is available in more than 170 countries with 500 million monthly active users globally.
The game is now available on AppGallery or can be downloaded here.
-Ends-
*Multi-year agreement between Conor McGregor, Beetroot Lab and Paradigm Sports Management.
About AppGallery
AppGallery is a smart and innovative ecosystem that allows developers to create unique experiences for consumers.  Our unique HMS Core allows apps to be integrated across different devices, delivering more convenience and a smoother experience – and this is part of our wider 1+8+N strategy at Huawei. With the AppGallery, our vision is to make it an open, innovative app distribution platform that is accessible to consumers, and at the same time, strictly protect users' privacy and security while providing them with a unique and smart experience. Being one of the top three app marketplaces globally, AppGallery offers a wide variety of global and local apps across 18 categories including navigation & transport, news, social media, and more. AppGallery is available in more than 170 countries and regions with 500 million monthly active users globally. Total annual downloads from AppGallery have reached 294 billion times.
For regular updates on AppGallery, follow us on:
URL: https://consumer.huawei.com/en/mobileservices/appgallery/
Facebook: https://www.facebook.com/AppGalleryOfficialPage/
Twitter: https://twitter.com/AppGallery
Instagram: https://www.instagram.com/_appgallery/
YouTube: https://www.youtube.com/channel/UCjy9p6PfO_jNqlRSrl4tUog/featured
LinkedIn: https://www.linkedin.com/company/huawei-app-gallery/
About Beetroot Lab:
Beetroot Lab is a privately held company founded in 2014 in Riga, Latvia, specializing in the field of mobile game development on iOS and Android platforms. 
In 6 years Beetroot Lab has built a team of 25+ experienced professionals covering all areas of game development and published more than 100 games that have been published across Google Play and Apple App Store in partnerships with casual game publishers.