2020/11/30
Huawei presents extended warranty and free logistics fee postal repair service
As part of Huawei's commitment to customer service, consumers can take advantage of one of two special offers: free extension of warranty and free logistics fee postal repair service for all in-warranty devices.
In order to ensure the best experience throughout the lifespan of Huawei products, Huawei is continuously developing software, sharing updates, and providing services that help keep smartphones in the best possible condition.
"We are introducing these special offers in order to provide the best service for consumers and keep them connected during this challenging time. This is part of Huawei's mission to bring people together through technology," said Simon Li, Head of Huawei Canada, Consumer Business Group.
Extend warranty for three months
Warranty on all HUAWEI products, including handsets, PCs, tablets, wearables, audio and router devices, whose original warranty is due to expire between Nov 28, 2020 and Feb 28, 2021, will be extended to Mar 1, 2021.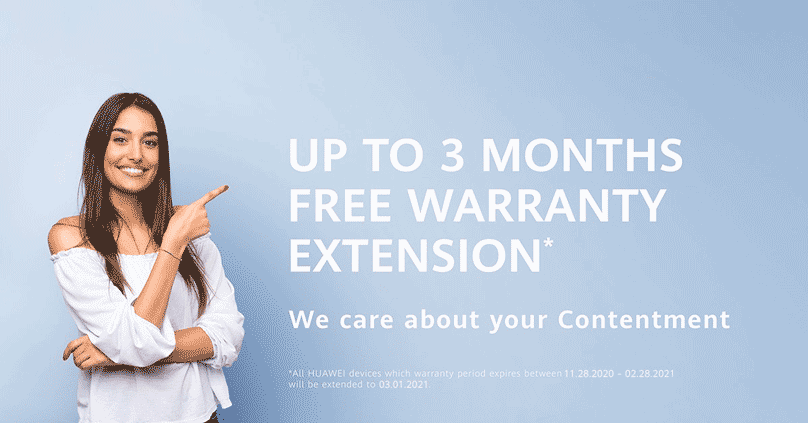 For any device meeting criteria above, the warranty will be extended to Mar 1, 2021 automatically. All other terms and conditions of the warranty will remain unchanged.
Free logistics fee postal repair service
Consumers can also apply for free logistics fee postal repair service from December 15, 2020 – January 31, 2021. Huawei postal repair service is available for all HUAWEI devices (for warranty and non-warranty repairs). Door to door service is free of charge. Huawei devices will be picked up by a courier and taken to the service center. After repair, cleaning and disinfection is applied to each device according to professional specifications. All logistics, including shipment is free for consumers.
Service can be applied for in the following ways:
● In the Huawei Support app
● On Huawei's official website https://consumer.huawei.com/ca/support/
● Through the Huawei hotline at 1-888-5HUAWEI(1-888-548-2934)
The service covers all Huawei devices including: smartphones, laptops, tablets, smartwatches, routers and modems.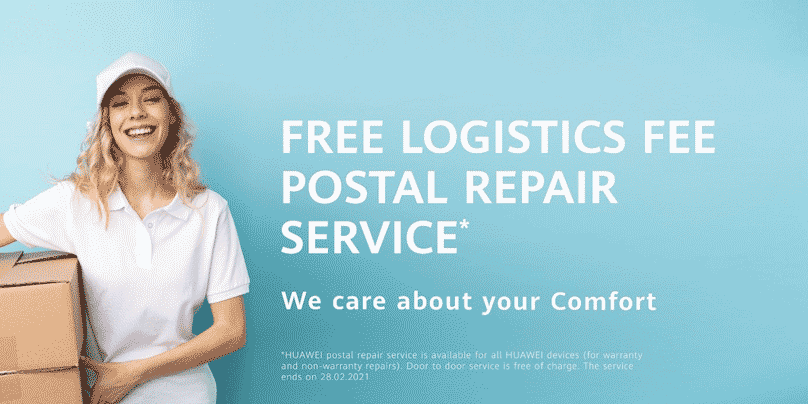 Up to 50% off during annual giving season
Huawei is offering Canadian consumers up to 50% off for screen & mainboard replacement and free cleaning & disinfection. This service is available from December 15, 2020 – January 31, 2021.
Free disinfection in Huawei service centers.
Meanwhile, if consumers decide to visit the service center in person, Huawei will provide disinfection for free. To find the available service centers in Canada, click here. This service is available from December 15, 2020 – January 31, 2021.
About Huawei Consumer BG and Huawei Canada
Huawei is the second largest smartphone manufacturer in the world, with operations in more than 170 countries. In addition to smartphones, Huawei's Consumer offerings include PCs, tablets, wearables, audio and IoT products. Huawei has been operating in Canada since 2008, and is committed to providing leading-edge technology to Canadian operators, customers and consumers.
For more information please contact:
Lauren Khalil
Public Relations Manager
lauren.khalil@huawei.com
519-999-4693