2019/03/29
Huawei Consumer Business Group Announces 2018 Business Results
In our Consumer BG, everything we do begins and ends with consumers. In 2018, we carried on our commitment to creating value for our consumers through innovation, striving to deliver an inspired, intelligent experience across all scenarios.
Our hard work has paid off. We have reinforced our position as a premium global brand. In 2018, revenue from our consumer business was CNY348852 million, a year-on-year increase of 45.1%.
Creating consumer value through innovation and pursuing an inspired experience
Huawei's Consumer BG is committed to creating value through non-stop innovation. We have achieved many breakthroughs in domains such as device performance, photography, artificial intelligence (AI), communications capabilities, and design. With significantly enhanced competitiveness and experiences, our products have been well received by mainstream media and consumers the world over.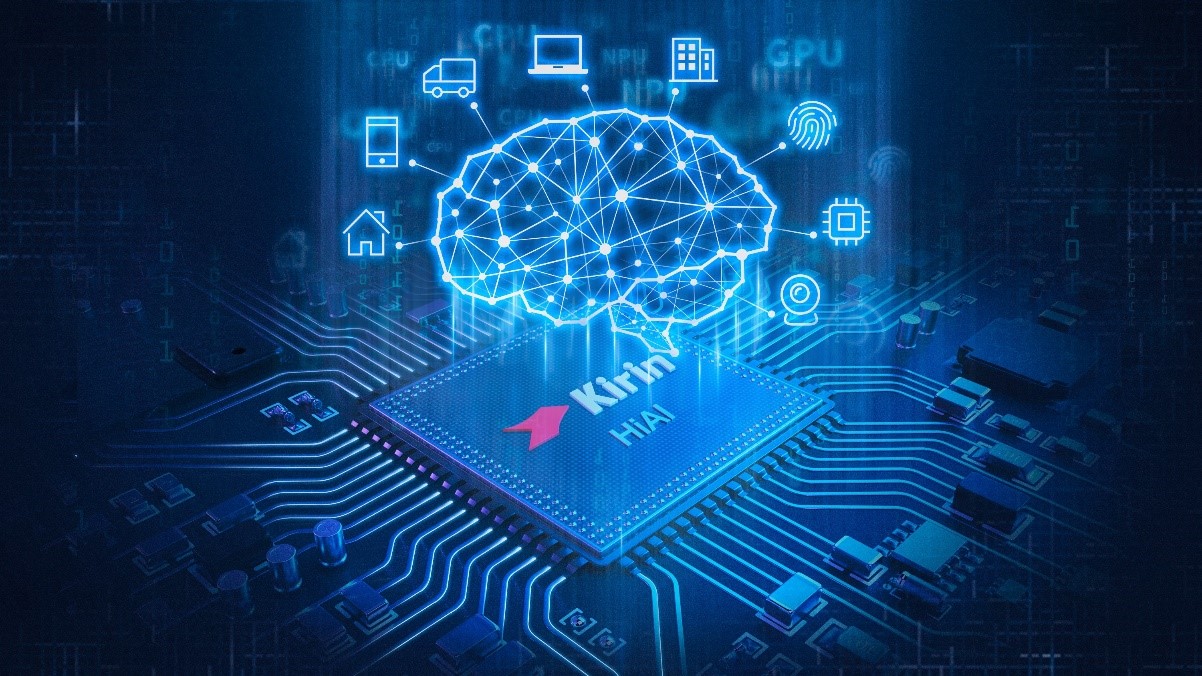 Manufactured using the 7nm process, the Kirin 980 chipset fits 6.9 billion transistors within a die the size of a fingernail. Huawei has designed an innovative 3-level efficiency architecture that consists of two ultra-large cores, two large cores, and four small cores. This grants the CPU the flexibility to allocate the optimal amount of resources to heavy, medium, and light tasks for unprecedented levels of energy efficiency, simultaneously improving the performance of phones and enhancing battery life.
Some major breakthroughs we achieved in 2018 include:
• Kirin 980: Manufactured using the advanced 7nm process and incorporating the powerful Cortex-A76-based CPU and Mali-G76 GPU, our Kirin 980 chipset offers improved energy performance and an unprecedented smooth user experience, making smartphones smarter than ever.
• GPU Turbo: This revolutionary graphics processing acceleration technology overcame the processing bottlenecks between Huawei's EMUI operating system and smartphone GPUs / CPUs. It makes graphics processing much faster and enables the System on a Chip (SoC) to use less energy, achieving an optimal balance between performance and power consumption.
• Leica triple camera: Supported by AI, this camera redefines intelligent smartphone photography, allowing anyone to effortlessly capture professional-quality images.
• Cooling: The HUAWEI SuperCool system uses a combination of graphene film and vapor chambers to deliver outstanding cooling performance. The CPU and GPU can remain at full throttle for an extended period of time and deliver a maximally smooth and enjoyable gaming experience.
• Charging: Our three cutting-edge charging technologies – 40 W HUAWEI SuperCharge, 15 W quick wireless charging, and reverse wireless charging – have received security certifications from TÜV Rheinland, providing users with rapid and safe charging.
Further reshaping the global high-end market with strong flagship smartphone performance
Thanks to these innovations, Huawei's flagship smartphones, including the HUAWEI P20 Series, HUAWEI Mate 20 Series, and HUAWEI Mate 10 Series, have spearheaded overall growth across our entire smartphone portfolio, and won extensive acclaim from mainstream media and authoritative industry organizations worldwide.
The HUAWEI P20 Series and HUAWEI Mate 20 Series respectively won 23 and 16 prestigious annual awards from top international tech media and authoritative industry organizations. The HUAWEI P20 Pro received the highest score ever received by a phone from DxOMark, an independent website that scientifically assesses the image quality of smartphones, lenses, and cameras. The HUAWEI Mate 20 Pro was selected as the Most Exciting Smartphone of 2018 by British gadget magazine Stuff.
The HUAWEI Mate 20 Series leads industry innovation in multiple areas, including AI, performance, battery life, charging, camera function, and appearance. Global shipments of the HUAWEI Mate 20 Series exceeded 5 million units within just two months of launch.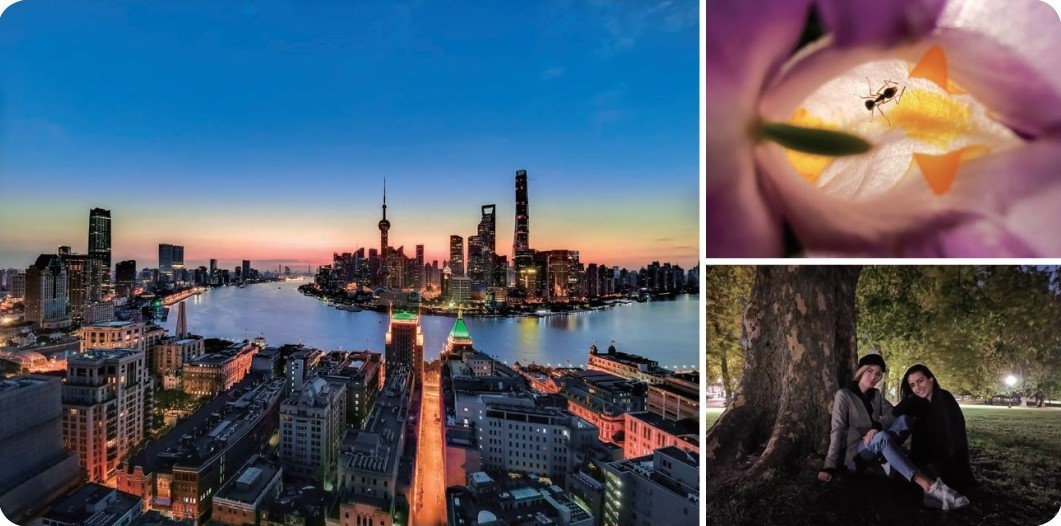 The HUAWEI Mate 20 Pro comes with the 16 mm Leica Ultra Wide Angle Lens. This wider perspective creates a sense of spaciousness and a three-dimensional effect in the images. The new camera system also supports macro distance, which produces crisp images of objects that are placed as close as 2.5 cm from the lens. The added ultra-wide angle lens and macro support complete the feature set of the camera system, elevating it to a truly all-around camera that is ready to capture any and all action. Left: the Bund in Shanghai, taken with the Leica Ultra Wide Angle Lens (By Fang Zhonglin); upper right: flowers and ants taken with the macro mode (By Cheng Bin); lower right: portraits taken in dark light (By Li Xin)
The HUAWEI P20 Series takes smartphone photography to a whole new level. By the end of 2018, total shipments had exceeded 16 million units, setting a new sales record for Huawei flagship phones.
According to the GfK POS Measurement report, Huawei / Honor increased it`s sales units based market share in the global premium Smartphones segment +600 USD from 8.4% in December 2017 to 14.0% in December 2018.1
Exploring the beauty of technology and winning over fashion-conscious female consumers and young consumers
In 2018, Huawei's Consumer BG studied the habits and preferences of female and young users and explored how to combine technology with fashion and art. We have won over fashion-conscious female consumers and young consumers and expanded our user base.
The HUAWEI P20 Series features an all-new, exclusive gradient color option, Twilight, which has attracted extensive attention from fashion-conscious female consumers around the world. This striking, fashion-forward aesthetic is achieved by applying several layers of Non-conductive Vacuum Metalizing (NCVM) optical coatings underneath the glass back, so light hitting the surface refracts and creates a vivid, yet gradual change of hue.
The HUAWEI nova Series has drawn extensive attention from young people worldwide for its stylish designs. Featuring bold colors and innovations specifically for selfies, the HUAWEI nova 3 was one of the most popular selfie phones in 2018. Continuing the stylish designs of the HUAWEI nova Series, the HUAWEI nova 4 was the first phone to adopt the next-generation Punch FullView display technology.
The Honor 10, with Beauty in AI as its overarching proposition, sets a trend for fashionable consumers, and leads Huawei's rise in the overall mid-range smartphone market together with the HUAWEI nova Series.
Key breakthroughs in the all-scenario strategy and rapid growth in newer areas of business
Even more excitingly, in 2018 Huawei's Consumer BG made crucial progress in delivering an intelligent experience across all consumer scenarios. Over the past year, we have achieved key breakthroughs in our newer areas of business.
PCs: The HUAWEI MateBook X Pro features a FullView design and a hidden camera, and received high acclaim from PC World and many other authoritative tech media outlets. This new device has driven rapid enhancement of our PC brand image. In 2018, Huawei's PC shipments grew by more than 330% year-on-year.
Tablets: Our tablet revenue continued to grow despite the global tablet market's year-on-year decline. Shipments in 2018 increased by 14% compared with 2017.
Wearables: Shipments saw a year-on-year increase of more than 120%. Other highlights include:
• HUAWEI WATCH GT, powered by an innovative dual-core processor, can stay powered for up to two weeks. Sales have remained strong after launch, boosting awareness of Huawei wearables.
• Our sales of audio and smart accessories grew by over 100% over the previous year. Our TWS earphones were the first to adopt bone conduction biometrics technology and also comply with the Hi-Res Wireless Audio (HWA) industry standards, leading the way for stylish audio technology.
A more robust ecosystem that delivers an inspired, intelligent experience across all scenarios
We will soon enter an era where everything that can be connected will be connected and intelligent experiences will be delivered across all scenarios. Smart devices that revolve around a wide array of application scenarios have become important portals that bring consumers intelligent experiences.
Against this backdrop, Huawei's Consumer BG has put forward a "1 + 8 + N" all-scenario ecosystem strategy. "1" stands for mobile phones, which will serve as the primary portal to intelligent experiences; "8" stands for eight support portals, including AI speakers, tablets, PCs, wearables, connected vehicles, AR / VR, smart earphones, and smart HD; and "N" stands for ubiquitous IoT devices, including lighting, security protection, and environment-related devices.
With this strategy, we aim to deliver an intelligent experience to consumers across all scenarios, including smart home, connected vehicles, as well as health and fitness.
In the smart home domain, Huawei's HiLink smart home protocol has been breaking down barriers between smart devices from different vendors, allowing them to "talk" with each other and fully transfer and share information. Through the HiLink smart home platform, Huawei is working closely with more than 150 brands, involving more than 500 product models in more than 100 product categories. To deliver a more consistent experience to consumers, Huawei teamed up with top vendors to launch Huawei ZHIXUAN, Huawei HiLink's IoT ecosystem brand, in June 2018. We also opened the Ark Lab, which aims to provide a joint innovation platform for partners, allowing them to incubate products, explore new scenarios, showcase their offerings, and deliver a superior home experience.
In the connected vehicle domain, Huawei has established partnerships with the world's top car brands, including Audi, Mercedes-Benz, Volkswagen, Toyota, and General Motors. We are providing stable and reliable connected vehicle services to tens of millions of drivers.
In the health and fitness domain, Huawei has established productive partnerships with more than 100 well-known companies, universities, and research institutes. Users of Huawei's Health app have topped 100 million.
AI will be the key to user experience in the intelligent era. It has become a part of life for Huawei smart device users. The number of monthly active users of Huawei AI services, including HiVoice, HiVision, and HUAWEI Assistant, has exceeded 190 million. On average, each user uses these services six times a day.
A more prosperous Huawei Mobile Services ecosystem for developers
In application services, the Consumer BG has built an open, intelligent global ecosystem through Huawei Mobile Services. We launched our Shining-Star Program, established the DigiX Innovation Lab, and built the HUAWEI Ability Gallery to encourage innovation. Together with our partners and developers, Huawei Mobile Services aims to offer high-quality, intelligent applications and services that cover all scenarios for our consumers. In 2018, the number of registered developers of the Consumer BG exceeded 560,000 worldwide, and the revenue of our partners more than doubled year-on-year, a testament to a more prosperous ecosystem.
Huawei Mobile Services is providing high-quality digital experiences to more than 500 million Huawei device users in more than 170 countries and regions, covering everything from data to applications, travel, and entertainment. We have turned smart devices into personal assistants and digital extensions of our consumers, creating a better digital life for them.
We offer a wide array of Huawei Mobile Services, including HUAWEI Mobile Cloud, HUAWEI Assistant, HUAWEI AppGallery, HUAWEI Pay, HUAWEI SkyTone, HUAWEI Life Service, HUAWEI Video, HUAWEI Music, HUAWEI Reader, HUAWEI Themes, and HUAWEI Browser. These services are preferred by an increasing number of consumers. Achievements in 2018 include the following:
• More than 150 million photos were uploaded to HUAWEI Mobile Cloud every day.
• The HUAWEI AppGallery became available in 139 countries and regions, providing secure and reliable high-quality apps for users, with more than 120 billion downloads throughout the year.
• HUAWEI Pay supported 90 banks, and can be used for public transportation payment in more than 160 cities in China. New functions including door keys and membership cards became available. HUAWEI Pay also became the first payment service provider to support China's eID on mobile phones.
• HUAWEI SkyTone provided overseas data service in over 80 countries and regions. With this service, consumers can access mobile Internet around the world without a SIM card. HUAWEI SkyTone also provides efficient and quality outbound travel services like hotel booking, car rental, and travel guidance.
• Our video, audio, and entertainment services attracted more consumers. Monthly active users of HUAWEI Video exceeded 80 million. Monthly plays on HUAWEI Music exceeded 4.2 billion. More than 600,000 books were available on HUAWEI Reader, and annual downloads from HUAWEI Themes exceeded 730 million.
Improving customer satisfaction with an upgraded offline sales and service system
To improve every aspect of consumers' purchasing experience, the Consumer BG has bolstered and upgraded its retail network to create a simple, compelling, and inspired high-end experience that makes purchasing more convenient and efficient for consumers. As of December 2018, Huawei had more than 60,000 retail stores, display zones, and display counters around the world, including more than 4,000 experience stores.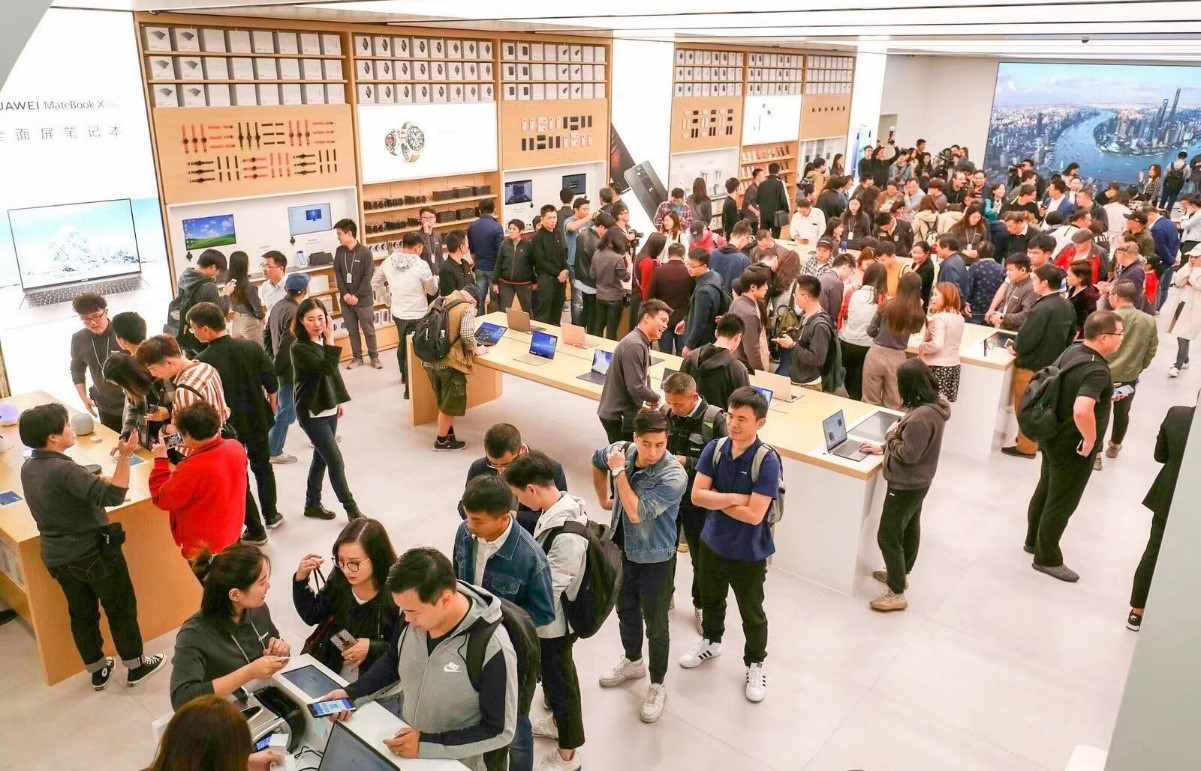 Huawei has explored and built all-new retail models by taking into account technology, the human touch, and environmental protection. We have established three HUAWEI Smart Life Stores in Taiyuan, Shanghai, and Hangzhou, China. Focusing on delivering a smart life experience, these centers aim to create an all-new retail model and provide consumers with a more pleasant shopping experience through quality services. Pictured above is the HUAWEI Smart Life Store in the Aegean Place shopping mall in Shanghai.
In customer service, we are committed to building and improving our basic service capabilities, focusing on three service platforms: offline services, online services, and self-services. Throughout 2018, we provided services to over 40 million consumers. As of the end of 2018, the Consumer BG had over 2,000 offline service centers in 105 countries and regions, providing convenient and fast repair services to consumers. In 2018, global customer satisfaction with Huawei's services increased by 14 percentage points compared with 2017, and Huawei accepted 473 consumer suggestions and requests for the optimization of Huawei products and services.
Higher brand awareness and better business performance bring us closer to our goal of becoming an iconic global tech brand
Thanks to nonstop innovation in the Consumer BG, our brand awareness, recognition, and reputation are growing among global consumers, and our market share has risen rapidly. We have taken a solid step forward on our journey to becoming an iconic global tech brand.
In 2018, we shipped 206 million Huawei and Honor smartphones, up 35% year-on-year. According to a report from market research firm IDC, Huawei and Honor smartphones together occupied 14.7% of the global market share in 2018, maintaining our position among the top three smartphone makers in the world.
Honor maintained its leadership position in the Chinese online smartphone market. At the same time, it saw large-scale, rapid growth in markets outside China, with revenue up by more than 170% year-on-year. Honor transformed in 2018, taking on a new brand image characterized by vibrant colors and exciting technology. This new image will help bring Honor to more fashion-conscious consumers around the world.
A report from brand research firm Ipsos showed that overall global brand awareness of Huawei had increased to 88%, and brand consideration among global consumers had increased to 46%, up from 44% in 2017. According to this report, the number of consumers considering a Huawei device saw a year-on-year increase of over 50% in multiple countries outside China. Our net promoter score ranked first in China for the third consecutive year, and among the top 3 in countries including Germany, Italy, Spain, Russia, Poland, and Mexico. Global consumers have come to view Huawei as a trustworthy brand that keeps moving forward and boldly innovating.
As we have always stressed, everything we do in the Consumer BG begins and ends with consumers. With this in mind, in 2019 we will continue to innovate in core technologies – including 5G, AI, AR, and VR – and adopt an ecosystem strategy that covers all scenarios. Our ultimate goal is to lead the transformation of the smart device industry and deliver an inspired, intelligent experience to consumers across all scenarios.
1based on all countries GfK POS Measurement covers (in particular USA, Mexico not covered) and channels GfK monitors (GfK Panelmarket)