2019/04/24
Huawei Released the 2018 Huawei Mobile Services White Paper, Proposing Ten Key Findings of a Better Digital Life
[Shenzhen, China - April 16, 2019] On April 16th,the 16th Huawei Global Analyst Summit was held with the theme of "Building a Fully Connected, Intelligent World" in Shenzhen, China. In the meantime, the 2018 Huawei Mobile Services White Paper was officially released (hereinafter referred to as the White Paper).
The White Paper released at the summit highlights ten key findings of a better digital life, interpreting that the future is the era of a fully-connected intelligent world in all scenarios. Huawei Mobile Services is dedicated to providing a full-scenario and high-quality intelligent experience for global users. As Alex Zhang, the President of Cloud Service, Huawei Consumer Business Group, said in the preface of the White Paper: the future of smart life is upon us, and the innovation of mobile Internet technology and experience is becoming the key to users to access to smart life. Adhering to a consumer-centric philosophy, Huawei Mobile Services together with global outstanding partners and developers will innovate and constantly explore the future of our better digital world!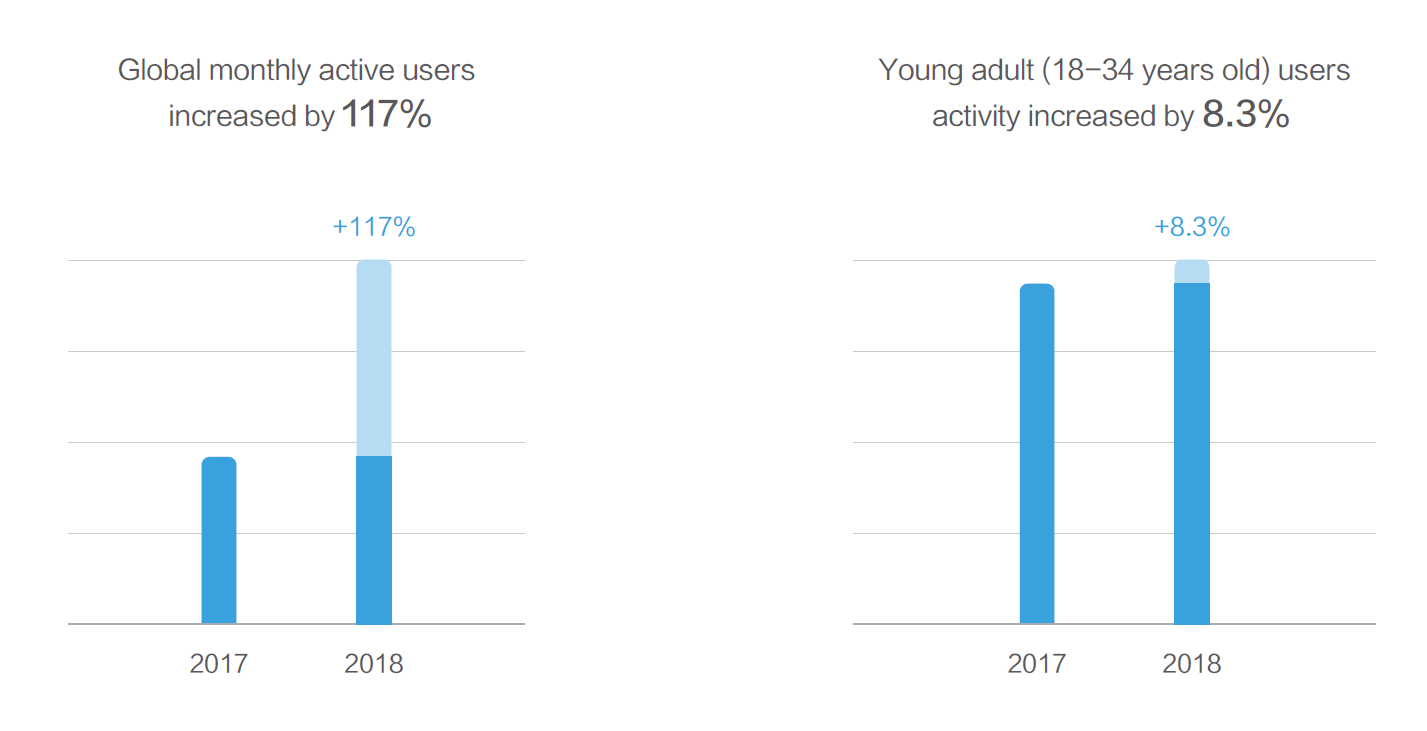 As of December 2018, the number of global Huawei Mobile Services users exceeded 500 million, of which the number of monthly active users reached 262 million, and young adult users activity continuously improves. There are ten key findings revealing the preferences and usage habits of Huawei Mobile Services users in their digital life.
Finding 1: Huawei Mobile Services users prefer to the same brand when changing a new smartphone.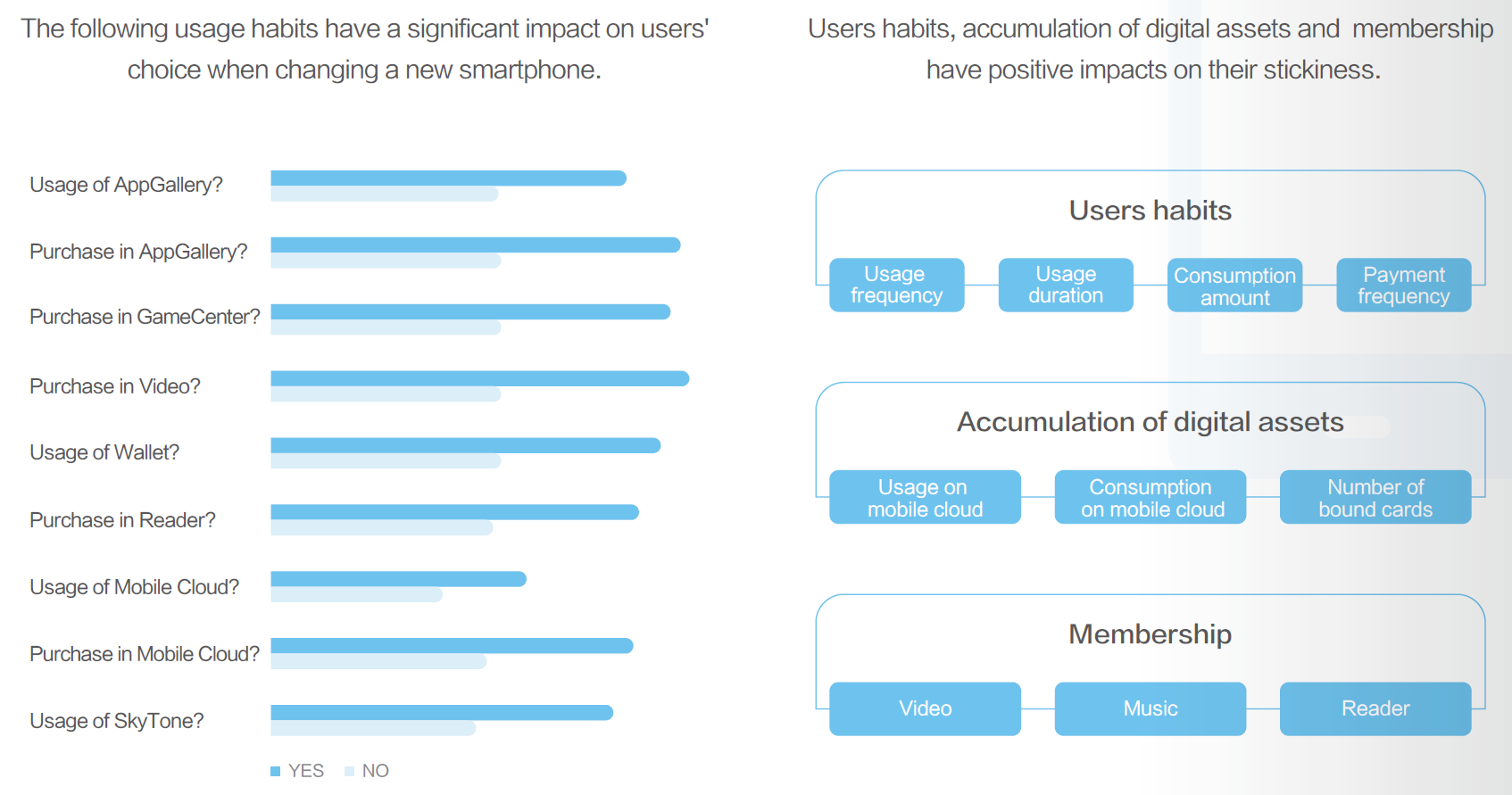 According to the data in the White Paper, Huawei Mobile Services users prefer to the same brand when buying a new smartphone. The usage of Huawei Mobile Services applications, such as HUAWEI AppGallery, HUAWEI Mobile Cloud, and HUAWEI SkyTone etc., has a significant impact on the brand preference of users. In addition, users habits, accumulation of digital assets, and membership have positive impacts on their stickiness.
Finding 2: Safe to use, easy to record and cherish the beauty of life has become users' habits.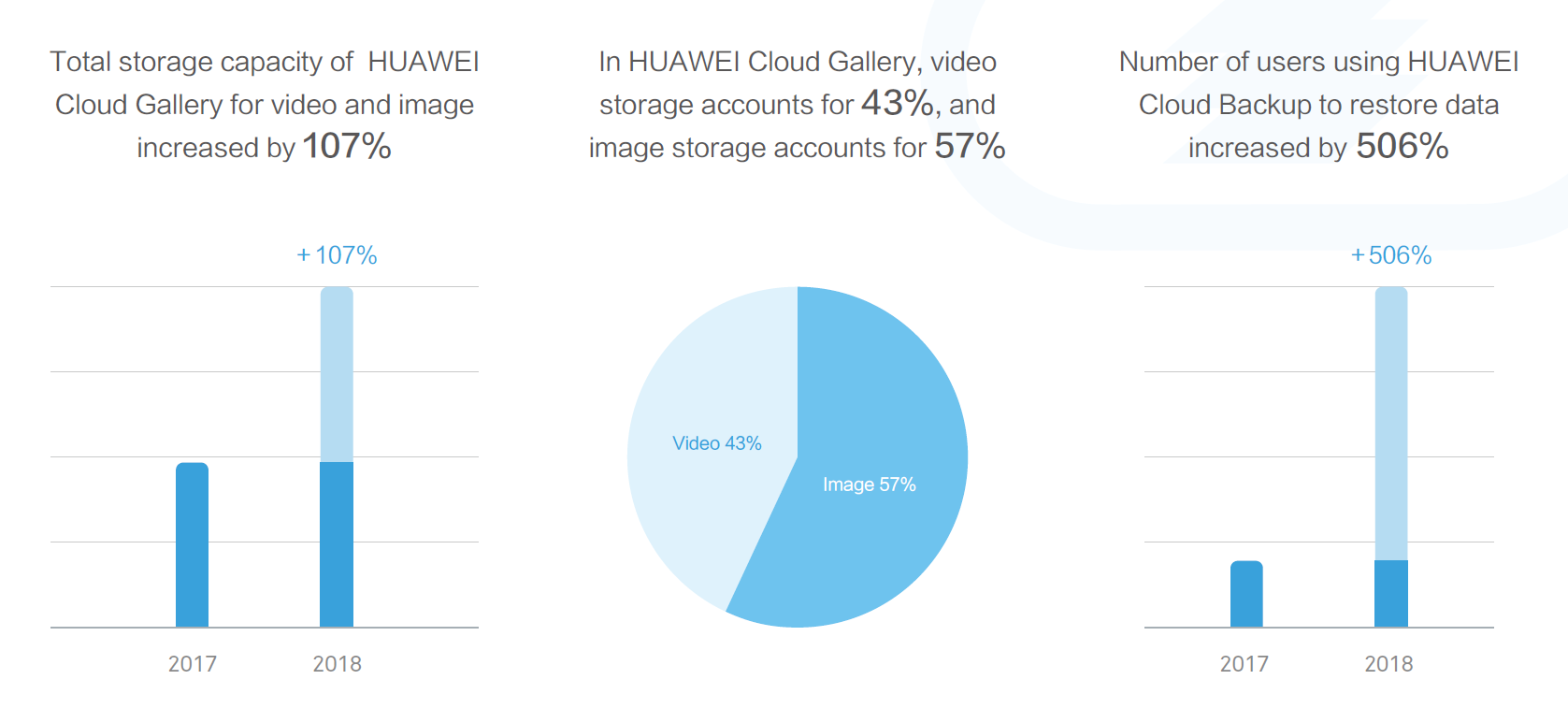 Functions such as HUAWEI Cloud Backup, HUAWEI Cloud Gallery of HUAWEI Mobile Cloud help users efficiently manage massive amounts of data and totally guarantee data security. Increasing users prefer to upload images and videos to Huawei Mobile Cloud. Number of users using HUAWEI Cloud Backup to restore important data increased by 506%. Users who use 2TB HUAWEI Mobile Cloud increased by 869%
In addition, HUAWEI AppGallery established "Age restrictions" in order to both safeguard minors and provide them with age-suitable Apps. Since the feature was launched, it has received the attention of many parents and the number of Huawei AppGallery Education Center downloads has increased by 22.2%. HUAWEI Video also released a "Reassurance mode" for parents to help safeguard children's device usage. In 2018, HUAWEI Video Children's Zone reached 1.1 billion video views.
Finding 3: Users are willing to spend more to cultivate their knowledges.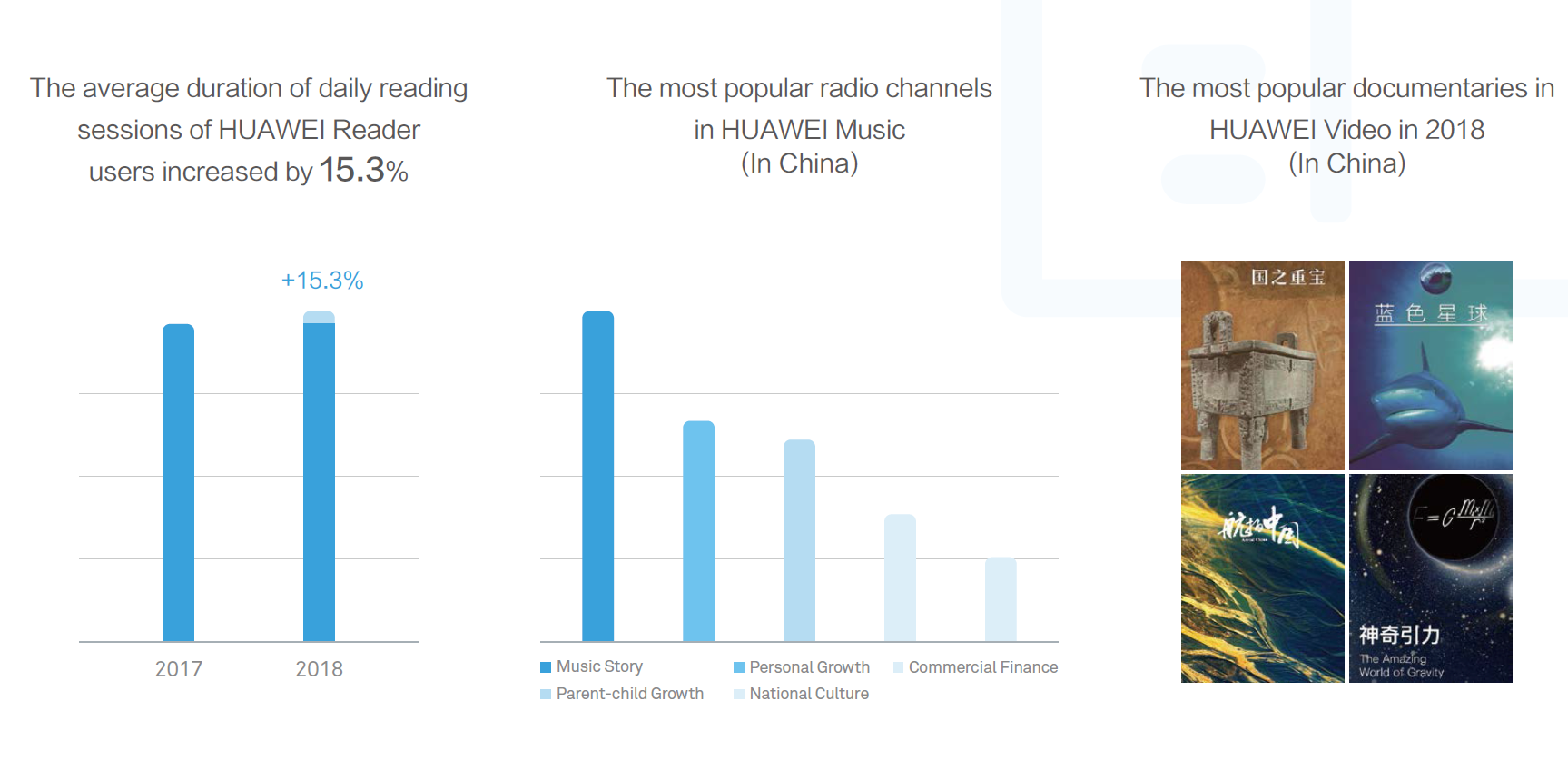 Huawei Mobile Services users are willing to spend more to cultivate their knowledges. The average daily reading time of HUAWEI Reader users increased by 15.3% and the number of paid users increased by 244.4%. The top two popular radio channels in HUAWEI Music are "Music Story" and "Personal Growth". Payment amount of "knowledge" area in HUAWEI Video increased with monthly average growth of 178.2%. It can be seen that users pay more attention to self-cultivation and "knowledge payment" has grown from niche to mainstream.
Finding 4: Users pay more attention to diversified music genres, and the demand of high-quality music keeps increasing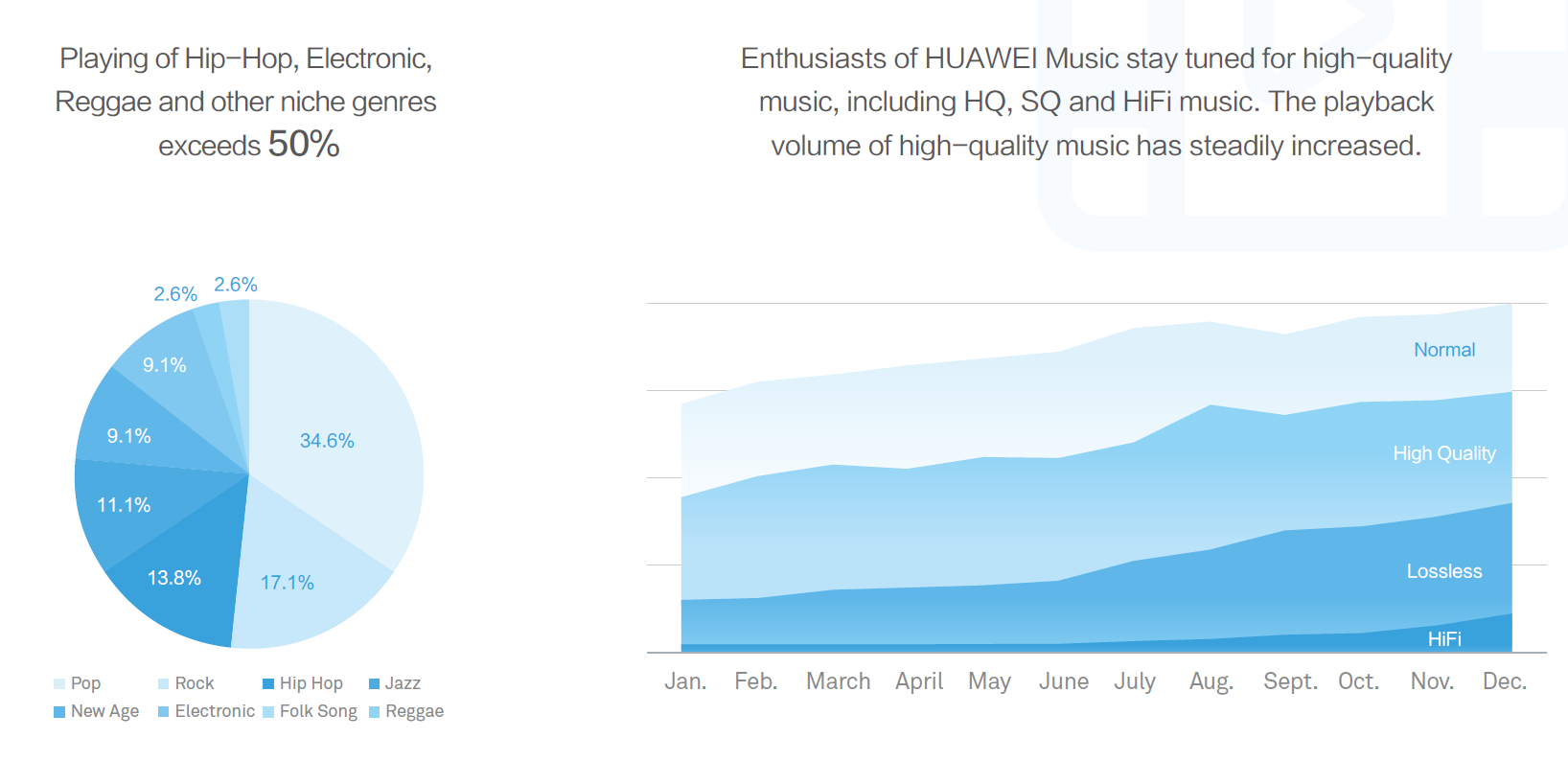 Huawei has accumulated a group of enthusiasts who have growing demands for personalized and high-quality contents. The playback volume of high-quality music (HQ, SQ, and HiFi music) has steadily increased. Total high-quality video (4K + HDR) playback increased by 80%. Dynamic, personalized themes and custom fonts are highly appreciated. Themes paying users increased by 172%.
Finding 5: Users are fond of both fresh and classic contents.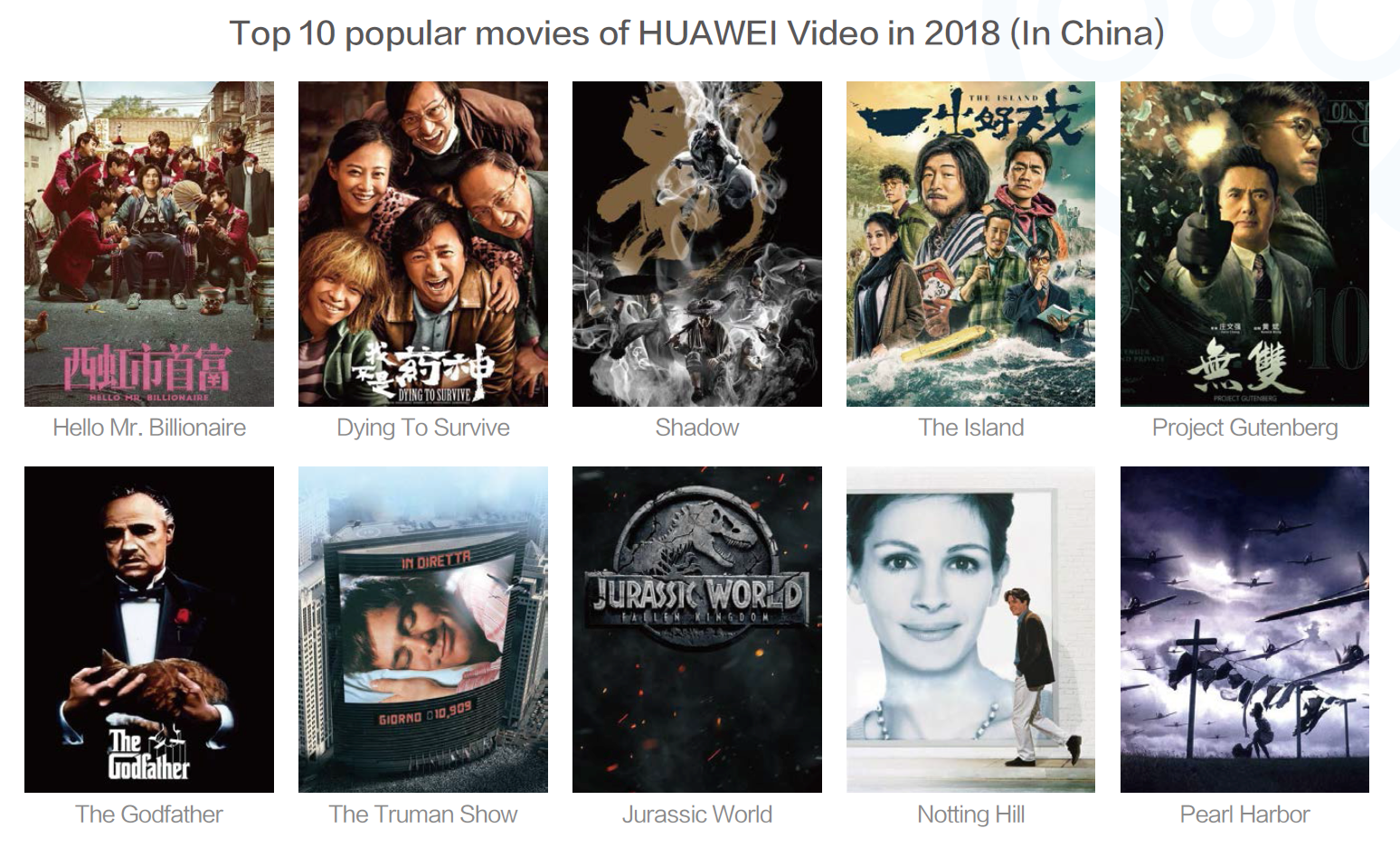 Setting off a new trend of nostalgia, users pay greater attention to historical novels, classic songs, TV series and films, being reminiscent of the good old memories and inclusive to embrace the new fashions. Under the circumstance, both newly released and classic movies were listed in the top ten popular movies of HUAWEI Video in 2018. Playback volume of classic songs, popular Internet songs, and TV show songs were ranked top 3 in HUAWEI Music genres. HUAWEI Reader users prefer to download published books, historical novels, and the original work of the film and TV drama. Huawei Mobile Services users are fond of both fresh and classic contents.
Finding 6: Environment-friendly, safe, and convenient self-service travel has become fashionable.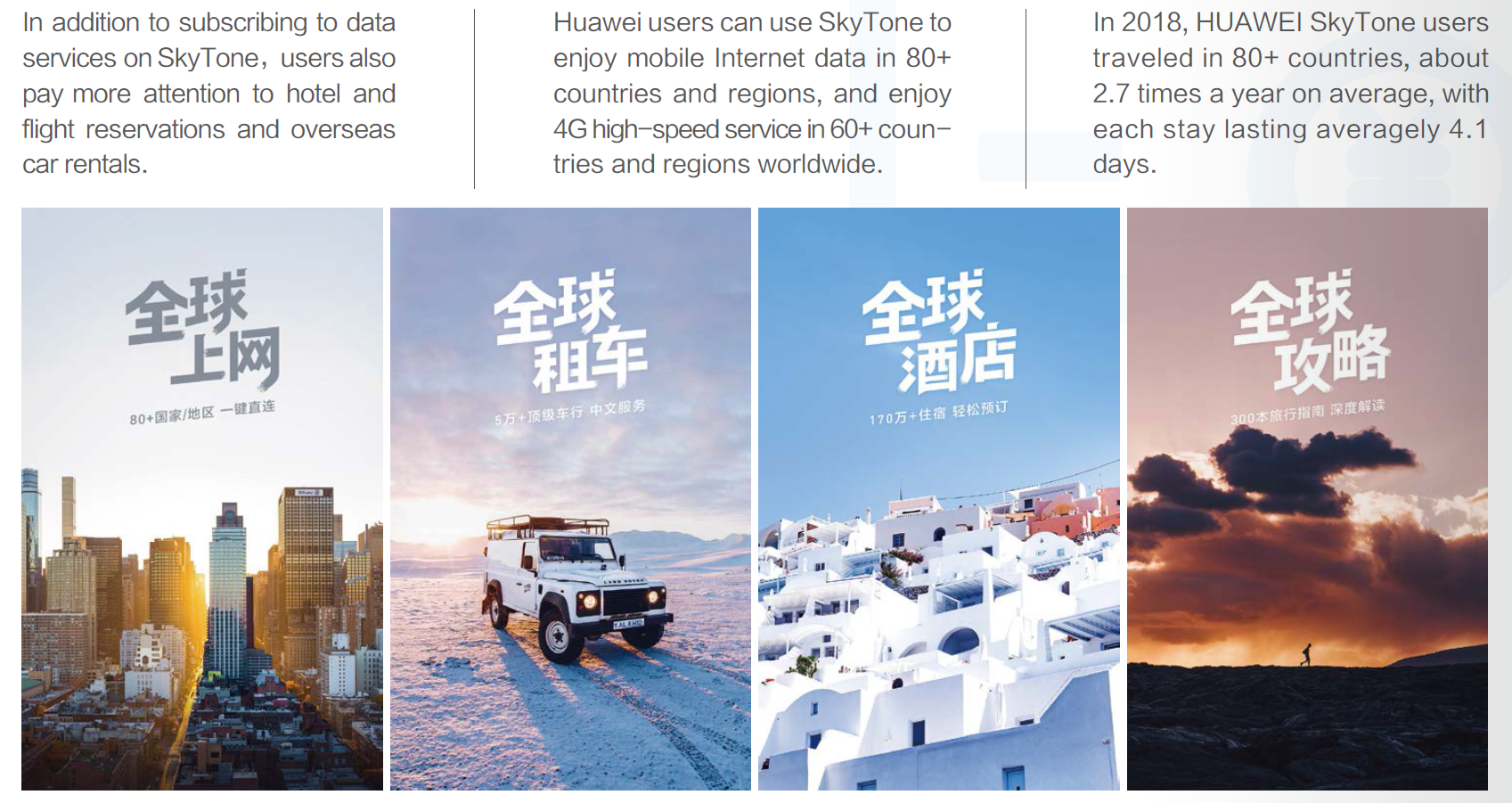 Safe, Environment-friendly, and convenient self-service travel has become fashionable among Huawei Mobile Services users. With HUAWEI SkyTone, Huawei smartphone users can connect to mobile Internet in more than 80 countries and regions and enjoy 4G high-speed service in more than 60 countries and regions worldwide. With chipset embedded security technology, HUAWEI Wallet integrates functions such as eID, mobile shield, NFC access card, and mobile POS, providing users with safe and convenient mobile financial and travel services. Huawei Pay supports bank cards issued by 90 banks and 19 different public transport cards which can be used to travel in 160+ cities nationwide. Additionally, users can use Huawei Pay to consume at more than 17+ million POS machines. In 2018, the number of monthly average transit card swiping increased 5 times, enabling more users to enjoy the travel convenience improved by technology.
Finding 7: "New Lazy lifestyle" has become popular for users to enjoy smart and convenient services.
HUAWEI Assistant provides users with up-to-date information and smart services. Voice Assistant and Smart Vision of HUAWEI Assistant offer users the convenient and intelligent human-computer interaction experience. HUAWEI Assistant is woken up 2.9 times averagely per user per day. HUAWEI Life Service users increased by 41.5% in 2018.
Finding 8: Developers focus on innovation and entrust platform partners with global service capabilities.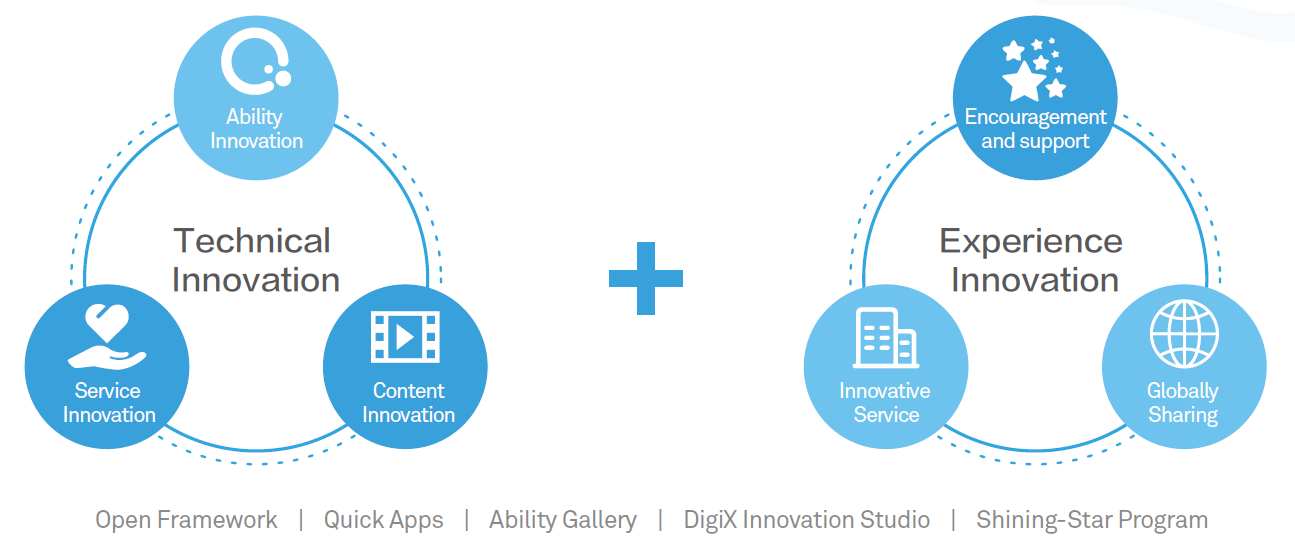 "Chipset-Device-Cloud" synergy and openness enables global developers to create full-scenario experience. With billions of resources, Huawei encourages developers to innovate and creates a full-scenario smart mobile services ecosystem through the Shining-Star Program. By the end of 2018, HUAWEI Developer Alliance has released 47 open capabilities and services and the number of registered developers has increased to 560,000, realizing a 60% increase from 2017, achieving a 100% increase in developers' revenue.
Finding 9: Partners and developers are more interested in Huawei's open capabilities in AI and AR area.

In 2018, more and more developers chose to use Huawei open capabilities and the number of integrated Apps increased by 60%. The usage of AI and AR capabilities ranked in top 5. Focusing on the state-of-the-art innovation, the DIGIX geek innovation competition platform is highly valued by developers.
Finding 10: The ecological development of "Quick Apps" gained developers' optimism and shows a rapid growth trend.

As a new form of application, Quick Apps have the advantage of penetrating awareness of users by distribution channels and traffic and shortening the usage access path. Many developers are optimistic about this new application ecology. In 2018, 1,650+ partners of HUAWEI AppGallery were accessed to Quick Apps and 500+ Quick Apps were launched.
On the forward march to explore a better digital life, Huawei Mobile Services believes in providing user-centric services to every person, every family, and every organization. By establishing the mobile services ecosystem, Huawei Mobile Services is bringing unlimited possibilities to global customers and partners, helping the development of a fully connected and intelligent world and opening the gate to an intelligent future.