2020/09/03
Balance health, work and play: Choose the #BestMateForYou with HUAWEI's MatePad Super Deals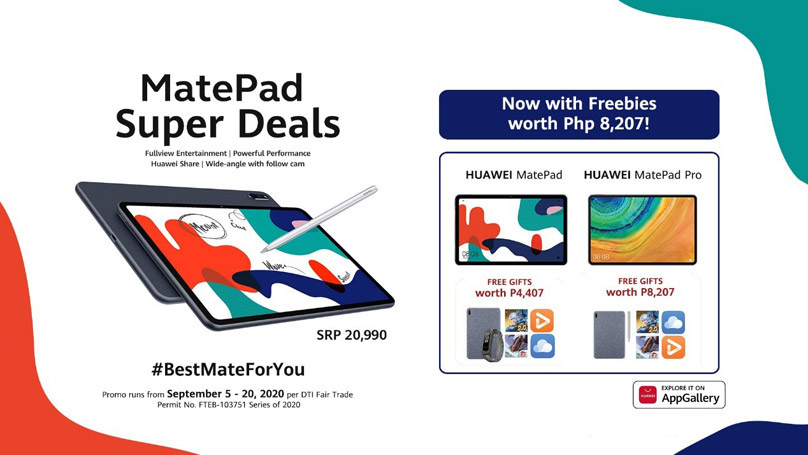 Product
HUAWEI MatePad Super Deals
Link
HUAWEI MatePad
Buy a HUAWEI MatePad worth P20990 and get the following freebies worth P4407:

- HUAWEI Band 4e worth P1390
- HUAWEI MatePad flip cover worth P990
- 15 GB Huawei Cloud storage free for 1 year worth P388
- Huawei Video TVB 3 months free membership worth P540
- Huawei Video Mango TV 1 month free membership P99
- Coupon + gift package for Mobile Legends and Garena: Free Fire worth P500 each
https://consumer.huawei.com/en/tablets/matepad/?
HUAWEI MatePad Pro
Buy a HUAWEI MatePad Pro at P32990 and get the following freebies worth P8207:

- HUAWEI M-Pencil + Flip cover worth P5980
- 50 GB Huawei Cloud storage free for 1 year worth P588
- Huawei Video TVB 3 months free membership worth P540
- Huawei Video Mango TV 1 month free membership P99
- Coupon + gift package for Mobile Legends and Garena: Free Fire worth P500 each
https://consumer.huawei.com/ph/tablets/matepad-pro/?
Complete List of Stores:

https://consumer.huawei.com/ph/community/details/topicId_111716/
A good number of schools are opening their virtual doors in the latter half of this year, prompting incoming students and their parents to scratch off every box in their e-learning checklist. Where laptops are too cumbersome and smartphones are too limited to fulfill educational activities, tablets like the HUAWEI MatePad line strike a perfect balance between portability and performance as needed.
Huawei's #MatePadSuperDeals promotion features unique gadget bundles with purchase of the HUAWEI MatePad and HUAWEI MatePad Pro to ease that transition to a largely study-from-home setup. Getting either variants through this promotion - which runs from September 3 - 30 - entitles consumers to the following freebie packages:
HUAWEI MatePad and HUAWEI MatePad Pro: Balanced screen time
One of the better things about virtual learning is the easy access to home comforts, and in this vein HUAWEI MatePads are easier to plunk down on the couch with after after a good few hours of study. Just disconnect the keyboard peripheral (if there are any), and users can sit back in a more comfortable position to enjoy a good flick, TV drama episode or podcast. It also helps a lot that the HUAWEI MatePad form factor is slim and light, adding to the ergonomic benefits, not to mention the built-in eye protection modes.
Students and parents can't go wrong with either choice of Huawei tablets, too: the HUAWEI MatePad's 2K FullView Display, Intelligent Wide-angle camera, and immersive audio and video all work best with video conferencing-heavy classes. Moreover, the E-book mode with TUV Certified eye protection proves very useful during extended sessions.
The HUAWEI MatePad Pro and its bundled HUAWEI M-Pencil expands functionality by letting users write / sketch on the massive FullView Display, encouraging creative angles to learning. Coupled with the Kirin 990 chipset and Huawei Share multi-device collaboration, every task is breezy and intuitive even when working with multiple screens.
AppGallery and Petal Search Widget: Millions of apps in a few taps
Enhancing the HUAWEI MatePad line pulling double-duty as educational and entertainment machines is the AppGallery and its vast selection of apps. AppGallery has plenty of applications to aid productivity / learning such as Zoom and WPS Office, as well as apps for learning math, science and languages.
Making app discovery more convenient is the Huawei Petal Search Widget, which retrieves all relevant app search results (including AppGallery entries) with just a few taps on the home screen. Petal Search is the gateway to a million apps, complete with the ready option to install without the hassle of digging into menus.
So for students and their parents who need the best balance between focused study and relaxing entertainment in the comforts of home, Huawei definitely has the #BestMateForYou ready and primed to go.
You can also join Huawei Community for more perks and benefits -
https://tinyurl.com/yxnyft39