2020/09/04
Are you 5G-ready? It's time to own any of Huawei's 5G-capable smartphones now through these SUPER 5G DEALS!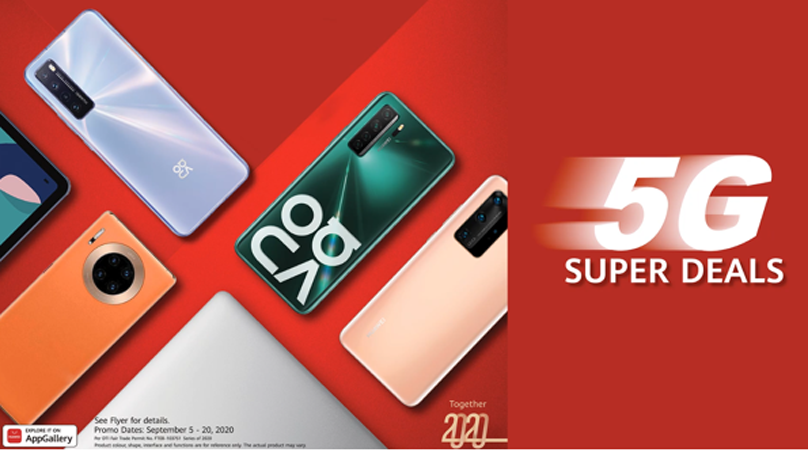 5G connects everything we know, and serves as the foundation of an intelligent world. Huawei has the system-wide capability from the chipset, network, and device to cloud services to allow users to experience 5G networks with the fastest speed and best signal coverage even in the early stages of a 5G device.
Modern telecom technology has changed how people live and become an important driving force in the development of society. The 1G generation ushered in the era of mobile phone calls. Following, the 2G generation opened up the global communication era. Subsequently, the 3G and 4G generation led the world into the mobile internet era. Now, in a leap towards new technology, 5G will open an exciting new era – an intelligent world with perception, interaction and connection across everything.
5G is a key component in Huawei's all-scenario, intelligent strategy. As a connected platform, Huawei will apply the 5G technologies to all scenarios, from smart living, mobile work, health and fitness, smart driving, cloud VR / AR to other scenes, constructing a 5G connected smart ecosystem. The company will develop smart devices including 5G smartphones, mobile routers, in-vehicle devices, industrial IoT modules, mobile Wi-Fi, AR / VR and more.
To usher you to the 5G era, Huawei is offering SUPER 5G DEALS.
(To purchase, click any of the links under each product)
HUAWEI nova 7 SE 5G and HUAWEI nova 7 5G
HUAWEI P40 SERIES
HUAWEI Mate 30 Pro 5G
But, there's more! Huawei has also included non-5G fan favorites:
HUAWEI nova 5T
HUAWEI Y SERIES
HUAWEI MateBook 13
HUAWEI MATEPAD SERIES
This offer runs from September 5 to 20, 2020. Be 5G-ready and buy a Huawei 5G smartphone now!