HUAWEI MateView Review – The Top 3 Reasons HUAWEI MateView is the Monitor to Watch
It's safe to say that we are living in an interconnected age. Not just increased human-to-human interconnections through social media, but also device-to-device interconnections, creating new wireless ecosystems that can help us achieve incredible things.
But there's one device that for too long has been stuck in the past when it comes to connectivity, requiring a mass of wires and causing a lot of hassle. Yes, we're talking about monitors. The time for a new kind of monitor, which provides easier connectivity and greater functionality, has arrived.
HUAWEI MateView is a large, 28.2-inch monitor with a stunning display, ultra-thin minimalist design, and intuitive touch controls. But even more than that, it lets you enjoy instantaneous connections with your laptop, tablet and smartphone and represents a bold step forward in monitor design.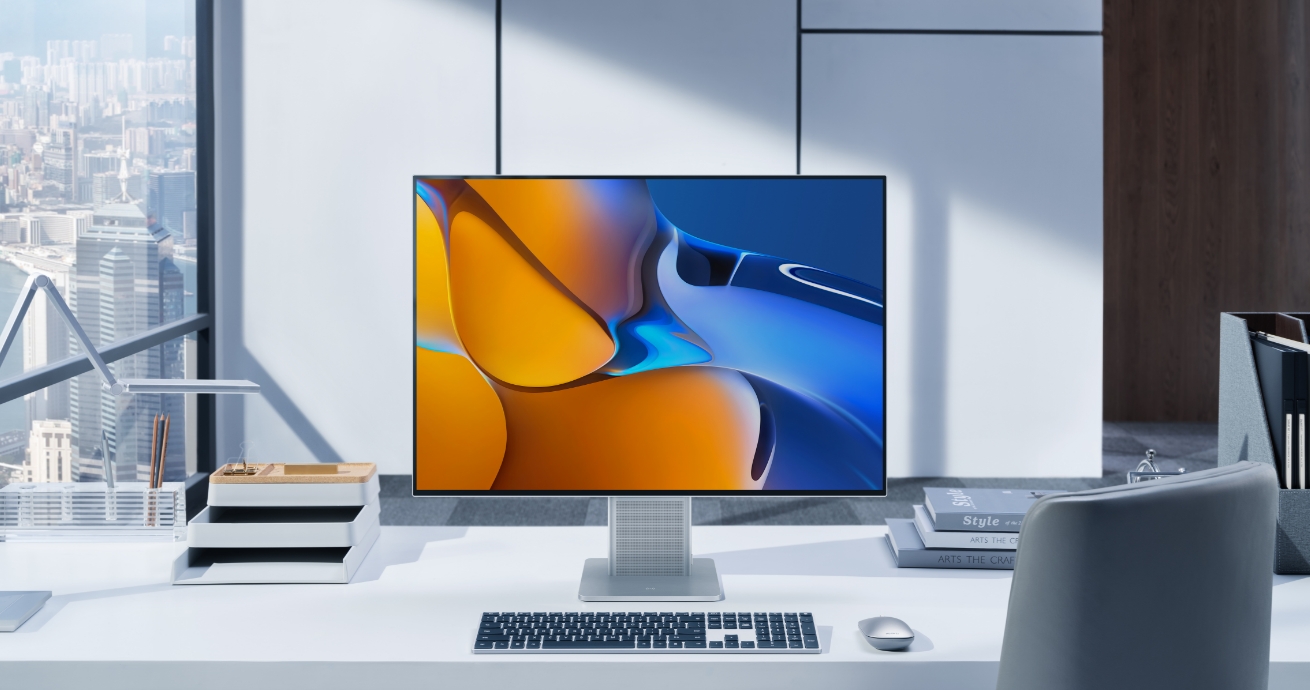 So, let's take a look at some of the many stand-out features of HUAWEI MateView.
A superior display
Innovative user experience
Smart connectivity and productivity
1.
A Superior Display
When you're choosing a monitor, the display is all-important. At 28.2 inches, not only is HUAWEI MateView large enough for a truly impressive viewing experience, but the super-narrow bezels on each side allow an incredible 94% screen-to-body ratio1, making the whole display feel even larger and more immersive.
The display boasts a 4K+ resolution, 1.5 million pixels more than regular 4K, for an awesome level of image detail and definition2. The extra pixels go towards HUAWEI MateView achieving its eye-catching 3:2 aspect ratio, which allows more content to be displayed vertically. Not only is it more aesthetically pleasing, it also lets you see more on a single screen.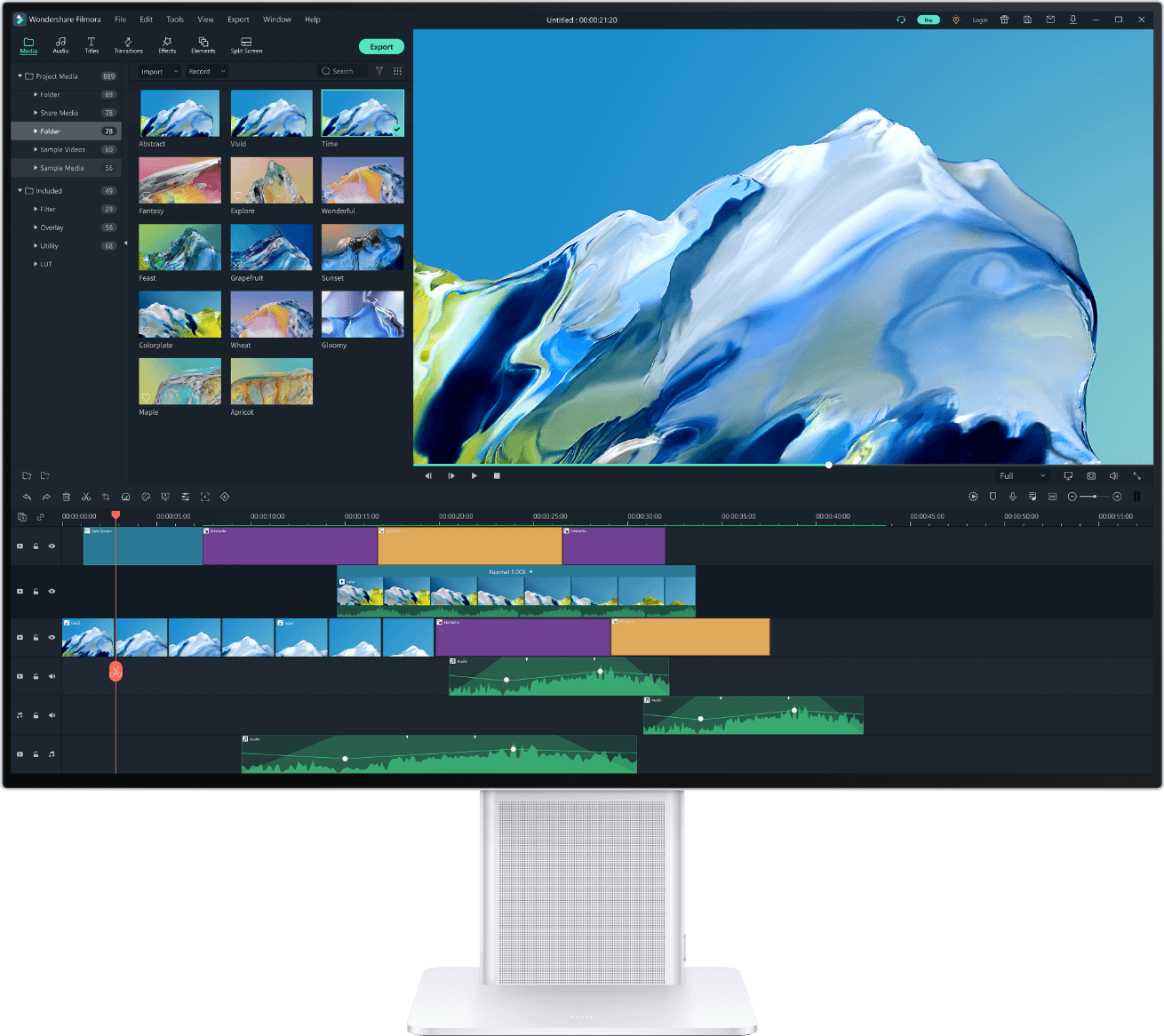 But to really bring images to life, you need great colour. HUAWEI MateView can show up to 1.07 billion colours, allowing smoother, more realistic colour display — crucial for when you're working on office and design projects.
As well as showing more colours, HUAWEI MateView also offers a greater range of colours, to produce images that are closer to what we see in real life. HUAWEI MateView achieves 98 percent of DCI-P3, far exceeding industry standards and producing incredibly realistic images on screen3.
However, colours need to be accurate to the original image or video source. HUAWEI MateView has an average colour standard of ΔE<2 in the DCI-P3 colour gamut and ΔE<1 in the sRGB colour gamut4, meaning you can be sure that the colours you're seeing on screen are how they're meant to look. And because colour accuracy is such a fine science, each HUAWEI MateView device is individually calibrated in the HUAWEI workshop to ensure each and every device meets this high standard.
Thanks to its high-quality colour display, high dynamic contrast ratio, and 500-nit max brightness5, HUAWEI MateView has not only obtained but surpassed the VESA DisplayHDR™ 400 standard, for excellence in overall image quality.
And saving your eyes, thanks to the TÜV Rheinland-certified Low Blue Light and Flicker-Free display6. So, no matter how many hours you're on HUAWEI MateView, your eyes will always stay fresh.
2.
Innovative User Experience
HUAWEI MateView is the first ever monitor to feature touch controls. Positioned under the screen for intuitive access, the Smart Bar lets you switch display inputs with a swipe and adjust volume and display settings with just a few taps.
And because there are no physical buttons, you can enjoy a much cleaner, sleeker, minimalist design. With the motherboard located in the support bracket, the screen is a wonder of slimmed down aesthetics, measuring only 9.3 mm at its thinnest point. And thanks to the sturdy, precision-engineered stainless steel hinge that connects the screen to the bracket, you can control the elevation and pitch angle with just the push of a finger.
Minimalism in design, however, doesn't mean minimalism in function. HUAWEI MateView offers a wide selection of ports to support all your connectivity needs. As well as the USB-C port located on the side, you'll also find two USB-A ports, plus a 2-in-1 CTIA-compatible headphone/microphone 3.5 mm audio jack. And on the back, there are an HDMI input, MiniDP input, plus the industry's first ever 135 W USB-C power adapter.7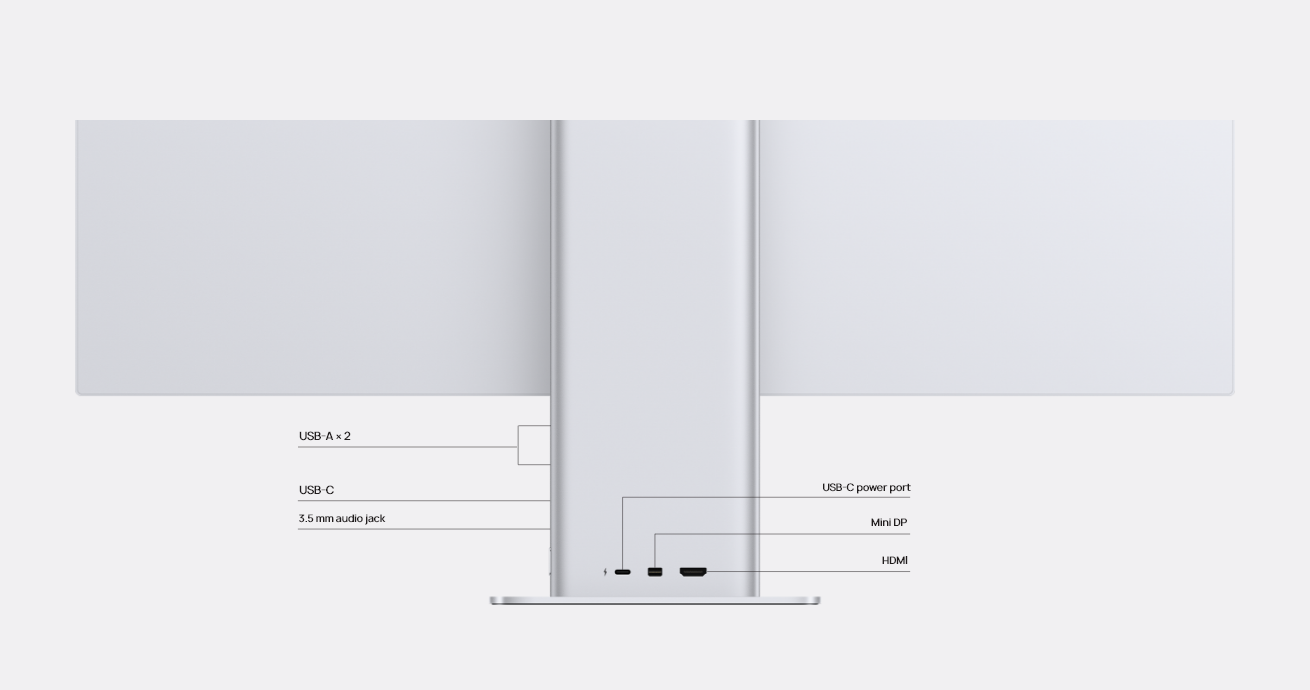 But a monitor is not just meant to be seen, it's also meant to be heard. The dual front-facing high-power 5 W full-range speakers are built into the base of HUAWEI MateView. Driven by a 20 W high-power amplifier with a large 28 cc air cavity, you can enjoy a maximum volume 78 db of crisp, clear surround sound.
And to make sure you can enjoy flawless audio and video calls every time, HUAWEI MateView has a built-in dual mic array in the base. Featuring Huawei's digital signal processing (DSP) algorithm, ambient noise and echo are effectively reduced, so your voice always comes in loud and clear. Thanks to the sound optimization algorithms, your voice can be picked up from as far away as 4 meters.8
3.
Smart Connectivity and Productivity
Whether it's connecting to Wi-Fi or listening to music on our Bluetooth earphones, most of us now enjoy wireless connections as part of our everyday lives. Huawei wanted to bring this same level of convenience to the world of monitors.
You can instantly wirelessly project your phone or tablet display onto HUAWEI MateView and enjoy all the incredible functionality of your mobile device on a big screen. No wires, no clutter, and all at a super low latency.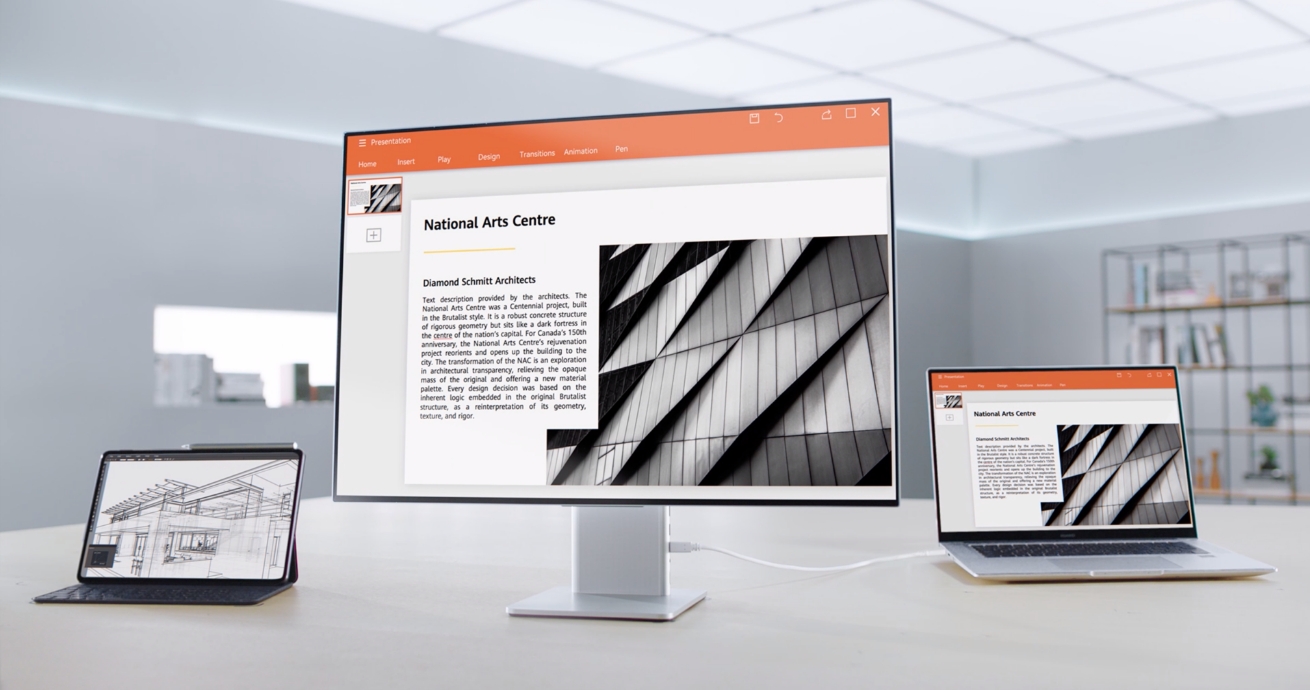 And if you love the power and portability of your laptop but want to see more, HUAWEI MateView offers an easily accessible USB-C port at the side of HUAWEI MateView for a super-high 4K resolution and low-latency connection.9
Better connectivity equals more efficient performance. And so you can achieve even more, HUAWEI MateView offers some incredible new productivity features.
After wirelessly10 mirroring your phone to HUAWEI MateView, you can open and use your phone apps just like you would on your phone but on the much larger HUAWEI MateView screen. Any changes you make to phone files while mirrored to HUAWEI MateView are automatically saved to your phone.
Alternatively, you can mirror your tablet display and sketch out designs using HUAWEI M-Pencil that show up in glorious detail on the large HUAWEI MateView display.
Plus, thanks to the extra HDMI and DisplayPort ports in the back of HUAWEI MateView, you can achieve up to 3 wired connections plus 1 wireless connection at the same time, and effortlessly switch between displays.11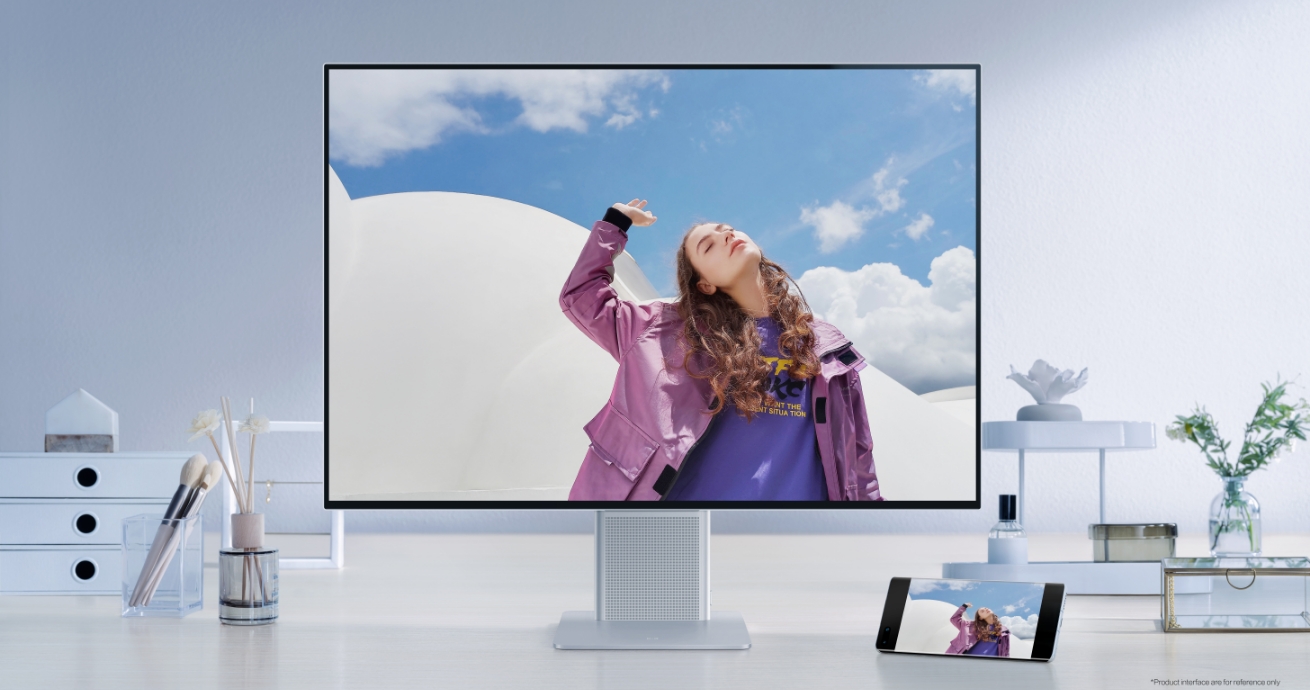 And when you hook up your laptop to HUAWEI MateView via the USB-C port, you can use Extension Mode to turn HUAWEI MateView into a secondary screen for your laptop. You'll now have massive amounts of screen space to take care of any task, easily moving app and program windows between screens, with much greater control over what you're doing using the HUAWEI MateView mouse and keyboard. You can edit video on your laptop and use the large, high-res HUAWEI MateView display to preview every step of the way.
So, if you want to experience a smarter way to connect with your monitor for improved productivity, while enjoying incredible levels of detail and colour, easy-to-use controls, sleek aesthetic design, and awesome sound, HUAWEI MateView is a monitor you should really take a look at.
1. Data from Huawei labs. Calculated by comparing the viewable area of the screen to the viewable area of the screen plus bezels. Actual screen-to-body ratio may vary.
2. Data from Huawei Labs. Results obtained by comparing 4K+ resolution with 4K resolution pixel data. Resolution of 4K+ is 3840 x 2560. Resolution of standard 4K is 3840 x 2160.
3. Typical value, covering 100% of sRGB colour gamut. The colour gamut settings can be changed in the monitor settings menu.
4. ΔE<2 indicates the average color standard value in the DCI-P3 color gamut, and ΔE<1 indicates the average color standard value in the sRGB color gamut. Data from Huawei labs. The color level may vary depending on screen usage duration and testing methods.
5. Typical value.
6. HUAWEI MateView has received TÜV Rheinland Low Bluelight and Flicker Free certification. Low Blue Light Certification Test Conditions: when Eye Comfort mode is enabled, the display effect has passed the TÜV Rheinland low blue light tests This product is not for medical use. The blue light source has different energy reduction amplitudes with different wavelengths. Please refer to the actual use effect.
7. USB-C-to-USB-C and MiniDP-to-DP cables are also provided as standard. Actual display effect is 1.07 billion colours when using USB-C or MiniDP. Due to the theoretical bandwidth limitation of HDMI 2.0, the maximum resolution/refresh rate supported by the HDMI 2.0 interface is 3840 x 2560@50 Hz. MiniDP and USB-C interfaces are recommended.
8. Data from Huawei labs. Please refer to actual experience.
9. Supports one-cable connection. The USB-C host to be connected supports display (DP Alt Mode), PD charging protocol, and data transmission (USB protocol). Huawei laptops support USB-C wired connections: MateBook X Pro series, MateBook 14 series, MateBook X 2020 or above, MateBook 13 2020 or above, and MateBook 16. For details, please contact HUAWEI customer service.
10. Can only be used for switching between a device connected to the USB-C interface and a device connected via the wireless input source. When display input is swtiched, mouse control and keyboard control are switched simulataneously to the new input. The HUAWEI MateView mouse and keyboard cannot be used to control wirelessly connected laptops.
11. Only available on the wireless version model (HSN-CBA). Can be used with phones, tablets, laptops and other devices that support wireless projection capabilities. For specific details, please check the product service website. For further help, please contact Huawei customer service.