2019/07/01
Huawei Launches its Latest Wireless Earphones HUAWEI FreeLace in Saudi Arabia Featuring HUAWEI HiPair that Supports Easy Pairing and Fast Charging
Riyadh, KSA —July 1, 2019- Huawei unveiled HUAWEI FreeLace, new exquisitely designed wireless earphones that offer intelligent connectivity, powerful audio and long battery life. Supporting HUAWEI HiPair, HUAWEI FreeLace can easily be paired with Huawei Smartphones and tablets, and fast charged by Huawei Smartphones, tablets and PCs which have USB-C connector—by simply plugging into the device1. Launching in Graphite Black, Amber Sunrise, Emerald Green, HUAWEI Freelace is available now in Saudi Arabia market at Huawei Flagship Store in Riyadh Park , Huawei E-shop and several authorized distributors.

With HUAWEI FreeLace, Huawei is giving consumers a premium experience and the freedom of going completely wireless. The HUAWEI FreeLace is made of memory metal wrapped in liquid silicon which offers a decorative appearance, and feels soft and skin-friendly. HUAWEI FreeLace addresses many of the issues that consumers have voiced—complicated first time Bluetooth pairing, poor sound quality and insufficient battery life. HUAWEI FreeLace liberates users from cables without compromising on user experience. 2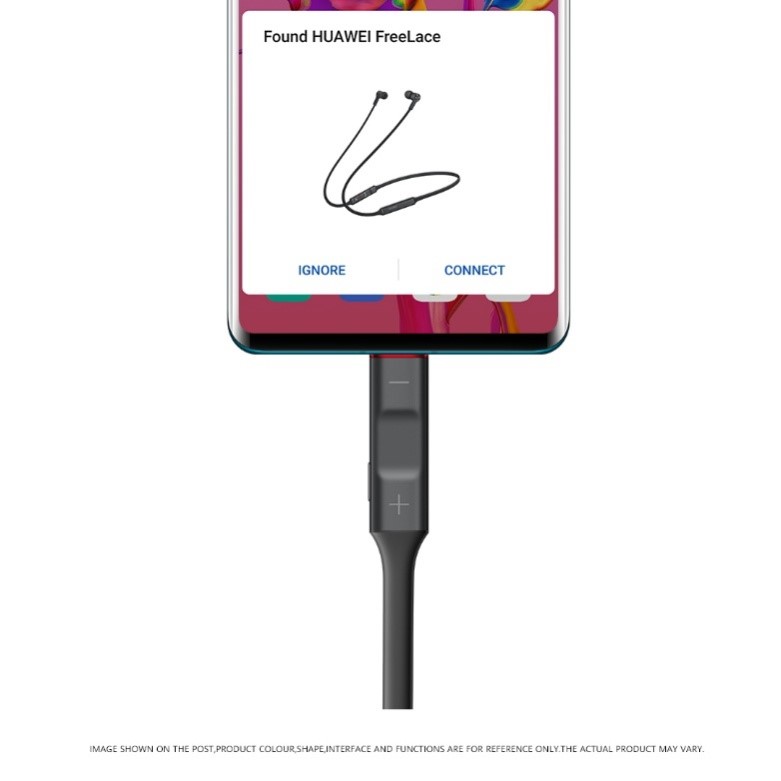 Pairing HUAWEI FreeLace with a Huawei smartphone is easier and more intuitive than any other wireless earphones. Separating the right earbud and its cable from the volume buttons reveals a USB Type-C connector, which can be inserted into the USB Type-C port of any Huawei smartphone running EMUI 9.1 for quick and easy Bluetooth pairing via HUAWEI HiPair. This Huawei proprietary technology eliminates the often time-consuming process of pairing Bluetooth peripherals with smartphones, which usually involves discovery and several attempts at establishing a wireless connection.
HUAWEI FreeLace can also be plugged to the USB Type-C port of any smartphone, tablet or PC for quick charging—a five-minute charge gives the earphones up to four hours of playback time. HUAWEI FreeLace supports up to 18 hours of playback or13 hours of talk time on a single charge.
Inside each of the speakers is a large dynamic driver unit with a diameter of 9.2 mm. Comprising an ultra-thin TPU diaphragm and titanium plating, the drivers deliver a punchy bass and smooth treble. The microphone module incorporates a dual-cavity design which, unlike the microphones in traditional earphones, features an additional channel for air ventilation, greatly reducing the effect of wind on voice pick-up.
Besides ease-of-use, sound quality and design, HUAWEI FreeLace comes with a range of features that help deliver the best user experience. Magnetic Switch improves portability of the earphones, while its built-in Hall sensor makes control more intuitive than ever: connect both sides and the earphones go into sleep mode, and they will automatically resume once separated. The in-line controls support not only volume adjustments, but also additional inputs such as a two-second long press that activates the voice assistant, and a double-tap that skips the current music.
HUAWEI FreeLace is available now in Saudi Arabia at Huawei Flagship Store in Riyadh Park , Huawei E-shop and several authorized distributors at price 249SAR.
1 Plug and Pair: be available after HOTA, while Huawei EMUI 9.1 or later versions with smartphone Bluetooth on required.
Plug and Charge: USB-C port charging enabled device required.
2 Based on the test results of HUAWEI lab.