2021/04/09
The Singpass app is now available on HUAWEI AppGallery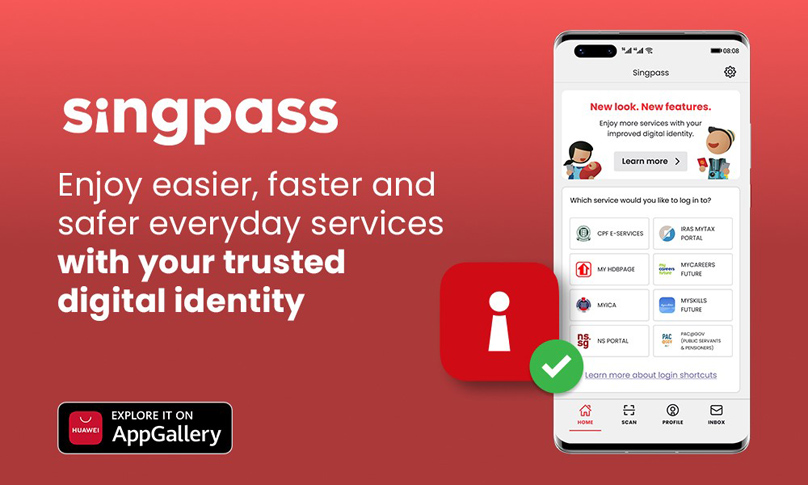 The Singpass app is now available on Huawei's official app distribution platform, AppGallery. Developed by the Government Technology Agency (GovTech), the Singpass app enables Singapore residents to conveniently access over 1,400 everyday services provided by more than 340 government agencies and private organisations – including viewing their Central Provident Fund (CPF), filing taxes with the Inland Revenue Authority of Singapore (IRAS), accessing bank accounts and renewing insurance policies – with a quick scan and tap on their smartphones. Users do not have to enter their passwords.
Singpass was launched in 2003 to facilitate convenient digital transactions with Singapore government agencies. Since then, the service has been further enhanced to include an improved user interface, mobile features and stronger security capabilities. Its latest features include Singpass Face Verification, Digital IC and digital signing.
The launch of the Singpass app on AppGallery offers local users of Huawei devices a third 2FA method when accessing services, in addition to the SMS One-Time Password (OTP) and Singpass Face Verification 2FA modes. As of March 2021, the Singpass app has garnered over 2.5 million users, with over 70 per cent of all Singpass transactions conducted through the app.
Meeting Consumer Demand: Global Content, Local Context
HUAWEI AppGallery, which launched worldwide in 2018, is currently available in over 170 markets, with over 500 million monthly active users on its platform. The app marketplace boasts over 2 million registered developers worldwide, and 96,000 apps integrated with its Huawei Mobile Services Core.
Despite its rapid global expansion which has seen it introduce global content such as TikTok and Telegram, as well as innovative apps developed based on its advanced software and hardware capabilities – the brand has also reiterated its commitment to deliver highly relevant local user content. In addition to the Singpass app, Huawei's native app market has so far introduced popular local utility apps such as Parking.sg, TraceTogether, Shopee, Lazada, Grab, TADA, ComfortDelGro and more.
To download the Singpass app, visit the AppGallery today.