2021/11/17
Huawei Offers a Full Suite of Business Solutions to Enhance Operational Efficiency and Productivity
• From tablets, laptops and monitor displays, Huawei offers a portfolio of hardware and software solutions for businesses to create an integrated workstation for seamless connectivity and improved efficiency.
• The new MateBook B Series of laptops aims to serve and empower business organisations with 11th Gen Intel® Core processors, TPM 2.0 security chip and up to 512 GB storage.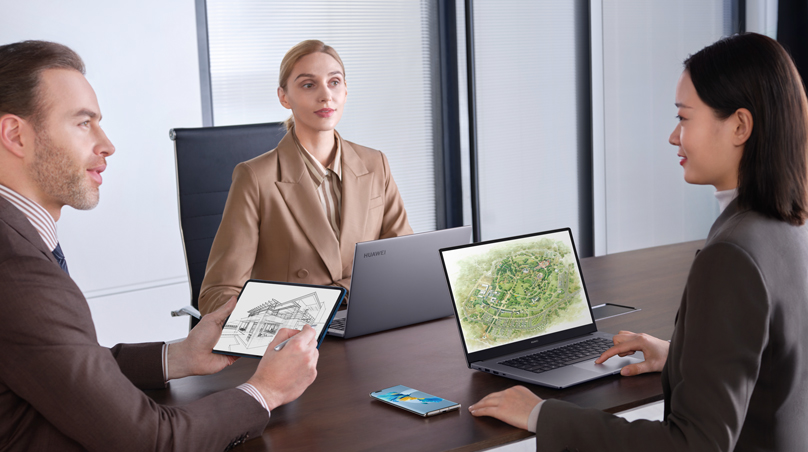 Huawei today announced that HUAWEI MateBook B Series, a lineup of business laptops for corporate owners and commercial users, is now available in Singapore. Featuring all new processers and displays, the Series delivers improved reliability, security, and a more seamless experience for users in the workplace.
Available in a range of three models, the new lightweight enterprise laptop Series is designed to support the varied needs of business users across industries. The HUAWEI MateBook B Series includes the MateBook B3-420 and MateBook B7-410.
Enterprise-grade reliability underpinned by chip-level security
As enterprise laptops are the main tools enabling users to be productive at work, data security and product reliability are two of the key considerations for businesses.
The TPM2.0 security chip embedded in the HUAWEI MateBook B Series supports a multi-faceted security solution that safeguards user data confidentiality, integrity and usability. The chip can not only save and manage BIOS and hard-drive passwords, but also supports the encryption of system and app login credentials.
The HUAWEI MateBook B Series also features the Fingerprint Power Button which biometrically authenticates users' identity when they are powering on the device, taking them directly to the desktop in one step. The recessed camera also provides users with the ultimate peace of mind. Hidden underneath one of the keycaps, the camera can be accessed with the press of a button when needed and stowed away when not.
MateBook B3-420: An all-rounded laptop with high-speed Wi-Fi 6 support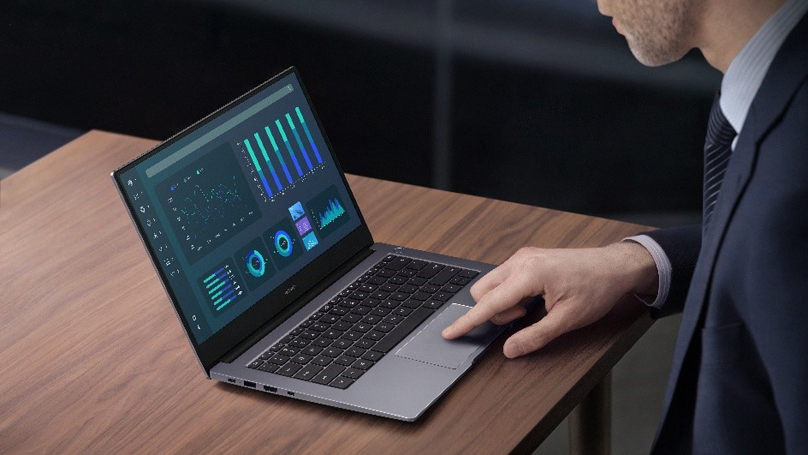 The HUAWEI MateBook B3-420 is an all-round, lightweight and portable laptop featuring a metal build and minimalist design. In addition to providing an immersive viewing experience, the laptop also received the TÜV Rheinland certification for low blue light1 and Flicker Free certification, which helps to alleviate users' eye fatigue during use.
The HUAWEI MateBook B3-420 is equipped with 11th Gen Intel® Core™ i5-1135G7 processor and include 8GB RAM plus PCIe NVMe SSD to support various enterprise use cases.
Innoative technologies are also integrated into the HUAWEI MateBook B3-420, such as Huawei Share, the Fingerprint Power Button, high-speed Wi-Fi 6 support and fast charging capabilities. All of these innovations enable the laptop to not only be a productivity tool, but also an intelligent assistant that help the users to excel at work, study, and everything else that life has in store for them.
With the slim body of the HUAWEI MateBook B3-420 is a versatile selection of ports including a USB Type-C port, USB3.2 Gen 1 port, USB2.0 port, HDMI port, 3.5mm headphone jack and a mini RJ45 port.
MateBook B7-410: Ultra-slim business flagship laptop with high performance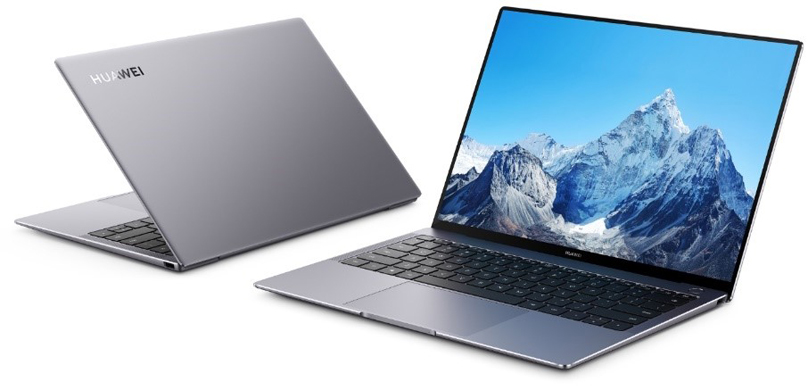 As the flagship model of the enterprise laptop series, the HUAWEI MateBook B7-410 features an ultra lightweight unibody made of aerospace-grade aluminium. Weighing as light as just 1.33kg, it makes for an ideal companion for those who need to stay mobile. Featuring a 13.9-inch 3K touch display with a screen-to-body ratio of 91 percent, it also offers an expansive viewing area for facilitating effective work.
Enjoy mobile productivity with Huawei MatePad Series: Tablets for remote working
With Huawei's latest line-up of tablets powered by HarmonyOS, the HUAWEI MatePad 11 and HUAWEI MatePad Pro in 10.8-inch and HUAWEI MatePad Pro 12.6-inch bring a more efficient way to interact with the tablet. From Bottom App Dock that lets you quickly access frequently used apps, to Service Widgets for directly showing important information, the new UI provides a more efficient way to access information. The three tablets offer the new PC-Tablet Multi-screen Collaboration2 , including three modes, which are Mirror Mode, Extend Mode and Collaborate Mode. These Huawei tablets also serve as a handy drawing panel as well as a portable monitor. By breaking down the barriers between Windows and HarmonyOS, the updated Multi-screen Collaboration delivers the ultimate cross-device experience.
All-scenario features help users to work smarter and better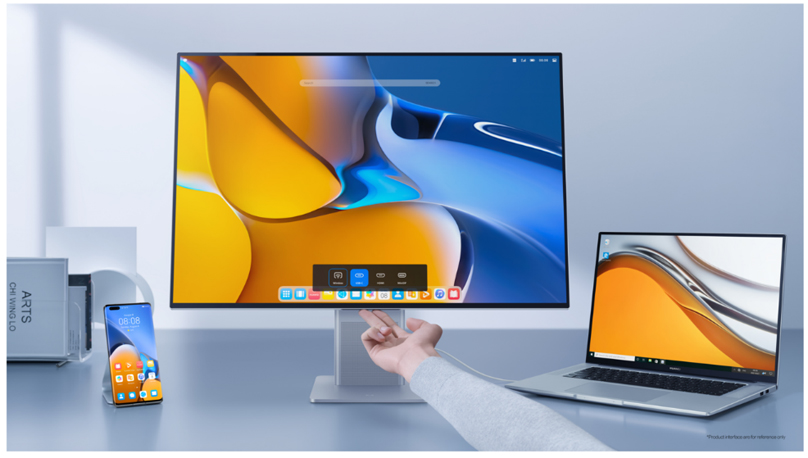 The new HUAWEI MateBook B Series brings Huawei's All-Scenario experience to the office. Pre-installed with Multi-screen Collaboration, the new enterprise laptops work even better together with Huawei smartphones, tablets and monitor displays – helping users to work smarter by taking advantage of multiple devices at once.
Featuring Huawei's revolutionary distributed technology, the new HUAWEI MateBook B Series supports the smart Multi-screen Collaboration feature. Users can now wirelessly connect their laptop to the Huawei smartphone, tablet or monitor display via Multi-screen Collaboration3 and enjoy a seamless experience. Gaining the benefit of working smarter and more efficiently with two devices on a single display, users can enjoy greater productivity, with less time spent switching their attention between two screens.
Enjoy end-to-end support with a peace of mind
As a business partner, Huawei offers a full suite of service and support solutions dedicated to achieve maximum uptime and productivity. This includes a 3-year warranty covering all products and onsite technical assistance available at your service to perform troubleshooting and repair. For any technical assistance, contact our hotline 800-852-6666 (toll-free). Huawei will arrange for an engineer to your location if required.
Get in touch with our partnering distributor to find out more about corporate pricing for business laptops and devices:
VSTECS (SINGAPORE) PTE LTD
E-mail: enquiry@ecs.com.sg
Tel: 62999433
About Huawei Consumer BG
Huawei's products and services are available in more than 170 countries and are used by a third of the world's population. Fourteen R&D centres have been set up in countries around the world, including Germany, Sweden, Russia, India and China. Huawei Consumer BG is one of Huawei's three business units and covers smartphones, PC and tablets, wearables and cloud services, etc. Huawei's global network is built on over 30 years of expertise in the telecom industry and is dedicated to delivering the latest technological advances to consumers around the world.
For more information please visit: https://consumer.huawei.com/sg
For regular updates on Huawei Consumer BG, follow us on:
Facebook: https://www.facebook.com/HuaweiMobileSG
Instagram: https://www.instagram.com/huawei.sg
YouTube: https://www.youtube.com/c/HuaweiMobileSG
1. TÜV Rheinland certification criteria: the display must pass the TÜV Rheinland low blue light test when Eye Comfort Mode is active (colour temperature adjustment not included in the test).
2. This feature is only supported by certain Huawei tablets running HarmonyOS (or later), and certain Huawei PCs running PC Manager 11.1 (or later).
3. Only supported by certain Huawei mobile phones that have NFC function and run EMUI 10.0 (or above). For further help, please contact customer service. To achieve screen projection, Huawei mobile phones need to make contact with the Huawei Share sensor area on the MateView base.