Nothing but screen.
And what a screen.
The 2K FullView Display
1
is engineered to maximize impact by pushing the viewing area to the
limit.
The result is a broader, cleaner, and more intense visual experience. The screen covers 100% of the
sRGB
2
colour space, so hues are vivid and precise. The brightness is 300 nits
2
, and the contrast ratio is 1500:1,
so you get bright, lifelike images
every time.2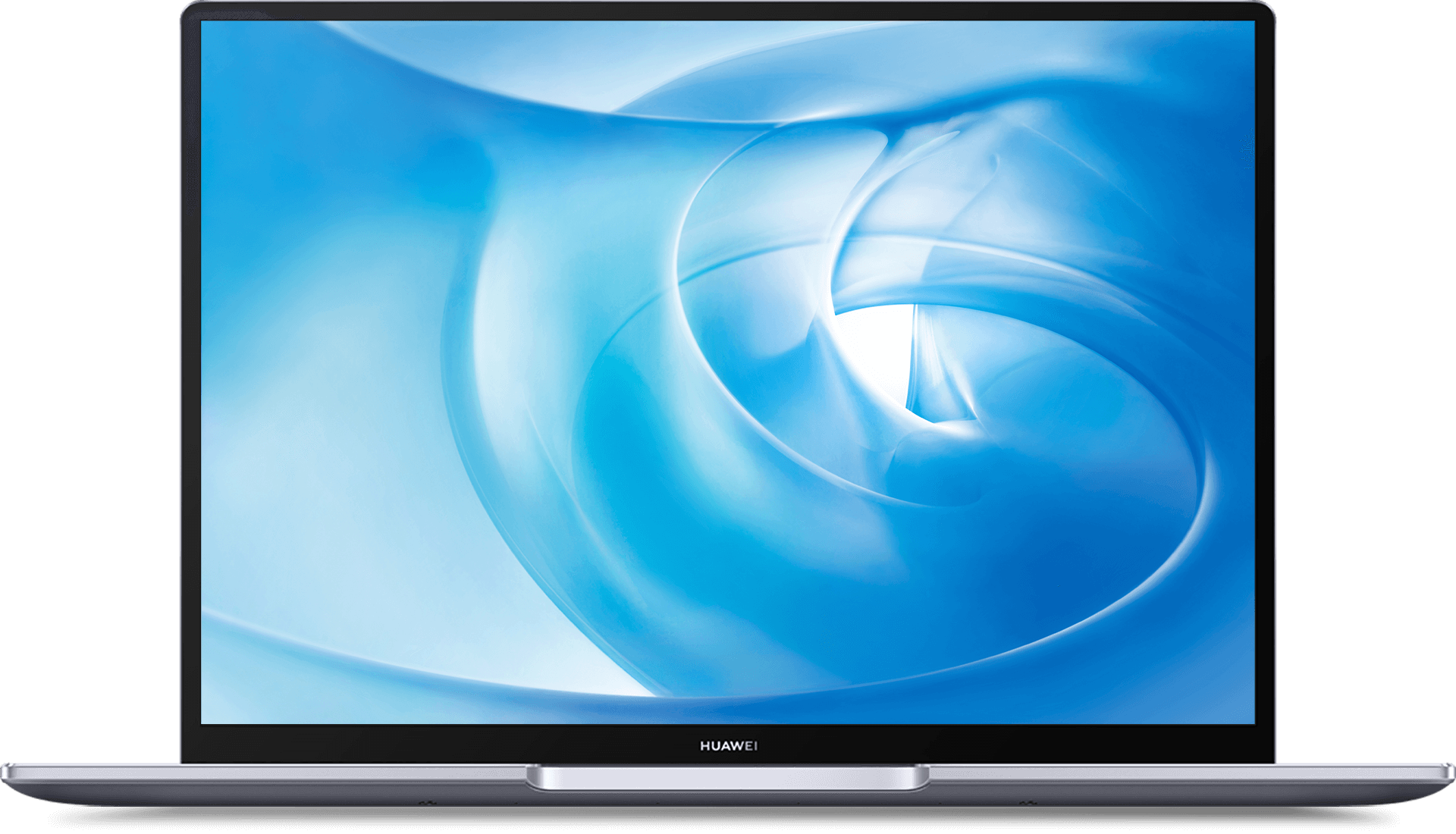 More vertical space
for lateral thinking
The laptop's 3 : 2 aspect ratio gives you much more vertical space than a conventional
device,
which makes it ideal for designing a masterpiece, editing a document, or browsing
webpages.
The screen has also been certified by TÜV Rheinland
3
for reducing harmful blue light
4
,
so you can use it for longer without your eyes feeling the
strain.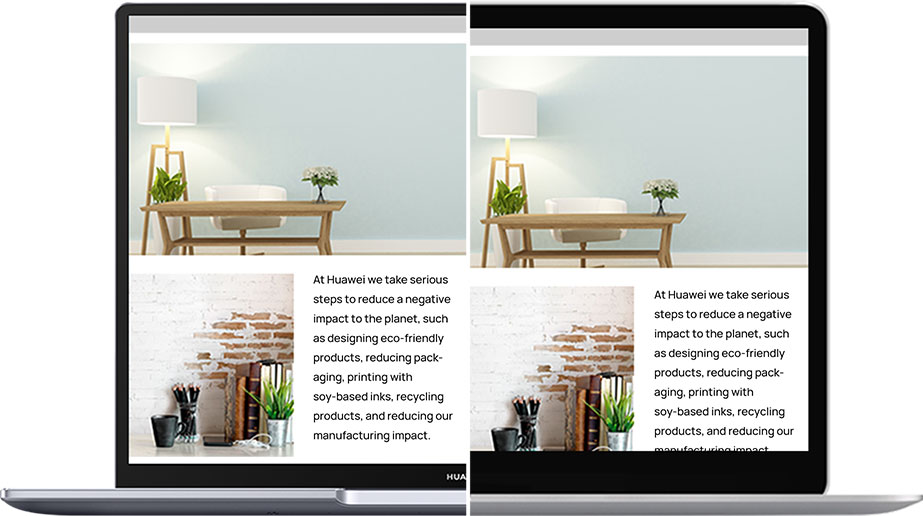 TÜV Rheinland boasts over 140 years of history for quality accreditation
covering
6 major professional research domains of displays and offers
authoritative
certification for the quality of eye-protection of mobile phone
displays.
Tap, swipe, and grab
Capturing and editing screenshots has never been easier. Simply swipe three fingers
5
to take a
screengrab,
and then capture specific areas of the screen by drawing shapes
6
. The laptop
automatically
recognises any text within the space you've captured, which you can then quickly paste into a
document.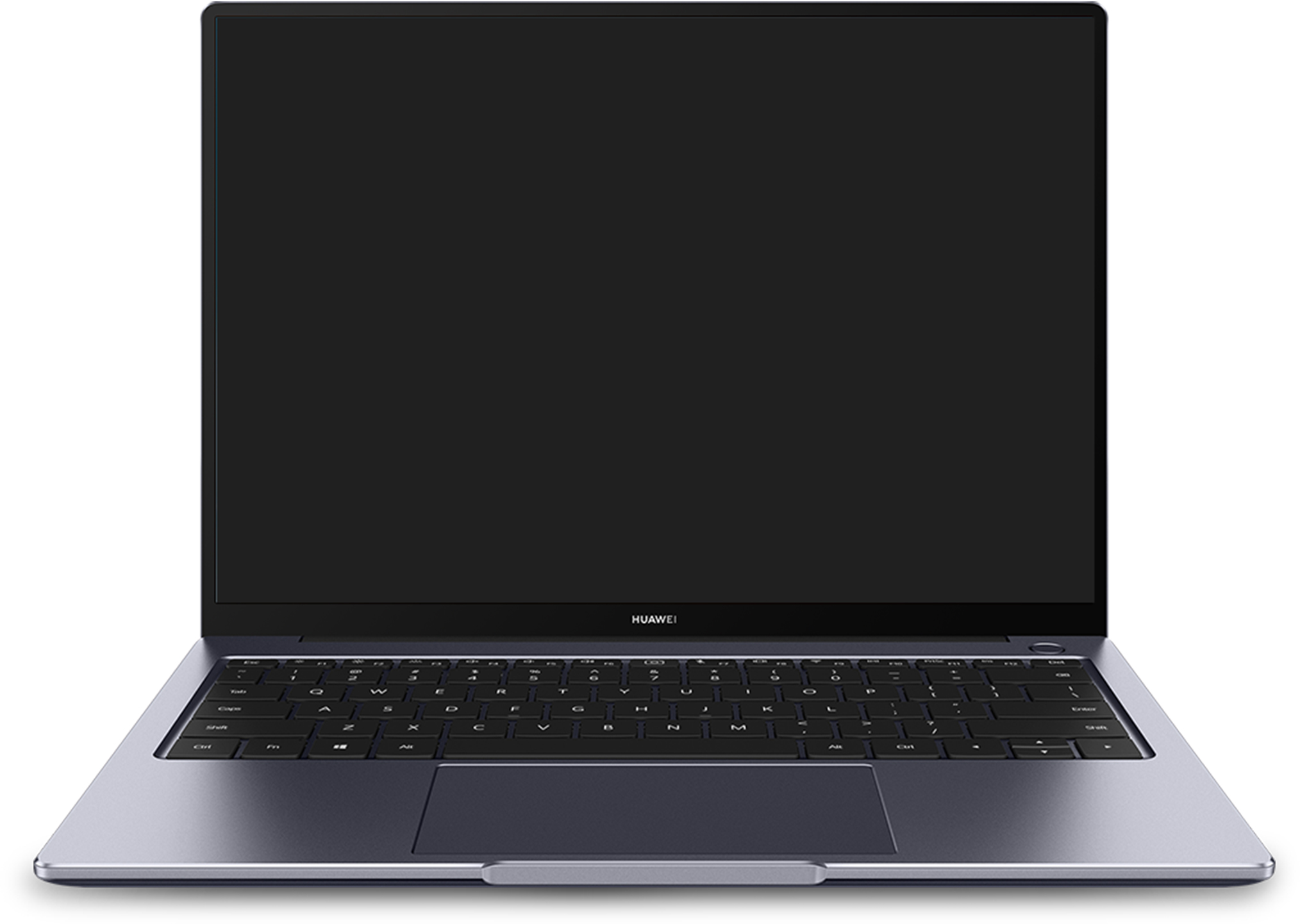 A lean machine
you can take anywhere
With its aluminium alloy chassis
7
and sandblasted finish, the HUAWEI MateBook 14 combines
a sleek
look with a premium feel. We've completely streamlined the design, removing every last gram of
excess weight.
It tips the scales at a mere 1.49 kg,
8
and even at its thickest point it's a svelte
15.9 mm.9
Huawei Share10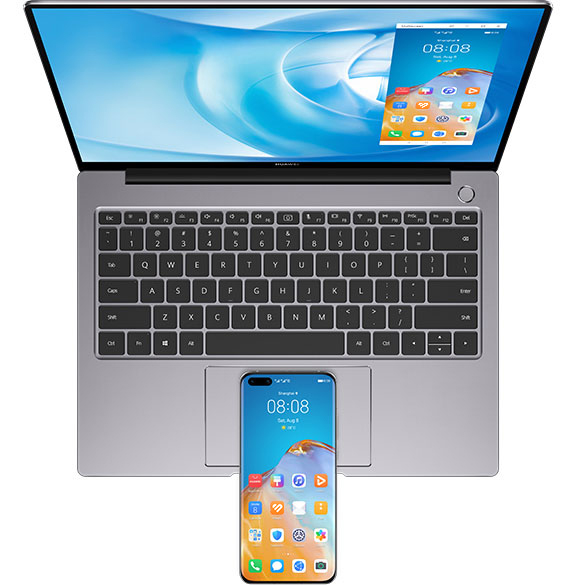 With the Huawei Share tag built into the touchpad, you can simply tap your
phone to
the touchpad to transform them into "ONE" super device. Your phone screen will pop up
automatically
on your HUAWEI MateBook 14, so they can work together
seamlessly.
Find out more>
Easy
File-transfer
Cross-device
File-editing
Phone Call
from PC
Drag and drop your files between your PC and phone, and share
easily.
Open files on your phone, and edit on your PC. Navigating between your devices has never been
easier.
Make or pick up your phone call from the PC. Stay tuned in on one device, taking productivity to the next
level.
Feel the force of
an octa-core processor
The laptop's AMD Ryzen
™
4000 H Series Mobile Processor is manufactured with the 7 nm process,
and has
8 ultra-responsive cores which deliver impeccable performance when multitasking, or creating content
on-the-go.
The AMD Radeon
™
Graphics card makes editing videos and retouching images a breeze,
so you have complete creative control, wherever
you are.
In Standard Mode, you'll have more than enough power for everyday tasks, but whenever you need to kick
things up
a gear, you can unleash Performance Mode
11
, and make even the most demanding tasks are a piece of
cake.
Much roomier than it looks
With an expansive 16 GB of dual-channel memory
12
, and 512 GB of PCIe
NVMe SSD,
you won't run out of space for your images, videos,
or documents.
Reading, storing, and compressing large files is incredibly
efficient too,
so you'll have no problems nimbly hopping from task
to task.
Heat has met its match
Heat is eliminated quickly and efficiently, thanks to the upgraded dual-fan HUAWEI
Shark fin
heat dissipation system. Its thinner, high-density S-shaped blades produce 39% more air flow
13
,
and the dual
heat sinks quickly redirect heat, so the laptop stays cool
under pressure.
The fans are also whisper-quiet, so the laptop won't disturb you or anyone
around you.
Designed for life on-the-go
In a hurry? A 15 minute charge of the 56 Wh battery is good for 2.5 hours of
use
14
.
The battery has been designed using our own energy-saving technology too, so you can let go of your
plug-in anxiety.
Jump right back in
Powering on the laptop and getting to your desktop is swift and
secure,
thanks to the fingerprint reader embedded in the power button
17
. One press and you're
ready to go.
Impressive across the board
Experience what a cutting-edge keyboard can do. With three levels of
backlighting,
optimised key travel and surfaces, and a large touchpad, typing is both comfortable and
natural.
Plug in to more possibilities
It may be thin, but the HUAWEI MateBook 14 still packs a handy array of ports for your
earphones,
phones, flash drives, and anything else you
need.
USB 3.2 Gen 1
USB 3.2 Gen 1
USB-C Port
3.5 mm Headphone Socket
HDMI Port
Tried, tested, and proven
We put HUAWEI MateBook 14 through numerous quality tests and in various
situational
simulations to ensure stable performance that will endure
long-term use:
High-temperature & high humidity
test (40°C, 90%RH)
USB-C port durability test
Fingerprint key durability test
Keyboard life test
Hinge life test
Touchpad life test
1. FullView Display is a patented and commonly used term for HUAWEI/HONOR products, referring to devices with a high body-to-screen ratio and reduced bezels. Data comes from Huawei labs.
2. Typical value.
3. TÜV Rheinland certification conditions: When Eye Comfort Mode is active, blue light levels must not exceed TÜV Rheinland's maximum threshold (this doesn't apply to colour temperature adjustment).
4. The extent to which blue light is reduced varies with actual use. This is not a medical device and does not provide medical treatment.
5. This feature is limited to devices running PC Manager versions 9.1 and above with all the relevant drivers installed.
6. Touch support is available as an option. Availability may vary by region.
7. The LCD cover, top cover, bottom cover are made of metallic materials. The hinge and side covers (where the ports are located) are made using non-metallic materials.
8. Data comes from Huawei labs. The actual weight will vary by product, as this is affected by manufacturing and testing processes.
9. Data comes from Huawei labs. Thickness does not include the foot pads. The actual thickness will vary by product.
10. Huawei Share supports Multi-screen Collaboration between a Huawei smartphone (limited to specific models) running EMUI 10.1 or later and a HUAWEI MateBook running PC Manager 10.1 or later.
Only some files and smartphone applications support this feature. For more information when purchasing related products or using this feature, please consult with HUAWEI Customer Service.
11. Performance Mode can only activated when the power supply is sufficient. It is not enabled by default. When it is activated, the CPU and GPU functionality can be instantly increased.
This may cause the fans to produce heat and noise, and the surface may become hotter as a result.
12. There is also a version with 8 GB of RAM.
13. Data comes from Huawei labs and was obtained by comparing the current HUAWEI MateBook 14 with the previous-gen model.
14. Data comes from Huawei labs. Battery endurance tests were conducted while the brightness was set to 150 nits. Actual performance will vary.
15. Data comes from Huawei labs. Does not include the weight of the cables, which are 42.5 g. The actual weight will vary by product, as it is affected by manufacturing and testing processes.
16. The 65 W charger supports SuperCharge™ feature for the following HUAWEI SuperCharge™ phones: HUAWEI P40 Pro, HUAWEI P40, HUAWEI Mate Xs,
HUAWEI Mate30 Pro, HUAWEI Mate30, etc. Please consult with Huawei Customer Service for updated list of latest Huawei smartphones that supports this feature.
The 65 W charger supports many output standards including 5V/2A, 9V/2A, 12V/2A, 15V/3A, 20V/3.25A. The actual output varies depending on the device.
17.This feature is limited to devices with all the relevant drivers provided by PC Manager installed.
* Huawei adopts a multi-supplier strategy for certain components. All components comply with Huawei's standards. Actual products in local markets should prevail.