Device Privacy & Security
Privacy Protection Settings
You can adjust the privacy protection settings at any time, to implement data and permission access policies that meet your needs, and manage the privacy and security safeguards on your device. Apps would only perform certain functions with necessary permissions being granted by you. We endeavour to make each step of operations transparent, secure, and at your control.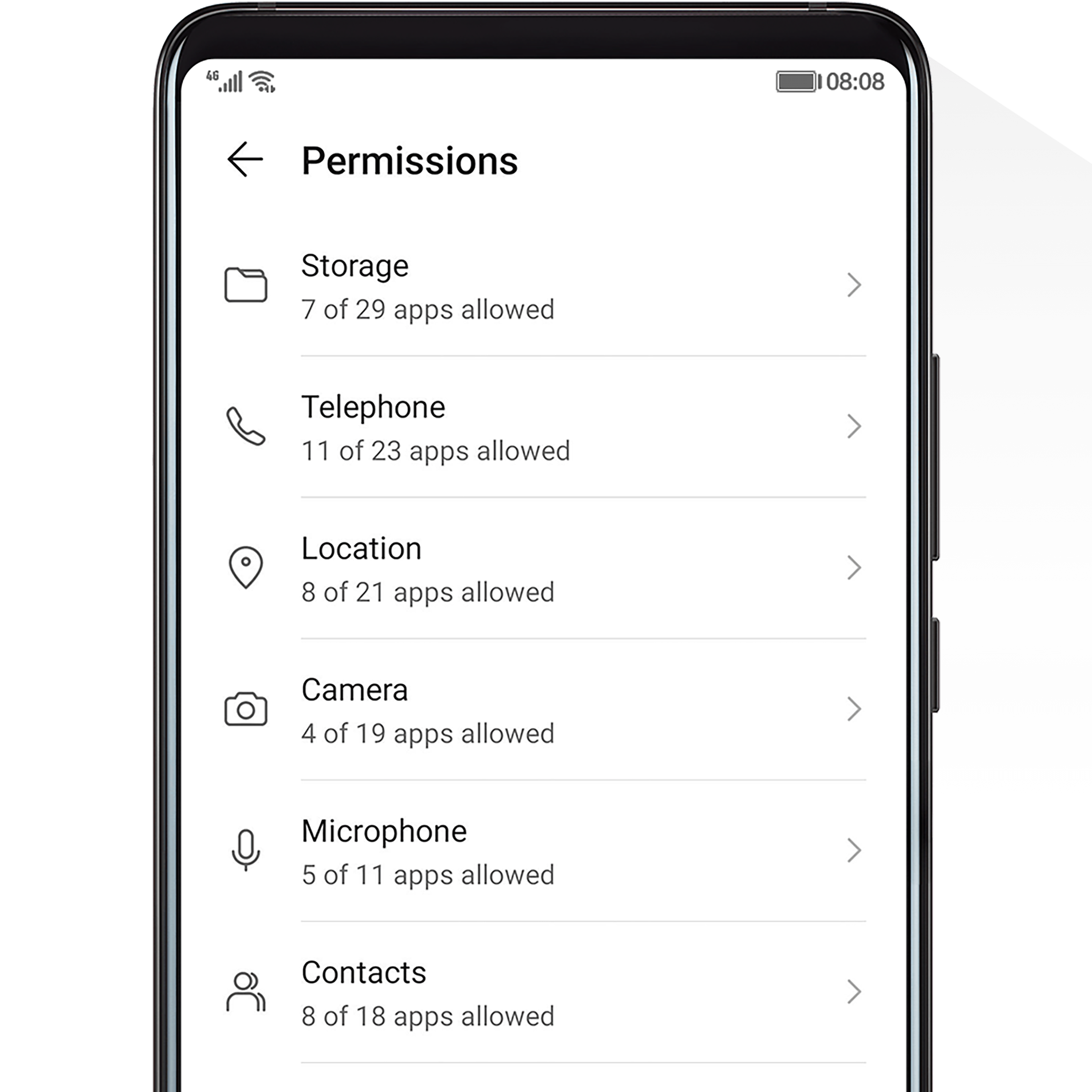 Minimal Permissions

EMUI has been fine-tuned with rigorous controls to enhance user privacy and minimise Apps' access to personal data. When an app is authorised to access the microphone, camera, location information, or obtain any other permissions, the system implements a one-time permission mechanism to further reduce any unnecessary permissions or personal data access.
In addition, EMUI by default prevents Apps from accessing user gallery or contacts. In order to obtain these permissions, the App must call the system's selector mechanism, ensuring that the App could only access the images and contacts of the user's selection.
Furthermore, new Apps are not automatically granted the SMS, MMS, call records, or other personal data, calling, and storage permissions by EMUI, so that user privacy is firmly entrenched at the system level.

Transparent Permissions

When an app accesses the microphone, camera, location information, or obtains any other permission, the icon of the corresponding permission displays on the phone status bar, indicating that the relevant permission is being used. You can also review the record of all microphone, camera, location information, and other app permissions, and adjust the sensitive permission settings, which makes app access even more transparent.
When an app accesses Clipboard content, EMUI records the event to ensure enhanced transparency. This mechanism helps EMUI prevent apps from tracking user behaviour by frequently accessing the Clipboard.
EMUI enables you to grant permission access by app or by function. You're free to adjust private data access on an app-by-app basis to ensure that frequently-used apps like Contacts, Messaging, Health, Calendar, and Camera deliver the considerate level of service you require, while rigorously protecting your privacy.

Anti-Tracking Safeguards

EMUI highly values user privacy, it contains built-in privacy safeguards at the system level to spare users from dealing with cumbersome settings and notifications.
When a device is added to a smart shared network, the device will generate a new, corresponding random device ID within the network, which is used to identify the device node in the shared network. Apps must use this randomly generated device ID when facilitating cross-device access, rather than using a fixed device identifier. On top of that, EMUI provides a device ID reset function, to prevent apps from tracking users or undermining user privacy in smart shared network environments.

Hidden Private Messages during Screen Projection

When projecting your phone to a larger screen, EMUI keeps privacy safeguards enabled by default, so as to ensure that your personal messages (SMS, WeChat, Facebook, etc.) and app notifications are kept out of sight, but limited to the phone screen itself.
Likewise, incoming phone call information is also limited to the phone screen itself during your projection. You can either answer or hang up the call on your phone.
Lastly, the input keyboard and relevant window will also be hidden from the view whenever you need to enter a password while projecting your phone screen. You can simply enter the password on your phone screen and enjoy the ultimate peace of mind.

PrivateSpace

To protect your privacy, we have provided you with a separate encrypted space that is completely isolated from your MainSpace – your own PrivateSpace. You can store your most important data in your PrivateSpace which is not directly accessible from your MainSpace. In the meantime, files (such as video, audio, and images) can be conveniently transferred between your PrivateSpace and MainSpace. You can adopt a PrivateSpace password or fingerprint for quick and easy access from the lock screen. There is no other way to access your PrivateSpace, so you can rest assured that your data is safe and secure from unauthorised users.
To set a password, first enter your PrivateSpace, then go to Settings > Privacy > PrivateSpace > Password Protection. PrivateSpace also provides a password reset function in case you forget your PrivateSpace password. Simply enter your MainSpace, then go to Settings > Privacy > PrivateSpace and choose Reset password to reset your PrivateSpace password.

Manage your location information

Location service determines your location through GPS, Wi-Fi hotspots, base stations, and other resources. When you enable Location service, more accurate navigation guides and local weather information can be provided to you. Apps can only access your location data with your explicit consent. You can prevent an app from accessing your location data at any time.
Biometrics Security
Our cutting-edge biometric identification system ensures that your identity can only be verified by yourself, through your unique biometrics data, such as your facial and fingerprint data.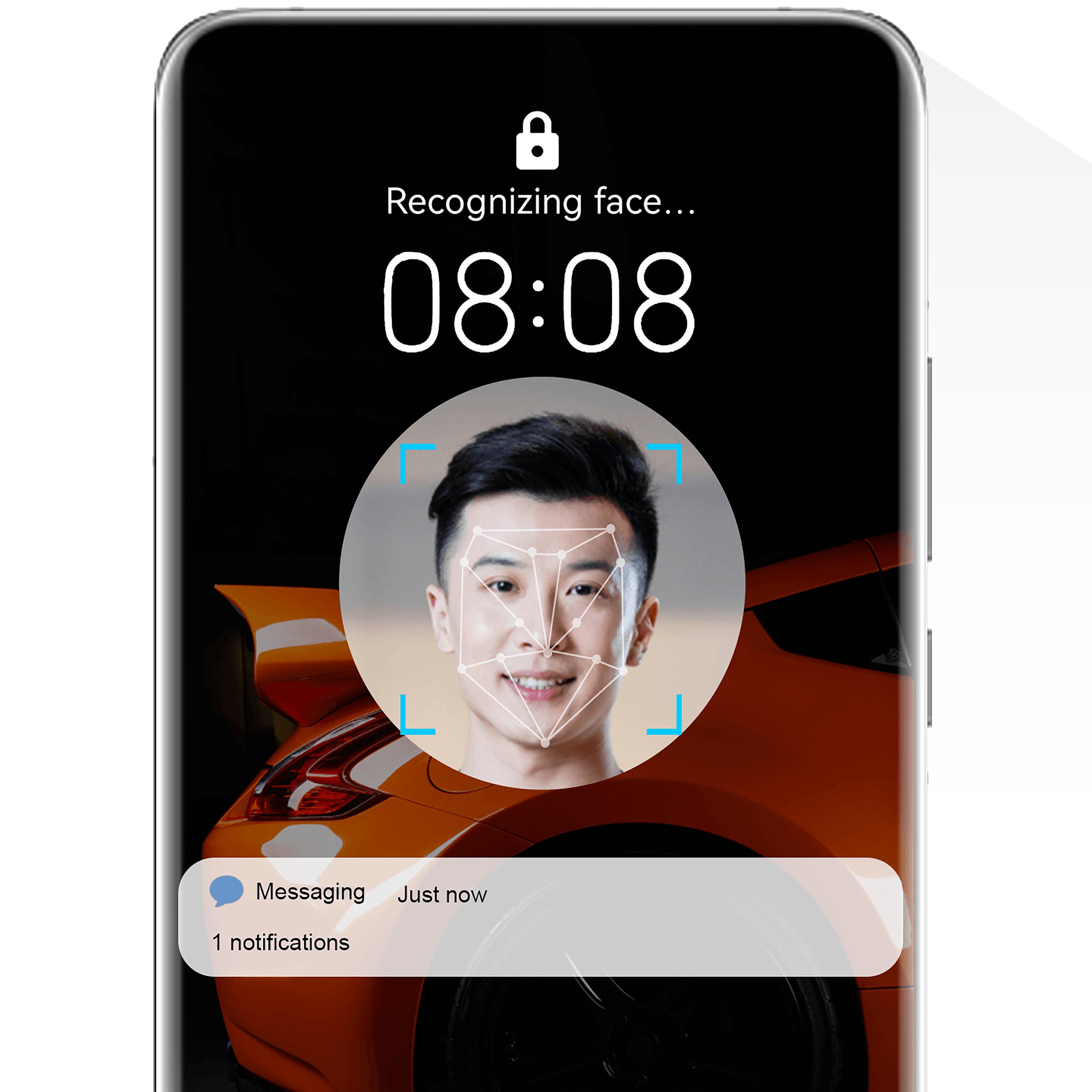 Fingerprint

Fingerprints are physically unique for each and every human being, and are mainly adopted for the purpose of identity verification and in other important scenarios. You can use your fingerprint to verify your identity and unlock your device's screen. The entire processes of fingerprint data entry and pre-processing, fingerprint feature extraction, fingerprint template generation, and fingerprint authentication are all conducted in a secure, isolated, and trusted environment. The fingerprint images will then be converted into feature templates, which are encrypted, and stored to a secure and isolated location that is not accessible by the OS or any other apps. Your fingerprint data remains in the isolated zone on your device and will not be stored to the cloud server or anywhere else outside of your device.

Face recognition

Face recognition is a biometric recognition technology that verifies a user's identity based on the user's scanned and recorded facial features. You can use your face to unlock your device and confirm payments. All critical functions and processes, such as facial image acquisition, feature extraction, feature comparison, and feature data storage are performed entirely in a secure, isolated and trusted environment. The feature templates converted from your facial features are encrypted and saved in a high-security zone under a high-intensity encryption algorithm. Your facial identification data is never uploaded to the cloud server or stored anywhere else outside of your device.
Device Security
Our multi-layer protection ensures the security while the device being unlocked.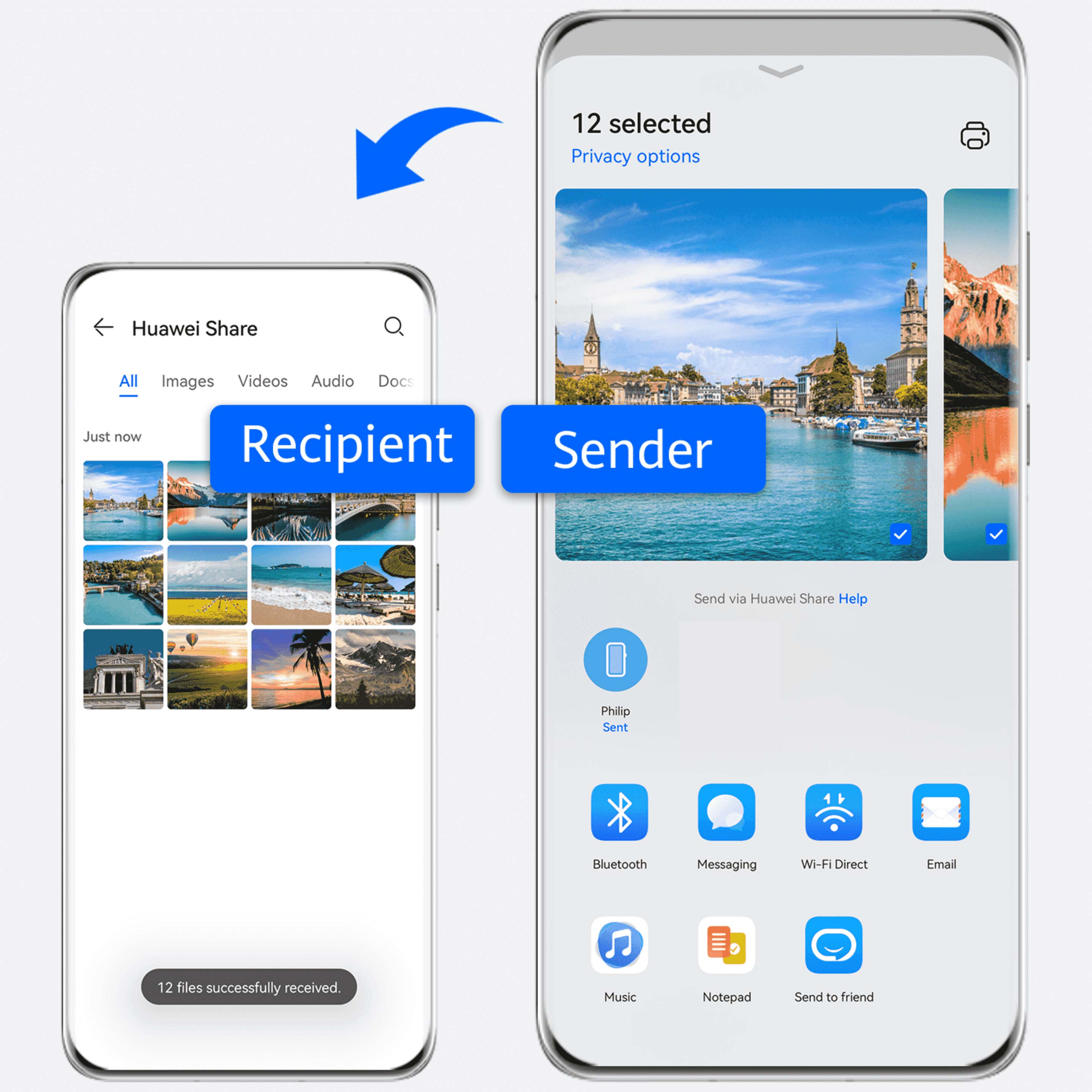 Co-Authentication

EMUI applies the airtight safeguards to enhance its super-device features. It allows you to use other devices to perform co-authentication when it is not convenient for you to manage tasks on your phone, and enjoy the most convenient and secure access.
EMUI enables you to securely log in and control your phone from your PC screen, even when the phone screen is off. You can also perform watch co-authentication when your phone and watch are in close proximity to each other, which bolsters phone security with a stronger unlock authentication.
More Device Data Protection
We have provided a series of features to help you and your family use digital devices in a healthy manner.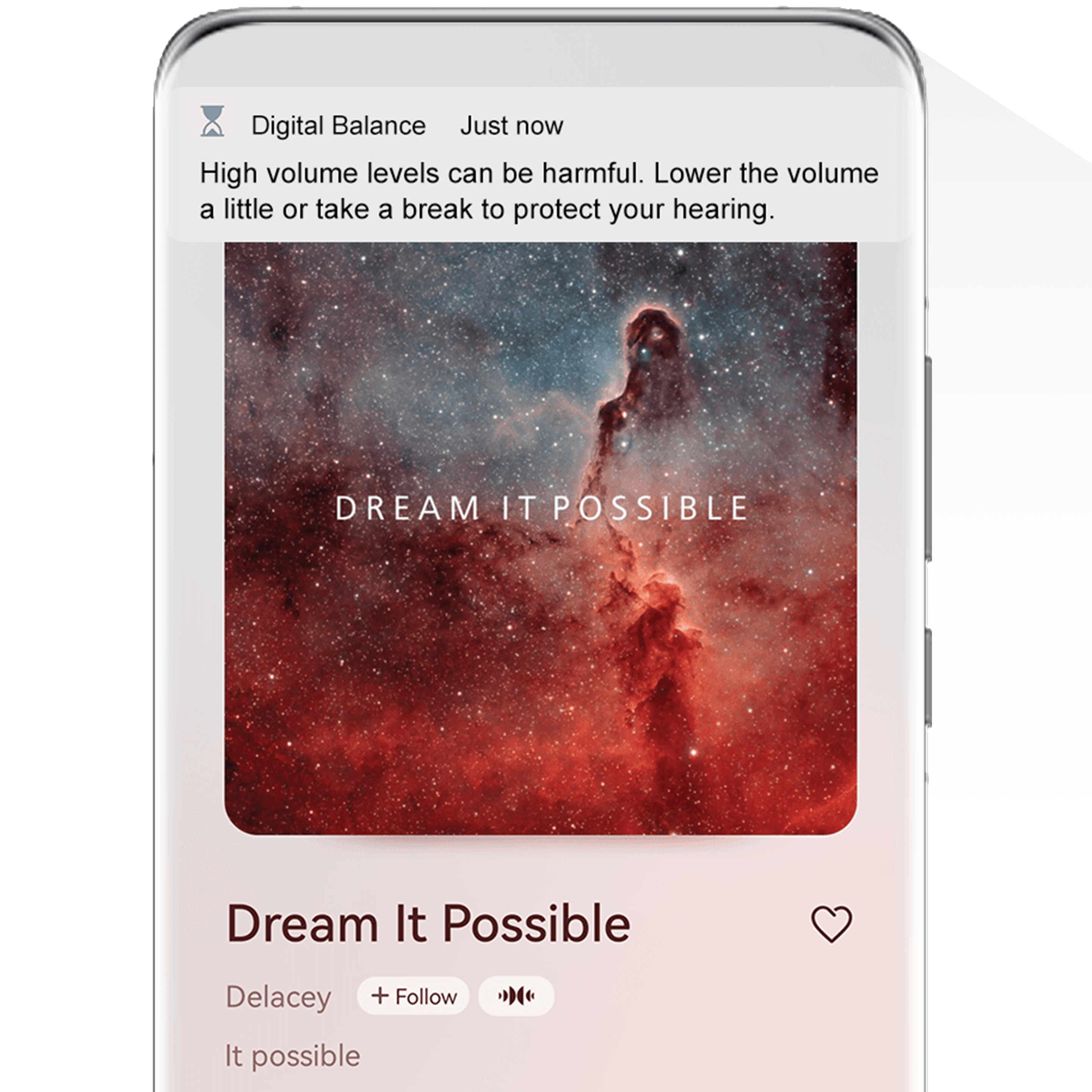 Digital balance

Digital balance provides you with app usage statistics, screen time and bed time management so that you can keep track of how long your phone was used and how many times it was unlocked every day. Additionally, it is possible for you to set a time limit for the usage of certain Apps, as well as to restrict App access during your pre-scheduled bed time. Your phone screen will turn grey or your access to apps will be restricted during the bed time,thus allowing you more time to hang out with your family, to exercise, and to rest. Your app usage statistics, phone unlock counts, and screen time management are stored locally on your phone and will not be uploaded to any servers. You can also set screen time and bed time for your child, and create a parental control password to prevent your child from changing the configurations or disabling the Digital balance.

User experience improvement project

To provide you with the most reliable, smooth-running, power-saving software and hardware system for the ultimate experience, we will collect statistical data on the reliability, performance, power consumption, faults, and errors on your device, as well as data on how your device and apps are being used. Your data will only be sent to Huawei after we obtain your explicit consent. Moreover, we utilise differential privacy technology to enhance your user experience and protect the data you share with Huawei. The technique adds random noises to the data to prevent us from directly recognising your original data. Relevant statistics will only result from large amounts of unidentifiable user data where the randomly added noises are removed through averaging.

Password vault

The Password vault allows you to save and automatically fill in app login and password information. App login and password information saved by the Password vault is encrypted and only stored on your device without being uploaded to the cloud.
Huawei's 1+8+N Strategy
AI Life
AI Life, as part of Huawei's 1+8+N strategy, is a portal where you can manage 8+N devices and services, including Huawei AI speakers, wearables, audio accessories, Visions, and HiLink smart devices. AI Life will only collect and process the minimum necessary data, including your nickname, profile picture, device identifier, and device operating status, to provide its services. Such data will be encrypted before it is uploaded and stored in the Huawei Cloud. Services related to third-party HiLink smart devices are provided by third-party vendors. We require third-party app vendors to provide users with privacy policies and to describe in detail the data that needs to be collected and stored on the their servers. When adding a device to AI Life, please read carefully the privacy statement of the third-party vendor.
MoreLess