Safeguarding the digital environment
At Huawei, we prioritise privacy and security over everything else. In compliance with rules on transparency and controllability, data minimisation, on-device data processing, anti-tracking, and security and reliability, Huawei Mobile Services employ a range of measures to protect the privacy and security of users around the world.
This principle is integrated comprehensively into the product design, development, operation, and maintenance process of Huawei Mobile Services. We have incorporated different advanced privacy protection technologies, such as differential privacy and federated learning, into our products to limit your personal information from being accessed by us or third parties. In addition, with the help of powerful security technologies, we endeavour to prevent any and all unauthorised access to your personal information. We never stop exploring new privacy protection technologies and solutions to safeguard your personal information security.
MoreLess
Account and Data Services
HUAWEI ID
HUAWEI ID allows you to securely sign in to Huawei Mobile Services, such as Cloud, Wallet, Video, Music, and Reader. You can also sign in using your HUAWEI ID more conveniently and securely to third-party websites or apps that have integrated the HUAWEI ID service.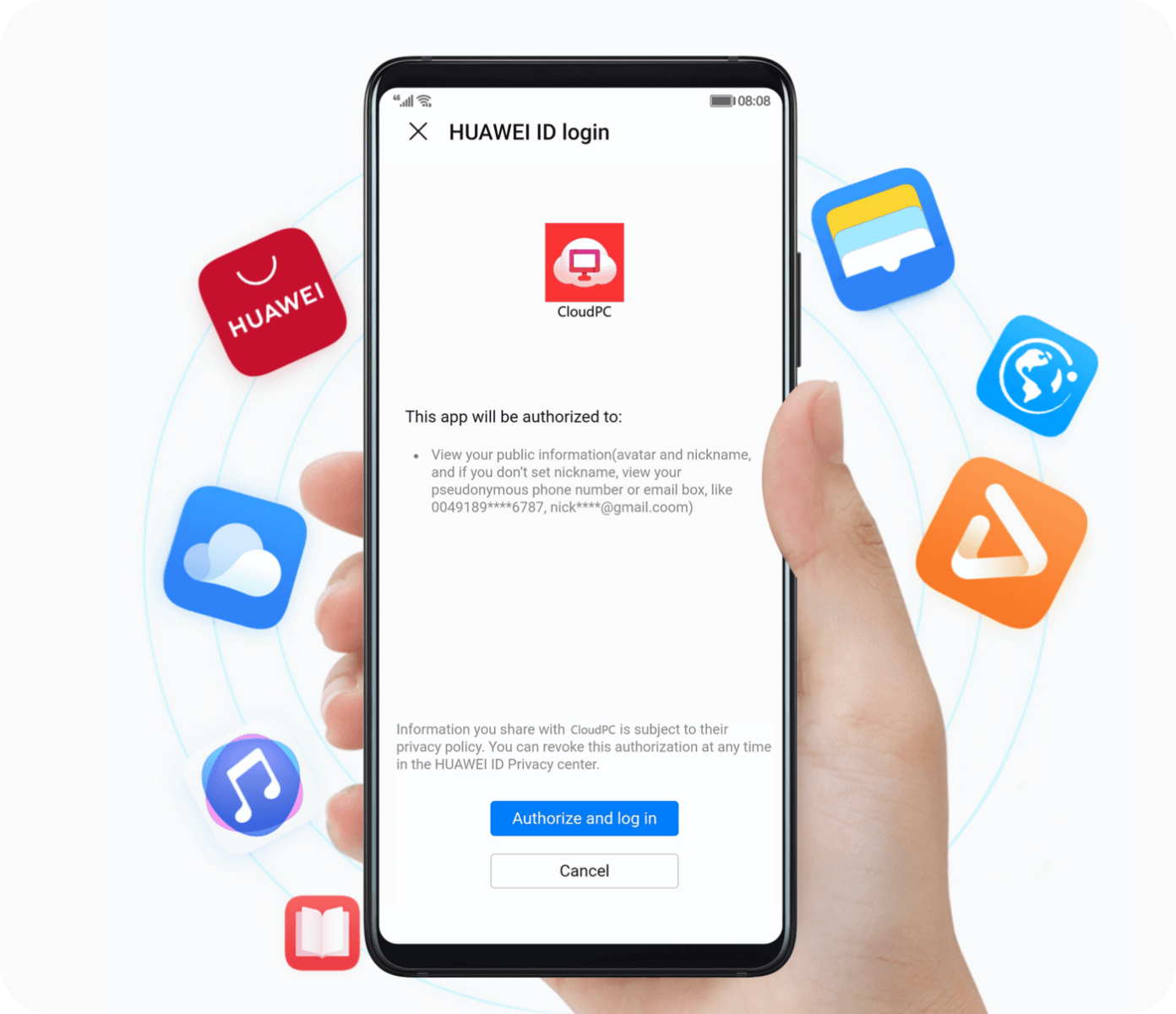 Multi-factor authentication

HUAWEI ID integrates multiple combined factors that provide security risk detection and prevention for your device, sign-in environment, and user sign-in credentials, preventing unauthorised users from stealing your account sign-in information or obtaining your personal information.

Account information

When material changes occur, such as when your password is changed, or you sign in to a new device with your HUAWEI ID, we will notify you by SMS messages, emails, or push notifications. In the event of any exceptions, we will prompt you to change your password. You can do this by going to Account centre. For more information, contact Huawei's online customer service.
We have adopted a variety of policies to protect your account. This includes limiting the number of attempts to sign in and reset the password, ensuring fraud monitoring helps identify attacks, and periodically reviewing and adjusting policies for new issues that may affect users' security.

Account Kit

Account Kit is a quick sign-in service provided by Huawei for developers based on the OAuth2.0 standard protocol. You can conveniently and securely use your HUAWEI ID to sign in to third-party websites or apps that have integrated HUAWEI ID services.
When you sign in to third-party websites or apps with your HUAWEI ID, they can only obtain the account information with your consent. You can withdraw your consent at any time in the HUAWEI ID Account centre. Third-party apps authorise sign-ins based on OpenID authentication to isolate data between different apps.
HUAWEI Cloud
HUAWEI Cloud provides you with real-time synchronisation and backup functions so you can securely store your photos, contacts, calendars, notes, and HUAWEI Browser bookmarks, and synchronise them between your devices. Your data is encrypted during transmission and storage. No one can access or read your data stored in the cloud without your consent.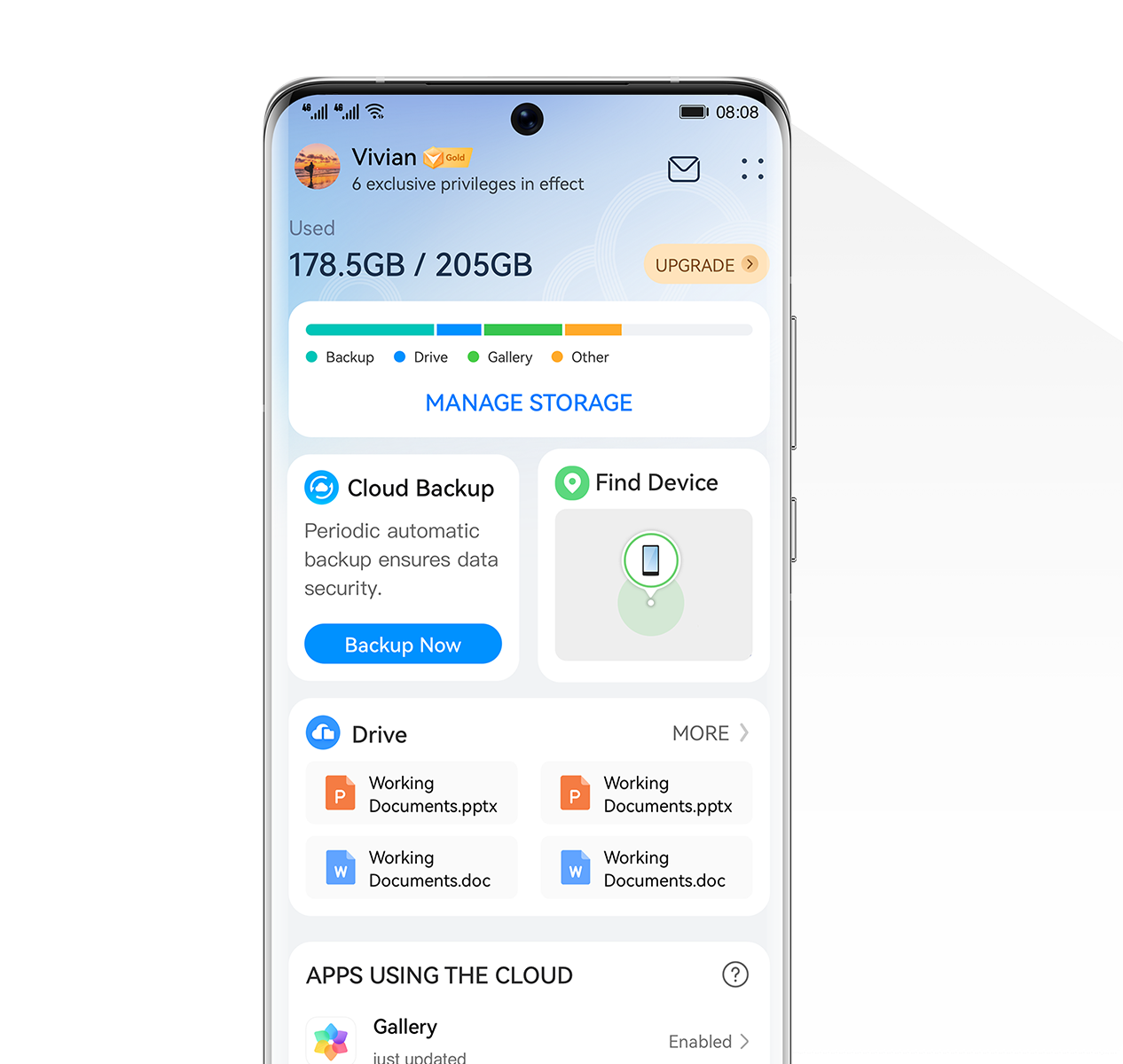 Multi-layer data encryption

Your photos, contacts, calendars, notes, HUAWEI Browser bookmarks, and other cloud data are encrypted during transmission and when stored on our servers. Your personal data stored in the cloud cannot be accessed by anyone without your consent.

Secure data sharing

When you share images or files through Cloud, the identity of the intended audience can only be displayed to the recipient who has accepted to receive what you are sharing. The name of the file that you share and your nickname are only provided to those who are authorised to access the shared link.

Find Device

If your Huawei device is lost or stolen, you can sign in to the official cloud website (cloud.huawei.com) or use the Find Device function on your Huawei device to locate it and display its current location on a map. You can ring your device to help you find it.
You can also lock the device and make it report the location and the movement trajectory. The reported trajectory data is encrypted and cleared automatically after you unlock the device. Even if you cannot find your device, you can remotely erase your personal data and permanently delete all content and settings from your device to ensure data security. After the device is remotely erased or reset, the Activation Lock function is enabled. You must enter the HUAWEI ID password linked to the device to activate the device and continue to use it. This is helpful for preventing others from stealing your device.

Drive Kit

Drive Kit is the cloud storage capability provided by Huawei for developers. It allows you to upload, download, synchronise, view, and search for files, such as images, videos, and files in Huawei Drive.
Developers' apps can only have access to your Huawei Drive with your consent. You can withdraw your consent and sign in to your Huawei Drive to manage relevant app data at any time. You can always control your data by granting or withdrawing consent.
Huawei Drive provides comprehensive security assurance for various types of data. All files stored on Huawei Drive are encrypted during transmission and when stored in the cloud. Without your consent, no one can access or read your data stored on Huawei Drive.
Smart Life Services
HUAWEI Wallet
HUAWEI Wallet provides you with Huawei Pay and e-wallet features so your phone can double as a transportation card, bank card, or door key if you want to go shopping, take public transportation, or open a door. We take measures to protect your privacy and security while providing you with convenient and smart life services.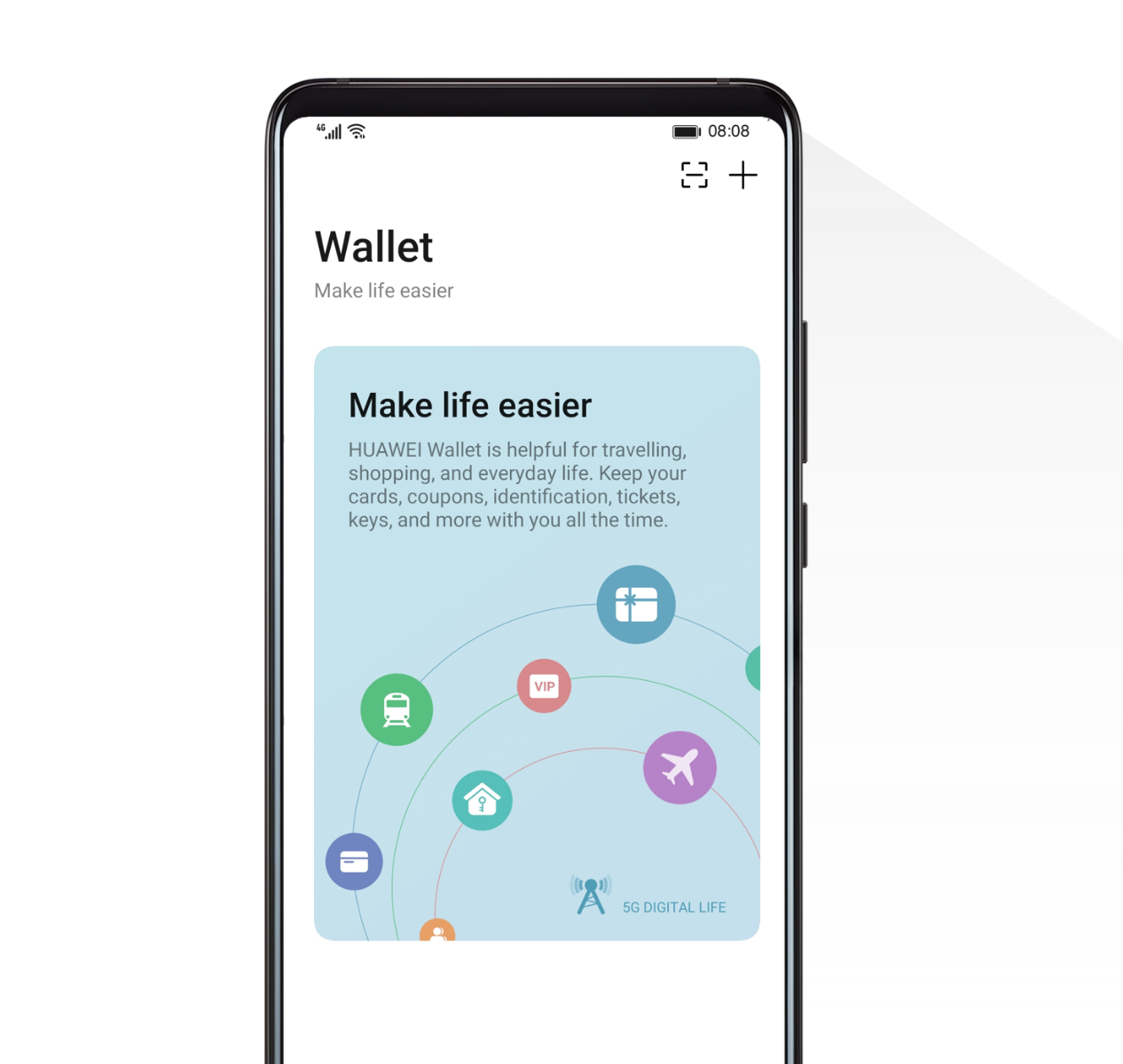 Unique device code

Huawei Pay is a faster, safer, and more private payment method provided by HUAWEI Wallet that enables you to make secure online payments or in-store purchases.
The bank card information you add to Huawei Pay will be converted by your issuing bank into a unique device code and stored separately on your device's security chip after encryption. Security chips provide a fully isolated operating space for your device code, protecting it from illegal access that may threaten your fund security.

IAP Kit

IAP Kit is a payment capability provided by Huawei for developers. It integrates mainstream payment methods around the world so that you can make in-app purchases of various virtual products and services.
While providing you with quick payment capabilities, we also endeavour to ensure the security of your payment and your personal information. For example, we isolate the merchant ID from the user ID so merchants cannot track who purchases the product, thus protecting your data privacy and security.

Wallet Kit

Wallet Kit is an open full-stack capacity provided by Huawei for developers across chips, devices, and the cloud that allows your phone to double as a digital card, certificate, coupon, ticket, or key.
We do our best to help developers protect your privacy. Your sensitive card information can be directly written into the security chip of Huawei mobile phones by merchants. The chip has been certified by EMVCo, the international financial-level chip security certification authority and ePrivacyseal, the international data security and privacy certification authority. Unauthorised apps cannot access the sensitive data when adding, updating, or using cards.
Assistant∙TODAY
Assistant∙TODAY provides customised AI Tips services and news feeds. Where possible we process all your personal information locally on your device. When cooperating with third-party partners, we adopt random identifiers to prevent the partners from recognising your identity.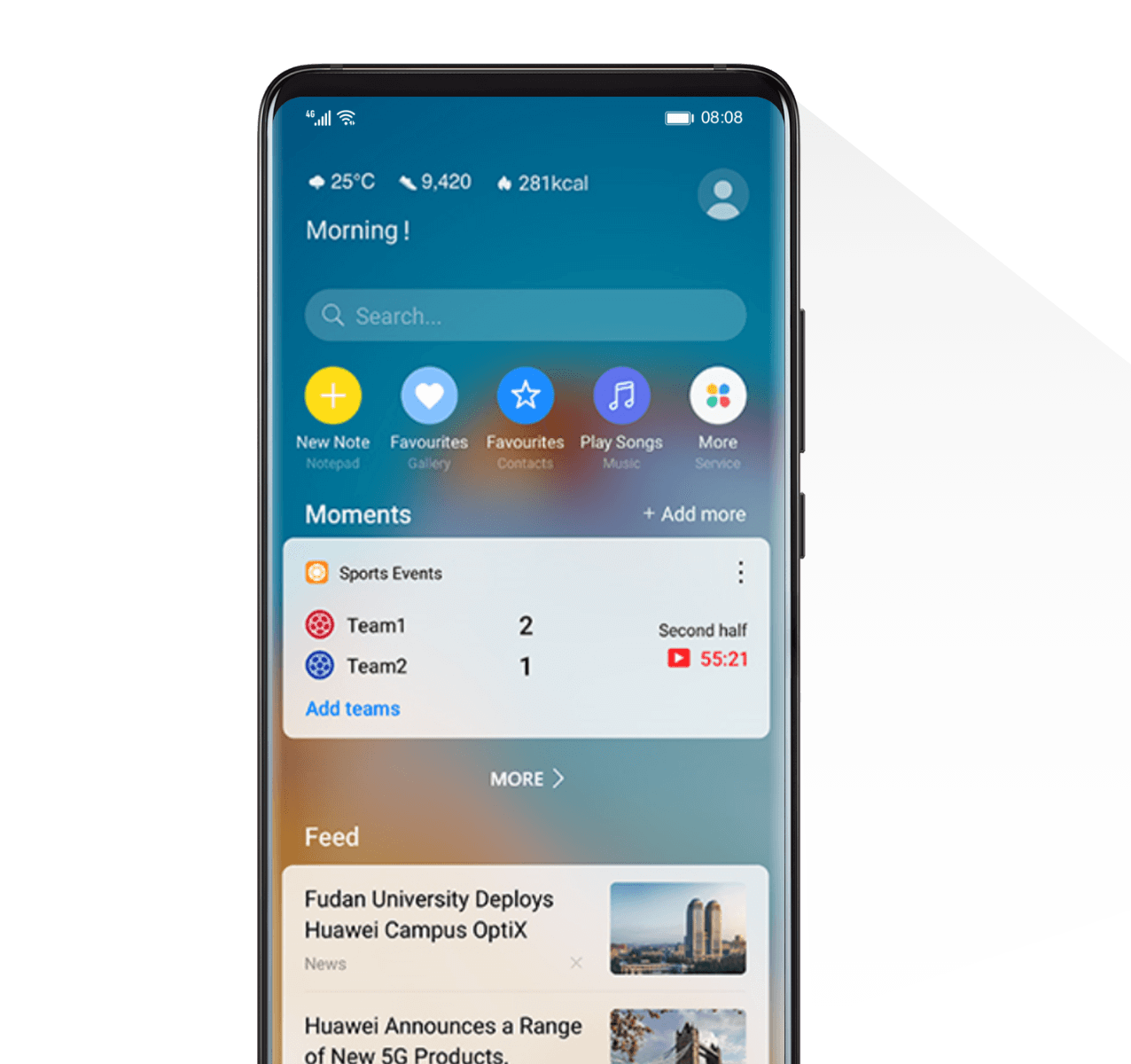 On-device data processing

Assistant∙TODAY generates reminder cards for you to quickly access your to-dos, meeting schedules, or travel information. The information may come from Messaging, Calendar, or Notepad. It will only be stored and processed locally to generate reminder cards on your device. We will not collect or upload the original information to the cloud.
HUAWEI Health
HUAWEI Health serves as your health assistant at any time. You decide how to use the personal information you add to it, such as whether to upload it to the HUAWEI HiHealth cloud. You may manage or erase your personal health data stored in the cloud whenever you want.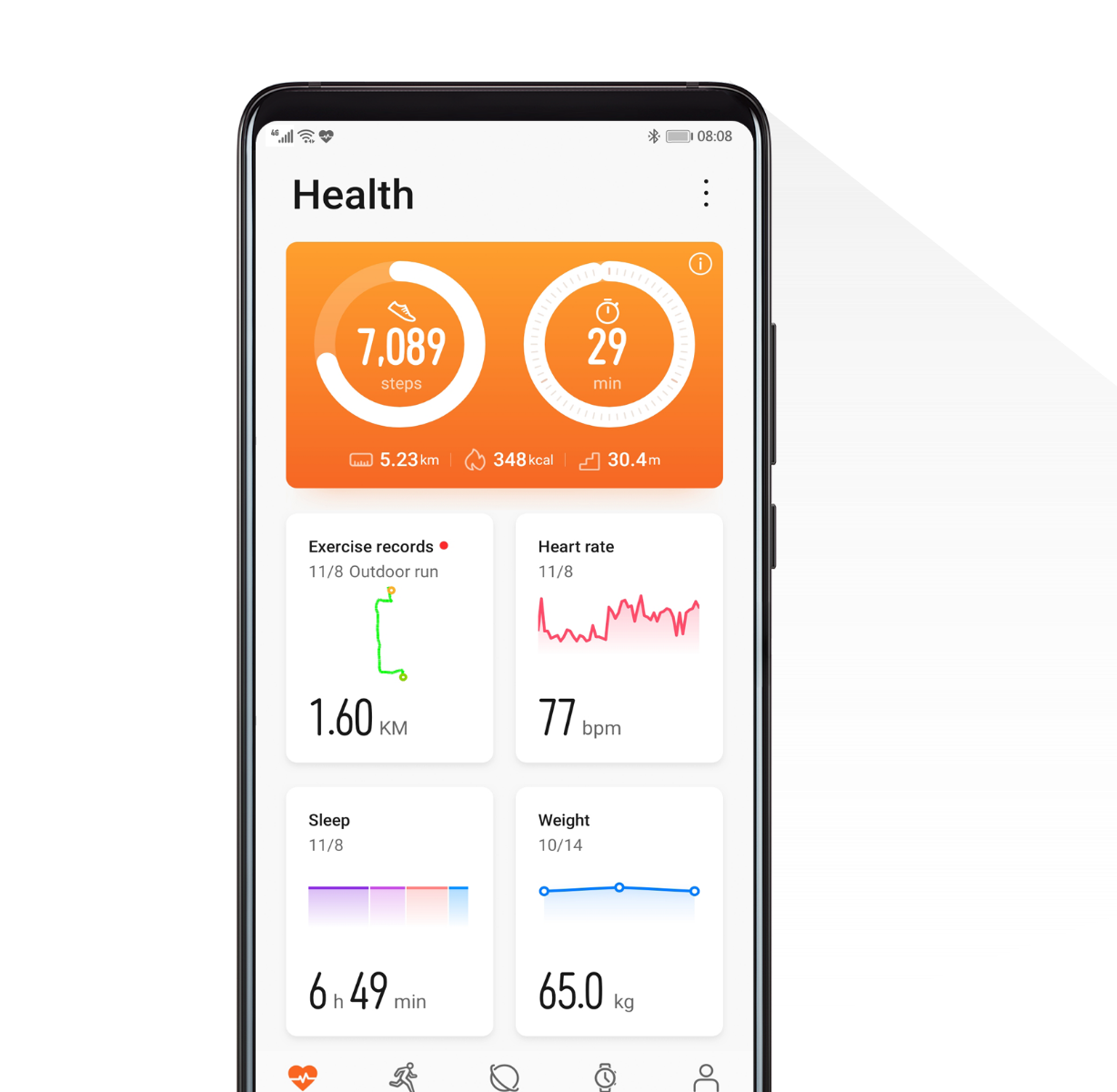 Strict data encryption

Your personal data in the Health app will be stored in your phone's internal memory using a random key that even Huawei cannot decrypt. If you authorise us to collect and process your Health data, your data will be transmitted to the HUAWEI HiHealth cloud using HTTPS and encrypted using dynamic keys.

Secure data access

If you select services provided by a third party and authorise the third party to access your personal data, Huawei will provide secure access control through the standard OAuth authorization protocol to safeguard your data. You will be the one who decides how your personal data in the Health app is used, to whom the data will be shared, and who has access to such data.
Digital Content Services
HUAWEI Browser
HUAWEI Browser provides multiple advanced features, such as Safe browsing, malicious URL detection, and Privacy mode for the purposes of protecting your privacy and providing you with a secure and reliable web browsing experience. Your searches and browsing will not be saved or tracked, and your privacy is fully protected in Browser.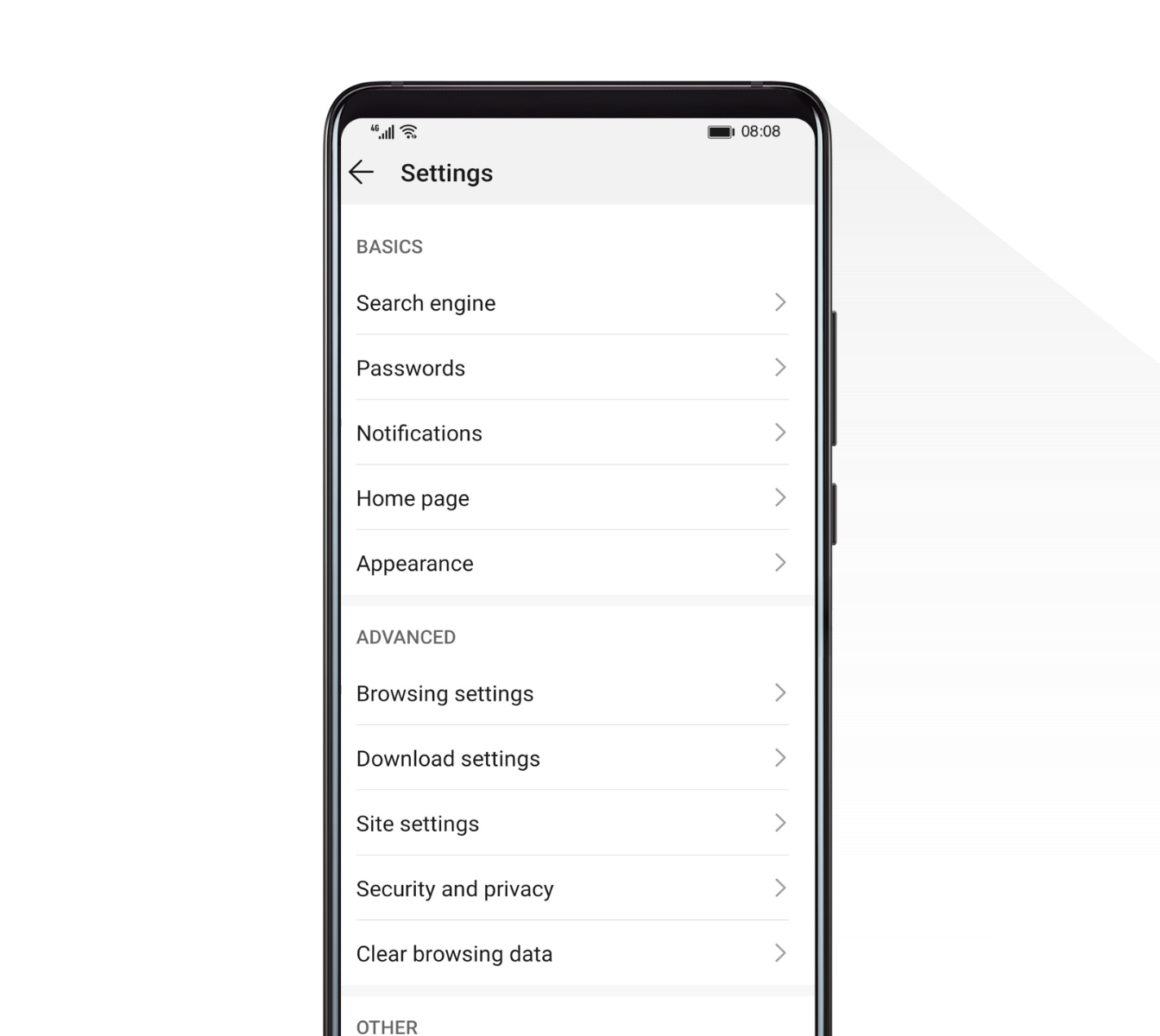 Safe browsing

After you view a product on a website, you may find advertisements for this product displayed when you visit other websites. This is because third parties use cookies to track you across different websites in order to show advertisements targeted to your interests.
The Safe browsing feature of HUAWEI Browser is able to identify websites with tracking cookies and synchronise the information to your phone. You can request to disable tracking cookies in Browser on your phone to stop cross-website tracking. This will not affect your use of other websites.
Your web browsing data will remain private and will not be used for commercial purposes by advertisers.

Malicious URL detection

Some phishing and fraudulent websites use disguised website services to induce you to access the websites and use deceptive means to steal your personal information. Accessing these websites may result in account theft or private information being leaked.
We work with top third-party cyber security service providers in the industry for testing of the websites' security. We will not send the website URL that you visit to a third party. Instead, we will send the information after de-identification and anonymisation, so neither Huawei nor the third party is able to obtain the content of the website you visit. If the website is suspected of being a phishing website, HUAWEI Browser will inform you of the risks and remind you to exercise caution before accessing the website.
The malicious URL detection feature of HUAWEI Browser is enabled by default and you do not need to set it up.

Smart blocking

Smart blocking is enabled automatically when you are browsing web pages. It intelligently predicts whether you need to open a third-party app from a web page and automatically filters unnecessary alerts when the app is opened.

Intelligent search

HUAWEI Browser works with third-party search engines to provide you with intelligent search services. You can enter website names, URLs, or search keywords to quickly access the content that you are interested in.
HUAWEI Browser limits the data sent to third parties when cooperating with them. For example, to protect your privacy, we do not transfer cookies or your precise location to third parties, and your search results will only be sent after anonymisation to prevent you from being identified by third parties.

Private mode

To ensure that your browsing will not be tracked, your input history and browsing and search records will not be stored in HUAWEI Browser and cookies will not be stored on your device after you enable Private mode.

Clear browsing data

You can choose to clear your input history, browsing history, cached pages, cookies, and more in HUAWEI Browser.
If you have enabled Browser under APPS USING THE CLOUD of the Cloud app, clearing your history and website data will also clear the data from other devices signed in to the same HUAWEI ID. However, the bookmarks you have saved will not be cleared.
Huawei Media & Entertainment Services
HUAWEI Music and Video cooperate with third-party content providers to provide you with a great variety of online streaming media content and audio-visual experiences.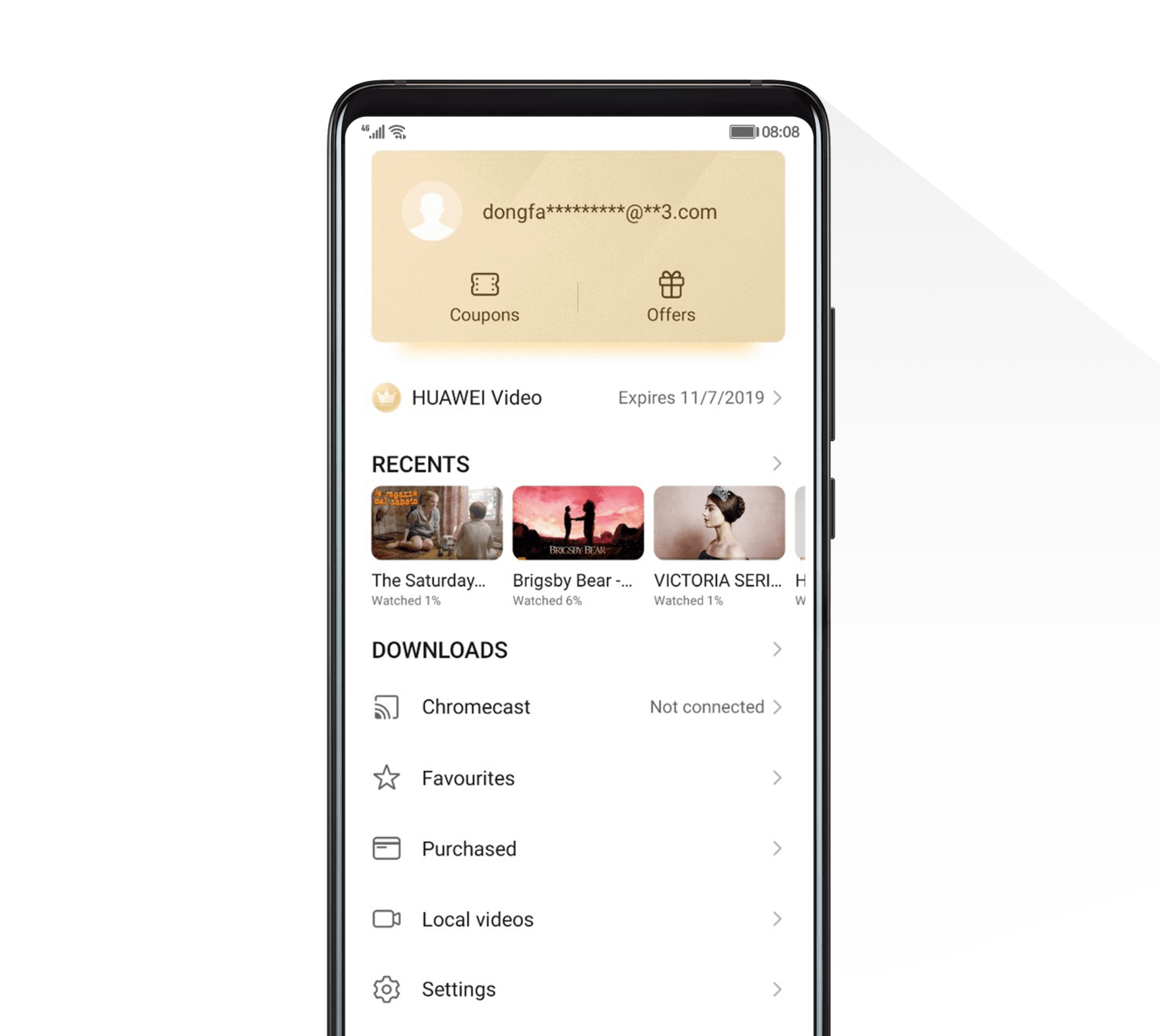 Differential privacy

We have used differential privacy technology in HUAWEI Music and will apply the technology to more scenarios to improve user experience and protect your privacy.
The differential privacy technology does not directly upload the original information about your use of the app. Instead, it generates a summary of the app information and adds random noise information so that the information cannot be linked with your device. This technology can help Huawei improve relevant services and products and avoid collecting information related to you.

Federated learning

We have used federated learning technology in HUAWEI Video and will apply the technology to more scenarios.
We do not directly upload the Video On Demand (VOD) records. Instead, we use the basic model distributed by the server to improve the recommendation model on your device and use the distributed machine learning system to recommend content that is more relevant to you. Your data is stored on your device. We only report the trained model to the server and collect the model data of each device in order to continuously improve the app-level recommendation model and improve your user experience.

Developer ID

When cooperating with third-party content providers, we use a developer ID to isolate third-party service providers to ensure that your personal information is not shared with providers.
App Download Services
AppGallery
AppGallery is the first app store in the world that requires real-name authentication for developers. Its "four-factor authentication" mechanism requires all released apps to comply with terms regarding user privacy protection and security review and to pass strict tests in order to protect your privacy and security.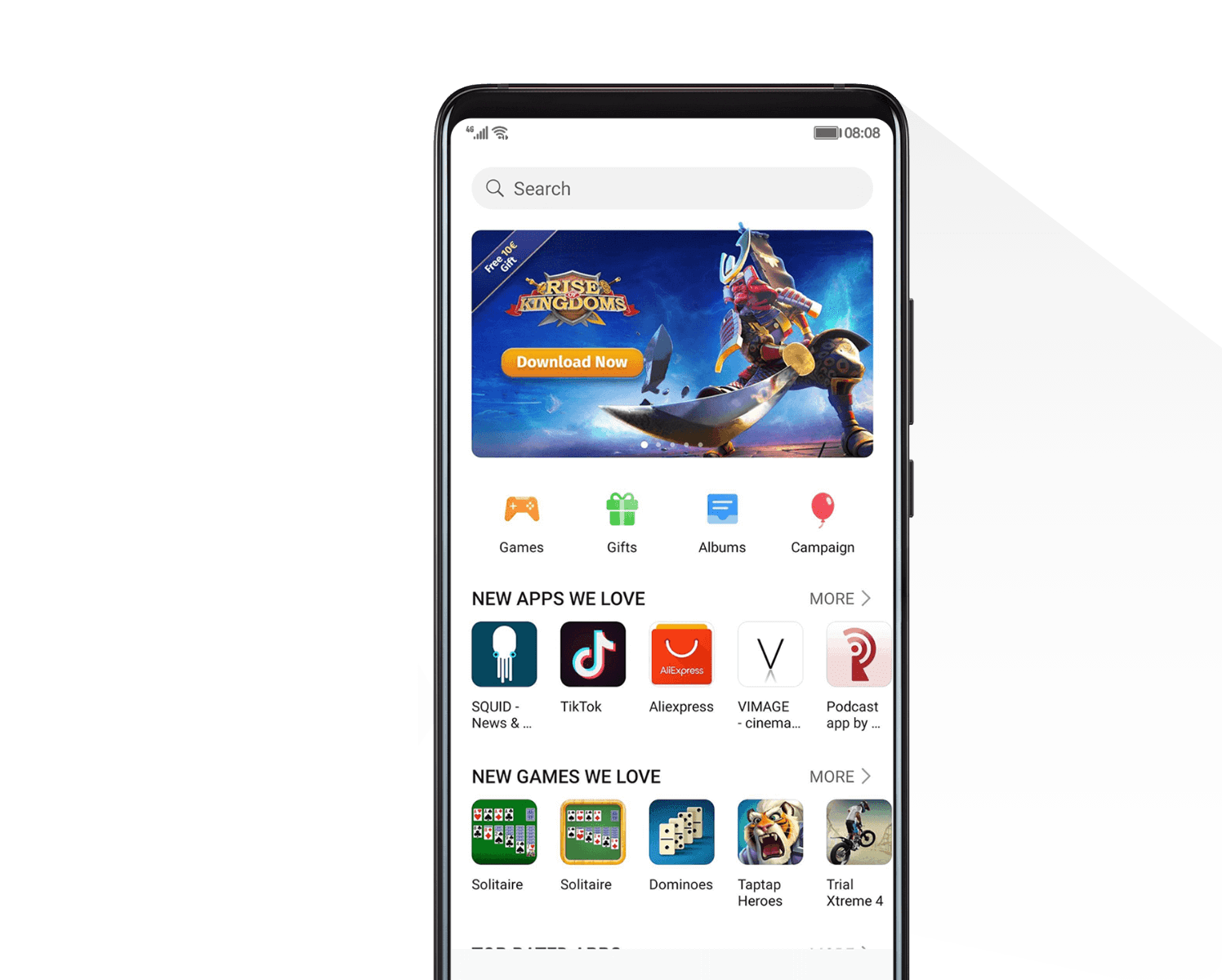 App management

AppGallery manages and controls app release (including quick apps) by reviewing developers' qualifications, performing security checks before the app release and further checks regularly after the release, downloading and installing security test packages, providing security protection and tracking user feedback during app running, and providing lifecycle security assurance. If an app violates AppGallery's terms regarding user privacy protection and security review, we will require the developer to make corrections. Otherwise, the app will be removed from AppGallery.

Transparency of apps

AppGallery endeavours to ensure app transparency. It allows you to view the privacy policies provided by the app developer in the app details and the permissions Huawei detects that the app needs to access so you can learn how the app will collect and use your personal information before downloading the app.

App access control

After you install and use an app from AppGallery, you will be prompted to grant the relevant permissions when the app attempts to access your personal information such as your location or contacts for the first time. Permissions will only be granted with your consent. You can also revoke the relevant permissions at any time.

Game Service

Game Service endeavours to implement Huawei's privacy policies, while also collaborating with various game apps to provide you with features such as achievements, rankings, and archiving, ensuring consistent game experience across various game apps.
Game apps can only manage your Game Service data after you enable Game Service and grant relevant permissions to these apps. We store the Game Service data for different apps separately to ensure your data privacy and security.
You can revoke the permission and delete the Game Service data at any time.
Child Protection
Give more care to children
We take extra measures to protect the privacy and security of children who use Huawei Mobile Services.
Child account

HUAWEI ID allows you to create a child account to provide a more secure and reliable service experience for children. The creation and management of a child account must be authorised by the parent account. You can manage your child's internet access to help them towards using Huawei devices in a healthier way with the child account.

Collecting child's information

When a child's personal information is collected based on the consent of the parent/guardian, we will only use or disclose the information when permitted by laws, explicitly authorised by the parent/guardian, or required for protecting the child. The parent/guardian can access, modify, or delete the child's personal information in accordance with the privacy notice or supplementary statement of the relevant product and service.
Managing Your Privacy
Your data, your way
We are committed to protecting your data privacy and security from the first time you use our devices, and each time you use our products and services. We provide multiple tools and functions to help you better manage your data and further improve data privacy and security.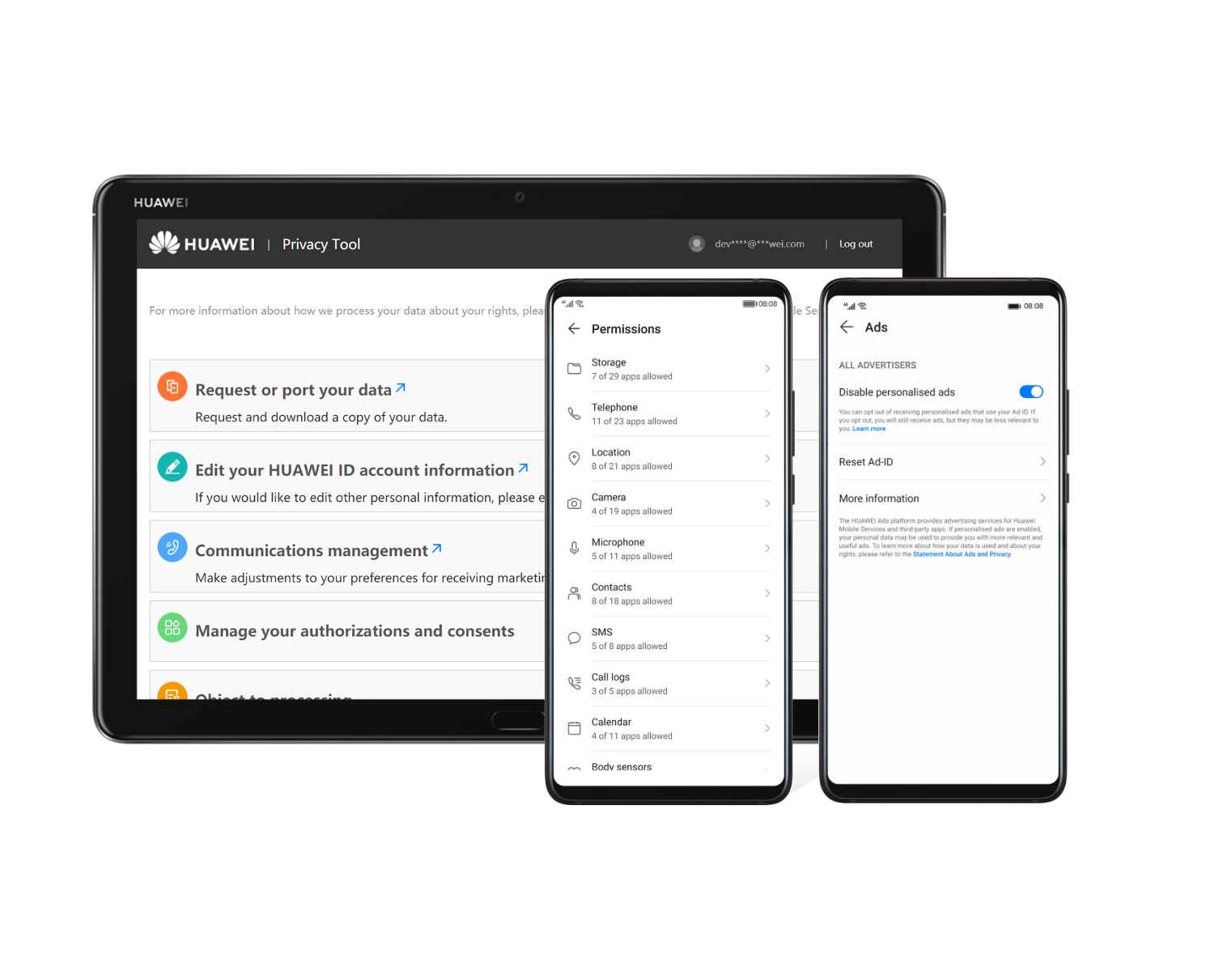 Privacy tool

We are committed to allowing you to control your data and use Huawei products and services with ease.

The

Privacy Tool

helps you manage your personal information more conveniently, including obtaining a copy of your personal information, correcting or deleting your account information, controlling your account access permissions granted to third-party apps, and modifying your preferences for receiving marketing messages.

Advertising

We attach great importance to and respect user privacy, strictly comply with Huawei's privacy policies, and only display advertisements that are relevant and appropriate to you.
To protect your privacy, we will include at least 5,000 people in a user group when grouping users based on your information. Your health, payment, contacts, call logs, and email information will not be used for advertising or obtained by any partner. Your personal information will not be disclosed to advertisers, and is only used to deliver advertisements based on aggregated data.
You can turn on Disable personalized ads at any time. We will then stop showing you advertisements based on your interests.

Control targeted advertisements

You can enable Reset Ad-ID to manage and control targeted advertisements. In accordance with Huawei's rules, advertisers can use Ad-IDs to control the number of times specific advertisements are displayed to you, measure the effect of advertisements, and push more related advertisements to you. You can disable or reset the Ad-ID at any time.
If you turn on Disable personalised ads, your Ad-ID will be replaced with an all-zero, non-unique value to prevent all targeted advertisements from being launched.
If you enable Reset Ad-ID, your device will generate a new Ad-ID. The data linked with your previous Ad-ID cannot be linked with the new one, preventing all advertisers from tracking you continuously.

Controlling data shared with apps

Some apps installed from AppGallery may require access to the Storage, Contacts, Location, and Camera permissions, among others, in order to function correctly.
When you use such an app for the first time, you will be prompted to grant relevant permissions and read relevant instructions. You can choose whether to grant the permissions or not. After you have granted relevant permissions to the app, you can cancel the permissions at any time in Settings.
Inherent Privacy Protection
Privacy compliance framework

Huawei regards privacy protection and cyber security as its top priorities. It believes that privacy is a fundamental human right.
Huawei takes privacy protection as the cornerstone of its mobile service design. It designs, develops, and evolves its mobile services in compliance with the principles of transparency and controllability, user benefit, security, and legal compliance to ensure user privacy and security. It has established a global privacy compliance framework for its mobile services on the basis of widely recognised Generally Accepted Privacy Principles (GAPP), EU General Data Protection Regulation (GDPR), and local laws, to protect the personal information and privacy security in an all-encompassing way.

Transparency and controllability

When you use an app or feature for the first time, we will remind you to check the relevant privacy statement before we collect personal data. You have full control over your own privacy.
You can go to the Data and Privacy screen to learn more about how Huawei will use your personal information to provide or improve services, including how we collect, use, store, share, and transfer your personal information.
Huawei will comply with legal requirements and established security standards in the industry to provide you with a better user experience.

Data minimisation

Huawei takes reasonable and practical measures to ensure that the personal information collected or shared is minimal and relevant to what is necessary for the purpose of data collection.
We assign random identifiers when sharing data to developers, and each developer or app obtains different device IDs and user IDs, even for the same user, so that personal data is isolated and not associated with specific users, thereby preventing data abuse and reducing breach risks.
We use the unique device identifier as the primary identifier for collection, which cannot be identified by non-Huawei developers. This prevents data from being associated across developers, improving data security and privacy protection.
We do not collect data revealing racial or ethnic origin, political opinions, religious or philosophical beliefs, trade union membership, genetic data, biometric data, or data concerning sex life or sexual orientation.

Localized data storage

We determine the data storage location based on the country/region you reside in. We physically isolate data stored in different countries/regions, and comply with local laws and regulations. For example, personal information of users in the Chinese mainland will be stored on servers in the Chinese mainland. Personal information of EU users can only be stored on servers in the EU and is subject to strict protection in accordance with local laws and regulations.

Data security

User data security is our key product design objective.

To protect data security and allow users to sign in securely through HUAWEI IDs, we take advantage of the following capabilities and technologies: (a) data protection capabilities provided by HarmonyOS; (b) security encryption capabilities provided by the SE and TEE; (

c) industry-leading data protection technologies during service processing and data exchanges; (d) other technologies used during transmission, service processing, and storage, such as E2E encryption, trust relationship authentication for the certificate chain, signatures to prevent data tampering, and mutual trust between devices in a trust circle.

We safeguard user data, regardless of whether it is stored in the cloud or shared over the internet, preventing malicious or unauthorised access to and tampering with information and services.
Information on products or Apps on the Site, including but not limited to product features, Apps features, configuration, parameters and technical specifications, may vary with countries or regions; even for the same product, its product features, configuration, parameters, and technical specifications may vary at different stages of the product life cycle. As it takes time for HUAWEI to update such information, the product or Apps information you see may be different from the product or Apps you purchased or you can buy on the market.