2022/05/31
From no display to FullView Display: The evolution of smart bands
A smart band is not only a fashion accessory, but also an essential smart device for consumers to understand their bodies condition.
One of the key elements of smart products is the realisation of human-device communication, and the communication is usually conducted through the display. In the same way that the mobile phone has transformed from feature phone to smartphone, smart band is transforming from no display to a black and white screen, then to a colour screen with touch sensors, making it a truly smart band that caters to both health and fashion needs.
Just as Rome was not built in a day, the smart band has also undergone a long development process from no screen to large screen.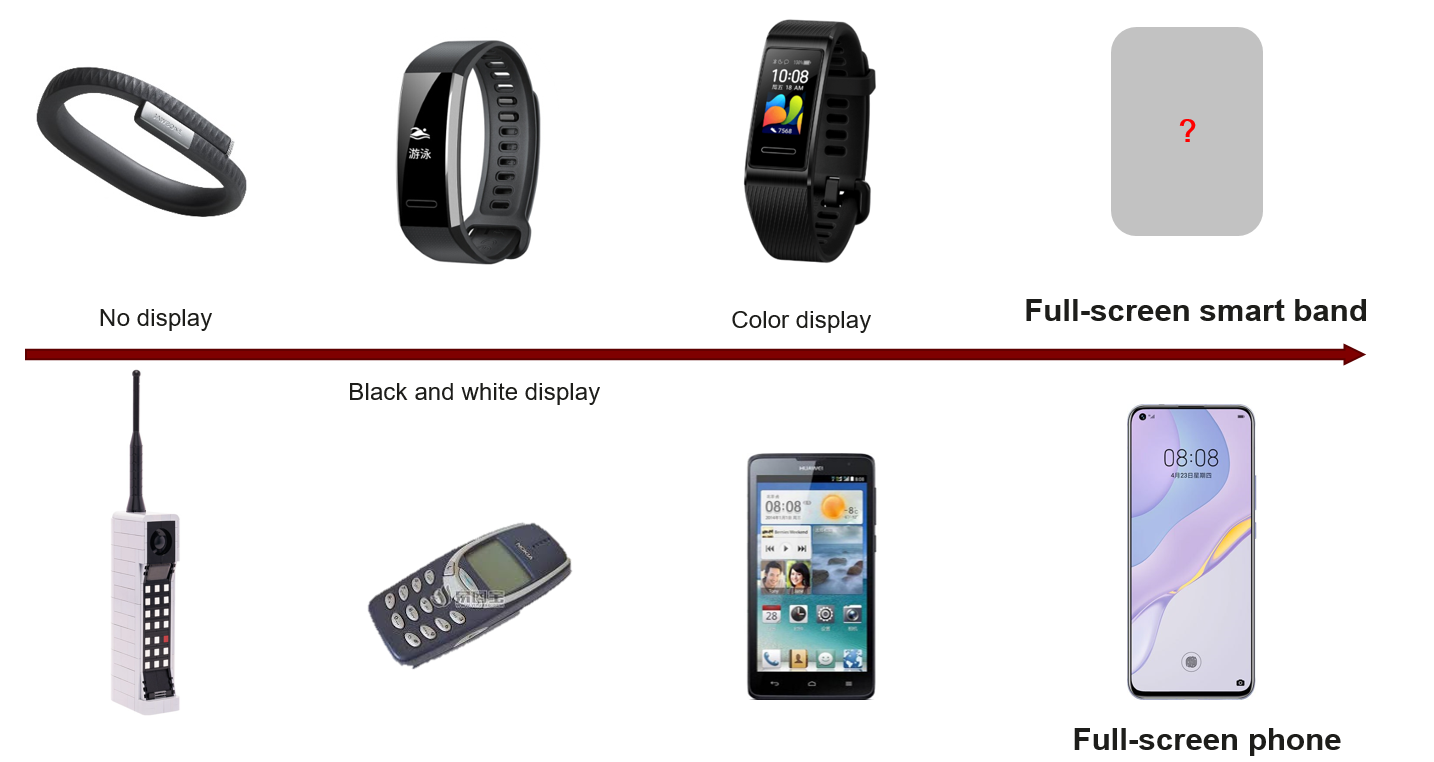 The first smart band: A pedometer that has Bluetooth connection
The main purpose of a smart band is to record user's workouts, monitor their health and cultivate a healthy lifestyle. In 2011, Bluetooth device manufacturer, Jawbone, launched the UP series smart band, which can record exercise and perform sleep monitoring. At the same time, pedometer manufacturer Fitbit released Fitbit Flex, a smart band with similar functions. The basic functions of these first-generation smart bands are mainly fitness monitoring.
Due to technical limitations, the first-generation smart bands can record step counts and sleep information, but since they do not have a screen, they must be paired with other devices such as smartphones or PCs to export the data via Bluetooth or USB ports to show the information. It can be said that the smart band at that time is just a sensor to record information.
A new era of smart band with display
Huawei launched the HUAWEI TalkBand B1 in 2014, which started the trend of smart bands with a screen. Thanks to the smart band's display, simple data can be displayed on the screen to make it a truly smart device and change the user's habits when it comes to using smart bands.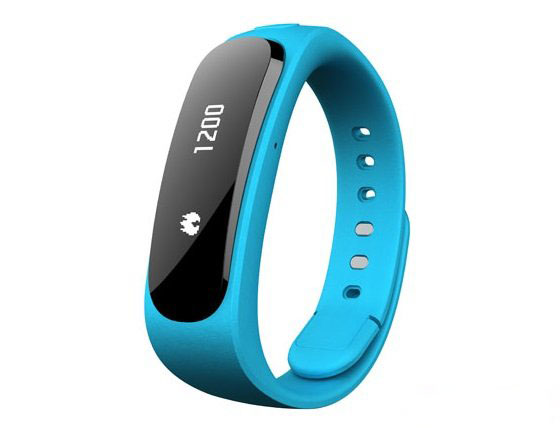 HUAWEI Talk Band B1
HUAWEI TalkBand B1 can track steps, calories burnt and sleep quality, and all the information can be displayed on the 1.4-inch OLED black and white display directly. Moreover, it supports Bluetooth 4.1, so users can pull out the Bluetooth earphones from the band for a voice call. All the basic features have already taken shape in this generation of smart bands.
However, compared to the colour display with touch sensors now, the black and white OLED display does not come with touch controls, limiting the interactions and smart features, so there is the next generation of smart band.
FullView Display for smartphone-like interactive experience
Since HUAWEI TalkBand B2, touch sensors were applied on the OLED display to enhance the innovative interactions of smart bands. The touch screen can display the information clearly while making the interactions smoother for users.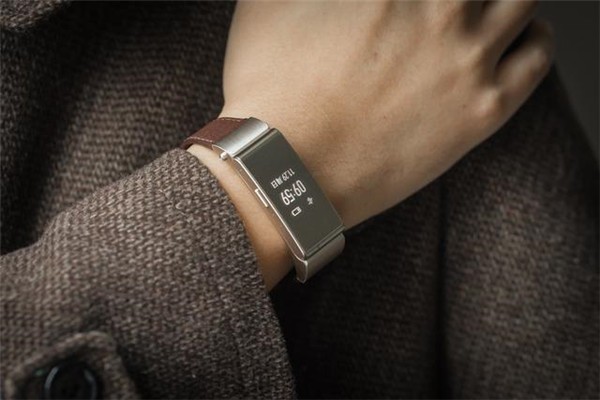 HUAWEI TalkBand B2
The launch of the HUAWEI Band 3 Series said goodbye to the black and white display, and then entered the era of AMOLED colour display with touch sensors to bring a whole new interactive experience. Also, the new smart bands feature workout detection, heart rate monitoring, sleep tracking and notifications, which is a truly smart band with comprehensive features.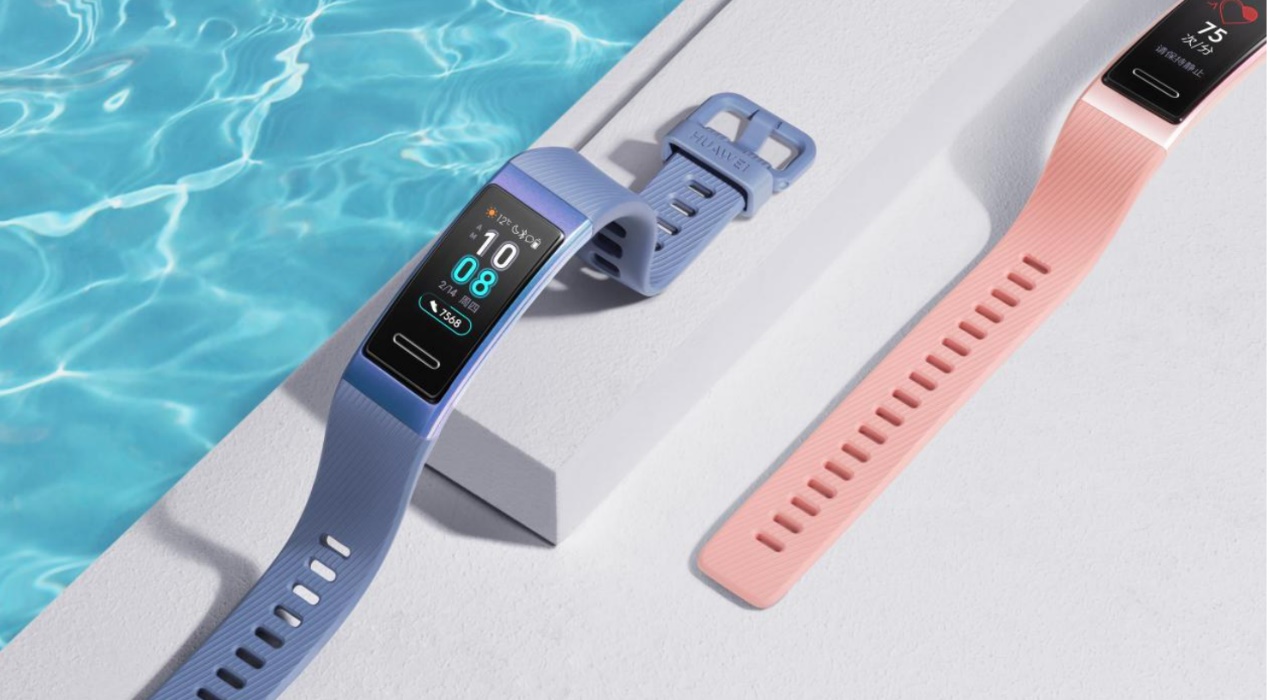 HUAWEI Band 3
Just as consumers have higher and higher requirements for the screen size of their smartphones, they also have the same demand for smart bands. The latest Huawei smart band, HUAWEI Band 6, adopts a 1.47-inch AMOLED display, which is larger than most of the smart bands on the market, together with the unibody FullView Display design, consumers will experience a smartphone-like experience.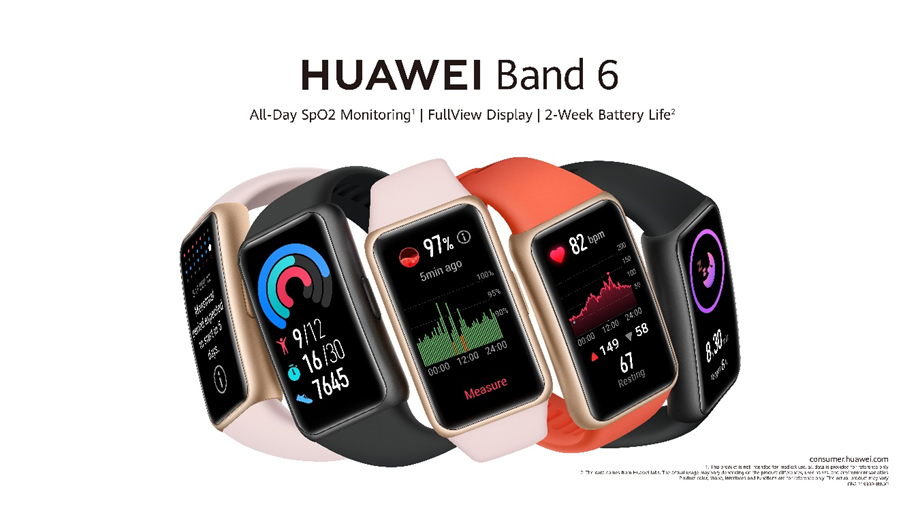 Due to the size of the screen in the past, the graphic information that the smart band can display is very limited. Not only must detailed information be viewed by sliding up and down, but workout and health data must be as concise as possible to fit the content on the display. HUAWEI Band 6 includes a 1.47-inch big AMOLED display, which is 148% larger than that of HUAWEI Band 6. Its screen-to-body ratio has also remarkably improved to 64%. This way, workout and health information can be presented more comprehensively, and health monitoring results such as heart rate, stress, sleep duration, etc. will also be refreshed in real-time, and all the data can be viewed with just a glance.
With a larger screen, HUAWEI Band 6 users can swipe up and down, left and right: swipe left and right to quickly reach the main menu, slide up and down to drag out the setting interface and notification centre, and press the side button to enter function list, and long press to shut down.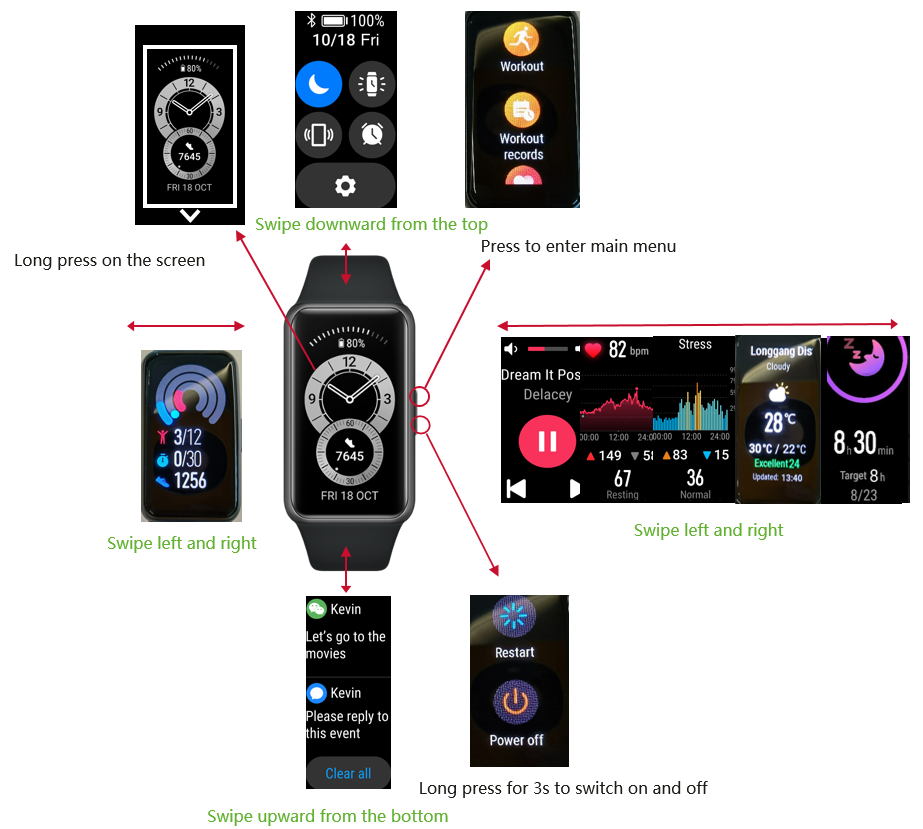 HUAWEI Band 6 also supports all-day SpO2 monitoring, as well as heart rate, sleep, stress, and menstrual cycle monitoring to provide comprehensive protection. For sports, it features 96 workout modes and professional workout monitoring and analysis, helping users to work out scientifically.
Supported by a high-efficiency chipset and smart power-saving algorithms, the HUAWEI Band 6 enables continuous heart rate and sleep monitoring with a 14-day battery life1 for uninterrupted use. On top of this, the HUAWEI Band 6 supports fast charging via a magnetic charger. One five-minute charge can sustain the smart band for two-day2 of typical use.
From the launch of the first generation of smart band to the current HUAWEI Band 6 FullView Display, the development of smart band has always revolved around a main line, which is the insight and solution of user pain points. Take HUAWEI Band 6 as an example, it aims at the pain points of a small screen and content presentation, so it adopts a FullView Display and a side physical button design. Furthermore, it comes with comprehensive health monitoring features such as all-day heart rate, SpO2, pressure and sleep monitoring, and stand-up reminders, and even include menstrual cycle tracking and reminders for female users to target user's daily scenarios. Lastly, for users to understand their workout performance, it features 11 professional workout modes such as indoor and outdoor running, cycling, and rope skipping, and 85 customized modes such as fitness, ball games and dance, realising the full extent of user's scenarios.
From no screen to FullView Display, smart band is no longer a simple data collector, but also a stylish and convenient smart device that provides health and fitness monitoring features, and a rich display content. For people that value health, consider the HUAWEI Band 6.