2022/05/31
Five years of evolution of HUAWEI TruSeen™ 5.0+, HUAWEI WATCH GT 3 achieves more accurate heart rate monitoring
HUAWEI WATCH GT 3 builds a line of defence for heart health powered by HUAWEI TruSeen™ 5.0+
The HUAWEI WATCH GT 3 series was recently officially launched, focusing on health management, and further enhancing the heart rate monitoring. The latest HUAWEI TruSeen™ 5.0+ adopts eight photosensors in a circular layout and a newly upgraded algorithm, which increases the data processing capacity by 4 times, reduces the signal loss rate, and improves the accuracy of dynamic heart rate monitoring, especially during workout. Together with long battery life, it can provide 24/7 uninterrupted heart rate monitoring.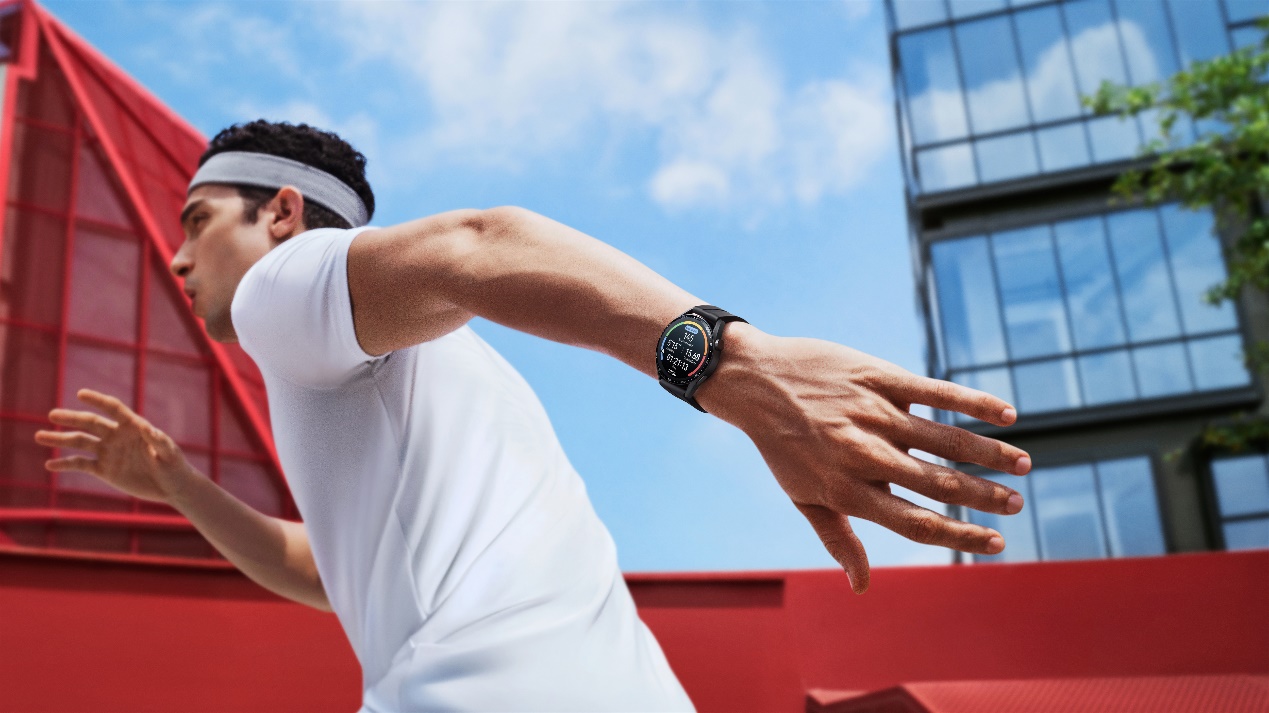 Continuous heart rate monitoring set the defence for heart health
Why is heart rate monitoring so important? What's the point of continuous heart rate monitoring? Heart rate is the most direct indicator of heart health. According to the China Cardiovascular Disease Report 2017 issued by the National Cardiovascular Disease Center, the number of cardiovascular disease patients in China has reached 290 million. Cardiovascular disease deaths account for more than 40%, ranking first, which is higher than tumours and other diseases.
However, in such a severe situation, many people often have an insufficient understanding of heart disease, mistakenly thinking that sudden death, stroke, etc. are all sudden emergencies, and they would only be looking for treatment until the very last minute. In fact, most early heart attacks and strokes can be prevented. In addition to ensuring good living habits, the most important thing is early detection and treatment. Palpitations, chest tightness, chest pain, dizziness or fainting these seemingly insignificant symptoms are likely to be a distress signal from the heart.
The heart is the driving force for blood pumping, and it is also the guarantee for the normal operation of various organs and the entire body. Therefore, long-term continuous monitoring of heart rate can establish the first line of defence for prevention. Through continuous and accurate ECG monitoring and analysis, the abnormal performance of cardiac activity can be found in time to win time for patients to seek for professional advice.
At the same time, the heart rate zone is also one of the most important methods for monitoring training intensity, ensuring that user's workout is at a safe intensity, select the appropriate workout intensity, facilitate targeted and effective workout, and provides scientific workout experience.
From HUAWEI TruSeen™ 1.0 to 4.0, Huawei's heart rate monitoring technology continues to evolve
Since its launch, the HUAWEI WATCH GT series has continuously refreshed its flagship smartwatches to new heights with its powerful health management features and professional workout guidance and has always been in a leading position in the wearable market. Especially for heart rate monitoring, the hardware on board has been continuously upgraded, bringing an iterative upgrade of the heart rate algorithm. The new heart rate monitoring algorithm includes the wear detection and SpO2 algorithm to continuously enhance the accuracy of heart rate monitoring.
Looking back to HUAWEI TruSeen™ 1.0 to 4.0, it is obvious that the accuracy of HUAWEI WATCH GT series heart rate monitoring continues to be upgraded, and the use of features continues to expand. Under HUAWEI TruSeen™ 1.0 technology, Huawei wearable products can only monitor static heart rate. For HUAWEI TruSeen™ 2.0 technology, it supports dynamic heart rate monitoring for the six workout modes, and it supports scientific sleep and stress monitoring. When it came to HUAWEI TruSeen™ 3.0, it supports continuous monitoring for 24 hours, and users can view the heart rate data when they raise their wrists. It also supports non-visible light heart rate measurement during sleep.
HUAWEI TruSeen™ 3.5's heart rate monitoring supports richer workout scenarios such as swimming, elliptical machine, rowing machine, etc., and at the same time supports SpO2 detection and hypoxia reminder for the first time. In addition, the newly added living body detection reduces the probability of heart rate monitoring when there is no one wearing. With HUAWEI TruSeen™ 4.0, the PPG module with lower power consumption and higher performance brings more accurate heart rate monitoring, and upgrades from single test to all-day SpO2 monitoring, bringing a comprehensive and proactive health management experience.
Comprehensive upgrade on HUAWEI TruSeen™ 5.0, providing unprecedented heart rate monitoring accuracy
The HUAWEI WATCH GT 3 is equipped with the latest HUAWEI TruSeen™ 5.0+, which increases the data processing capacity by 4 times, reduces the signal loss rate, and improves the accuracy of heart rate monitoring, especially during workout, where the accuracy of dynamic heart rate monitoring is improved.
The new HUAWEI TruSeen™ 5.0+ increased to 8 PDs from the original 4 PDs, from a four-point arrangement improved to a circular arrangement. The Fresnel film's interference reduced by 66% compared to single channel. The dynamic heart rate anti-interference ability is optimised, and the accuracy is comprehensively improved. HUAWEI WATCH GT 3 adopts an ergonomically designed 2.5D rear case, with carefully polished curved glass convex, which fits the characteristics of the wrist bone. The design is not only comfortable to wear, but also not easy to shake, effectively reduces the interference of external light and improve the quality of the heart rate signal. In addition, the HUAWEI TruSeen™ 5.0+ algorithm has been upgraded with multi-channel signal enhancement and high-definition lossless HiFi-Encoder deep neural network algorithm, which greatly improves the accuracy of heart rate measurement.

Thanks to the new PPG 5.0 module, the accuracy of heart rate monitoring is greatly improved compared to other products, the deviation of 10 bpm in most scenarios can reach more than 98% and over 95% for the deviation of 5 bpm even in scenarios with rapid heart rate changes such as intermittent running and accelerating running, the HUAWEI WATCH GT 3 can perfectly keep track.
Moreover, the HUAWEI TruSeen 5.0+'s powerful anti-interference and noise reduction design can better cope with the motion noise caused by irregular movement, and improves the accuracy of heart rate measurement when working out, including during HIIT, yoga, aerobics, skipping rope, etc.
From the very first HUAWEI TruSeen™ 1.0, to the latest HUAWEI TruSeen™ 5.0+, Huawei never stop to overcome difficulties and provide accurate monitoring data, allowing users to understand the heart health. With the launch of the HUAWEI WATCH GT 3, consumers can enjoy more professional health and fitness management and more scientific and efficient workout plans. The HUAWEI WATCH GT 3 is powerful and accurate, and every wearer can experience it fully