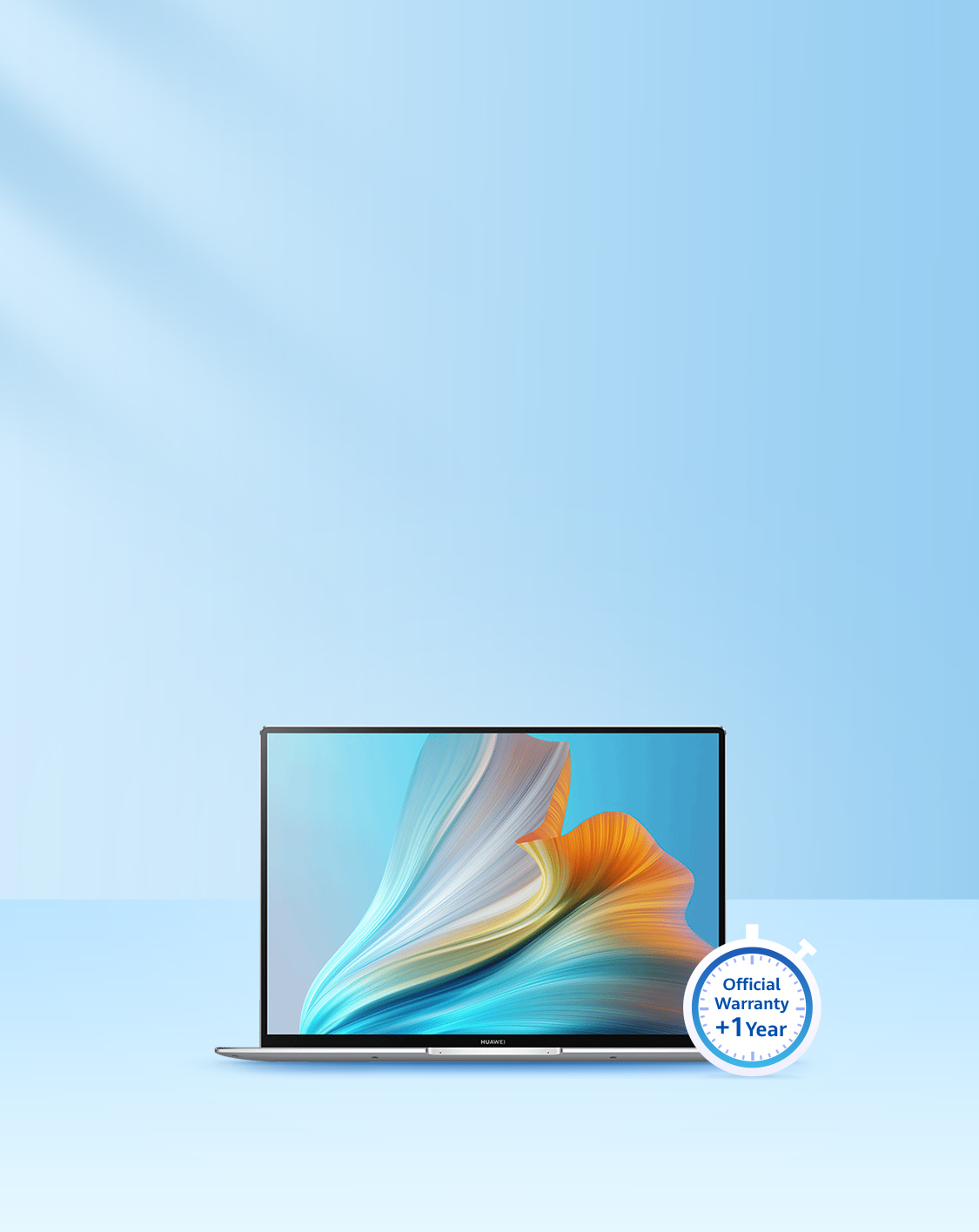 HUAWEI Care


Extended Warranty
Extend the Life of Your Device with Low Cost
Genuine
Spare Parts

Official
Service

Cost
Saving
HUAWEI Care -Extended Warranty
HUAWEI Care - Extended Warranty is a prolonged one-year warranty in addition to the standard device warranty. During the valid period of the warranty, device defects caused by non-human factors can be fixed by HUAWEI Authorized Service Centers without any fees related to diagnosis, spare parts or labor.
Genuine Spare Parts

100% original spare parts, safe and reliable, manufacturer warranty.

Official Service

HUAWEI official service & certified repair engineer; strictly follow the official HUAWEI repair procedures.

Cost Saving

No longer worry about paying high out-of-warranty repair fees.
Model and Price
Please choose your device and check 1 Year HUAWEI Extended Warranty price
How to Purchase
Purchase with new device
at HUAWEI online store

Purchase within limited period*
after purchasing the new device
1. Visit My HUAWEI APP

2. Click "Store" tab and choose the new device

3. Choose "HUAWEI Care – Extended warranty"

4. Confirm and submit the order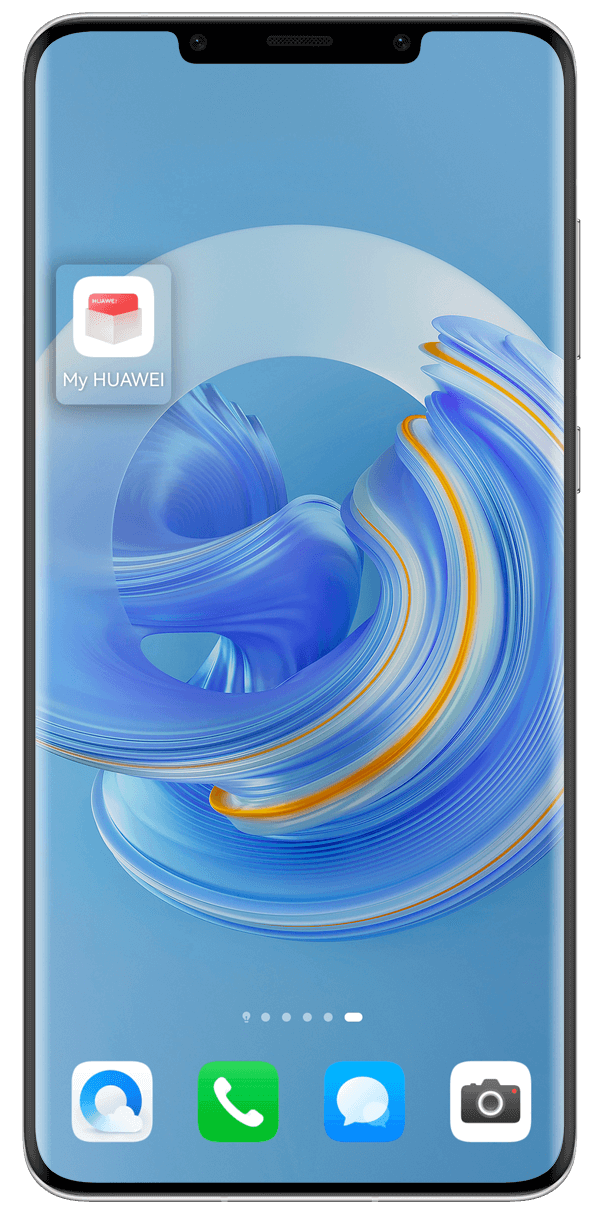 1. Visit My HUAWEI APP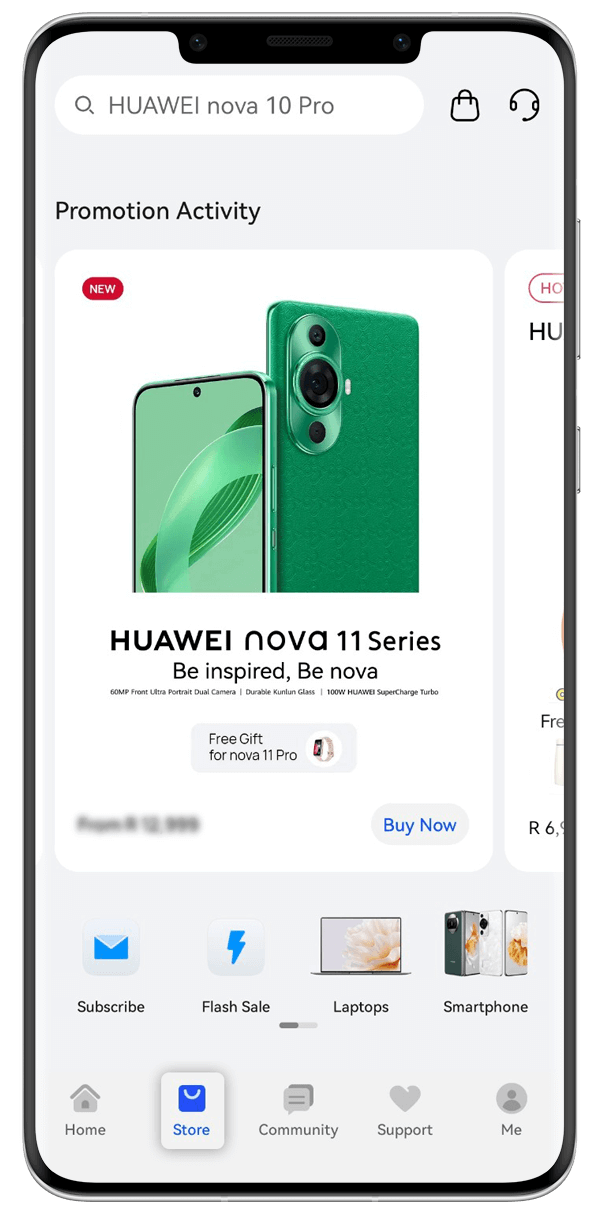 2. Click "Store" tab and choose the new device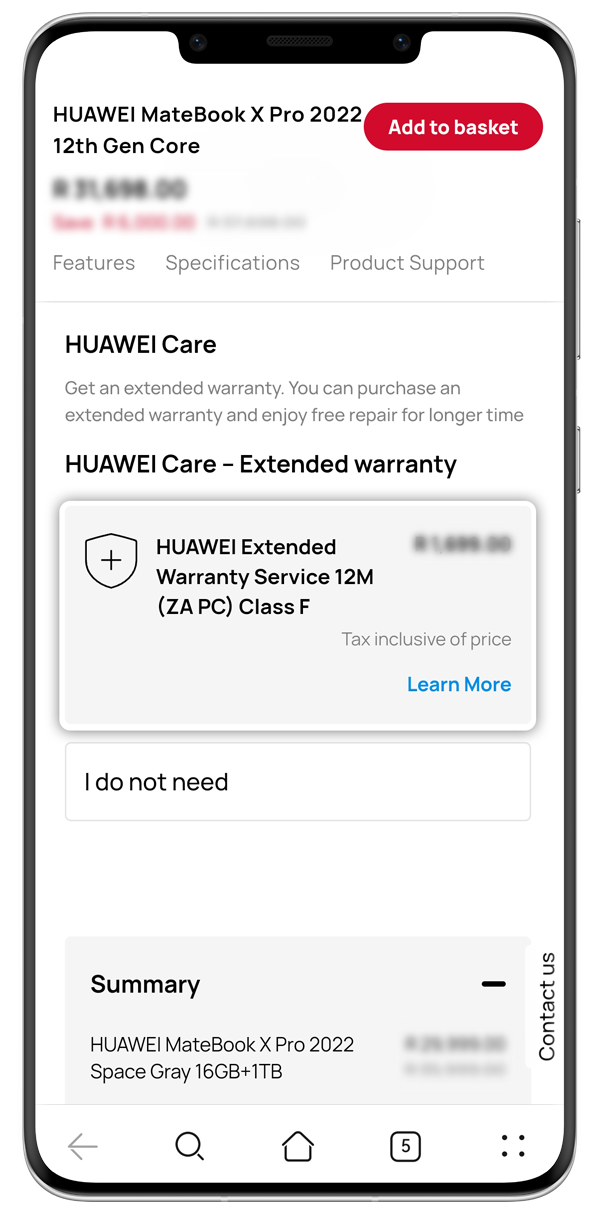 3. Choose "HUAWEI Care – Extended warranty"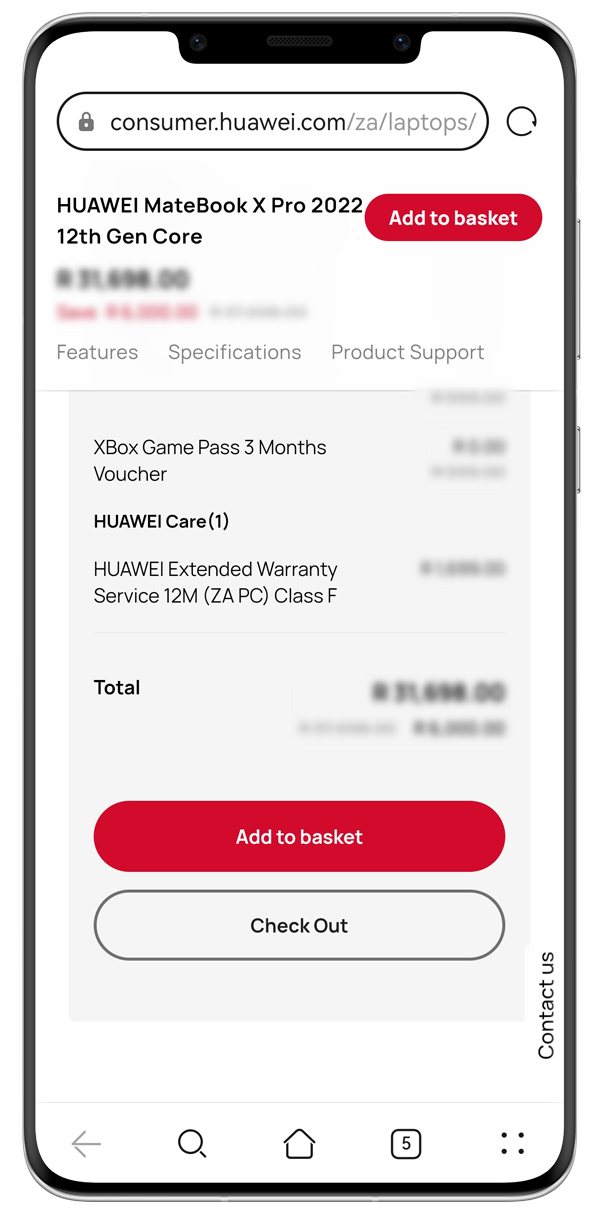 4. Confirm and submit the order
Frequently Asked Questions
Q1 – How to calculate the validity period of the HUAWEI Care - Extended Warranty Service (for PC)?

The HUAWEI Care - Extended Warranty Service (for PC)is valid for 1 (one) year (dependent on the Extended Warranty Service purchased) after the end of the standard warranty period.
The HUAWEI Care - Extended Warranty Service (for PC)takes effect from 00:00 the next day after the standard warranty period for your HUAWEI product and expires at 23:59.

Q2 – How do I purchase the HUAWEI Care - Extended Warranty Service (for PC)?

The HUAWEI Care - Extended Warranty Service (for PC) can be purchased with the HUAWEI product on the HUAWEI Online Store.

Q3 – Can I purchase the HUAWEI Care - Extended Warranty Service (for PC) if my HUAWEI product's warranty has expired?

No, if your HUAWEI product's warranty has expired, you won't be able to buy the HUAWEI Care - Extended Warranty Service (for PC).

Q4 – The HUAWEI Care - Extended Warranty Service (for PC) is about to expire. Can I buy another Extended Warranty Service?

No, the HUAWEI Care - Extended Warranty Service (for PC) does not support repeated purchases.

Q5 – Will I be provided with the HUAWEI Care - Extended Warranty Service (for PC) if my HUAWEI product is damaged from dropping or getting water into it?

No, no additional service will be provided. HUAWEI Care - Extended Warranty Service (for PC) only covers damage that is not related to improper use of the product and damage caused by the user.

For more information please refer to 【

https://consumer.huawei.com/za/support/warranty-policy/

】

Q6 – Can I expect to receive a replacement or return of a HUAWEI product that has broken several times during the HUAWEI Care - Extended Warranty Service (for PC) period?

No, the HUAWEI Care - Extended Warranty Service (for PC) does not include replacement or refund under improper use.

Q7 - Are the headphones, chargers and other accessories covered by the HUAWEI Care - Extended Warranty Service (for PC)?

HUAWEI Care - Extended Warranty Service (for PC) of accessories, including but not limited to, power adapters, removable (not built-in) rechargeable batteries, headphones, data cables is not provided.

For more information please refer to 【

https://consumer.huawei.com/za/support/warranty-policy/

】

Q8 - Can I return the HUAWEI Care - Extended Warranty Service (for PC) only?

Yes, HUAWEI Care - Extended Warranty Service (for PC) can be returned separately from the HUAWEI product within 10 (ten) days from the date of purchase.

You need to call our Customer Service Center ask for return it separately. HUAWEI Customer Center No.: 0860-861111 (South Africa)
Click to view terms and conditions of HUAWEI Care - Extended Warranty >
HUAWEI Care Extended Warranty Service (for PC)
Extended Warranty Service name

HUAWEI Care - "Extended Warranty Service (for PC)"



HUAWEI Care - Extended Warranty (for PC) description

Coverage for manufacturing defects for the HUAWEI product purchased. Providing an additional 12 (twelve) months warranty after the end of the manufacturer's warranty period (service period) without charging additional fees for work and replaced spare parts during the HUAWEI Care - Extended Warranty Service (for PC).
In terms of the HUAWEI Care - Extended Warranty Service (for PC) - the manufacturers' warranty service period of the product will be extended for one year depending on the Extended Warranty (for PC) purchased. During the warranty period, the maintenance of non-human faults is exempted from the testing fee, spare parts fee, and maintenance fee.



HUAWEI Care - Extended Warranty (for PC) features

HUAWEI Care - Extended Warranty Service (for PC) is valid only for certain HUAWEI products for sale.
The HUAWEI Care - Extended Warranty Service (for PC) is carried out by authorized HUAWEI service centers in South Africa.


| Store Name | HUAWEI Service Centre Address |
| --- | --- |
| 1. HUAWEI –Menlyn Park Shopping Centre Johannesburg | Shop LG4, Menlyn Park Shopping Centre, Cnr Atterbury Road & Lois Avenue Menlo Park Pretoria 0181 |
| 2. HUAWEI –Melrose Arch Johannesburg | Shop H37G,The Piazza, Melrose Arch, Melrose North 2196 |
| 3. HUAWEI –Canal Walk Shopping Centre Cape Town | Shop 96, Canal Walk Shopping Centre, Century Boulevard, Century City Cape Town |
| 4. HUAWEI –Somerset Cape Town | Shop G 231, Somerset Mall, Centenary Dr, Somerset West, Cape Town, 7130 |
| 5. HUAWEI –Cornubia Mall Durban | SHOP U91, Cornubia Mall, Mount Edgecombe Country Estate 2, Mount Edgecombe, 4302, South Africa |

The HUAWEI Care - Extended Warranty Service (for PC) does not apply to accessories included with the product or purchased separately.



Situations in which the HUAWEI Care - Extended Warranty Service (for PC) is not provided

Expiration of the Warranty period for the IMEI or serial number. If the user does not have a receipt or a completed warranty card (including unauthorized changes to the information in the warranty card), the service period ends after 24 (twenty four) months from the date of manufacture of the HUAWEI product;
The serial or IMEI number of the HUAWEI product is changed or unreadable;
The malfunction is caused by mechanical damage, ingress of liquid (corrosion, oxidation), foreign objects, substances, exposure to high and low temperatures;
The failure is the result of normal wear and tear of the HUAWEI product, including but not limited to damage to the coating, scratches, abrasions, discoloration of the device;
The malfunction occurred due to unqualified repair, installation of non-original spare parts;
The failure was caused by failure to follow instructions or use of non-original accessories;
he malfunction or damage was caused by force majeure (including earthquake, fire, lightning strike or unstable mains voltage).




Refund or Replacement of HUAWEI Care - Extended Warranty Service (for PC)

If the HUAWEI product is returned within 10 (ten) days from the date of purchase, HUAWEI will refund to you the price of the HUAWEI product and the HUAWEI Care - Extended Warranty Service (for PC)
If the HUAWEI product is replaced within 14 (fourteen) days from the date of purchase, the HUAWEI Care - Extended Warranty Service (for PC) will be provided to the new HUAWEI product.



Other

The terms of the HUAWEI warranty will be extended during the period of the HUAWEI Care - Extended Warranty Service (for PC).
For anything not expressly provided for in this document – please refer to 【https://consumer.huawei.com/za/support/warranty-policy/】