Art in Your Pocket
Turn your HUAWEI phone into a bold expression of
self-identity, by exploring an endless array of themes,
fonts, AOD options, wallpapers, and ringtones at your
disposal.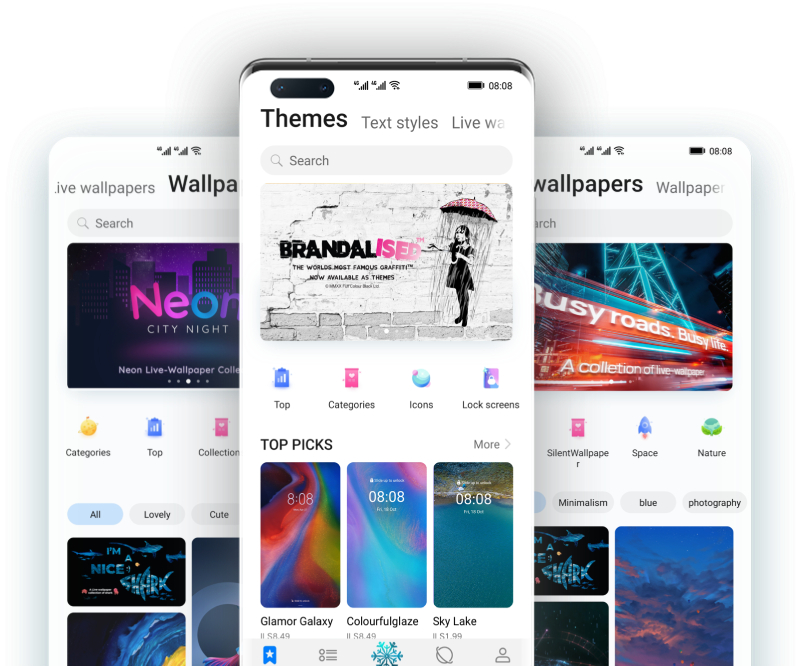 Themes that Thrill
Mix-and-match from an assortment of lock
screen designs and customizable icons,
to put your every mood and whim on full display.
And when the
screen is off,
the fun just begins…
Lose yourself in a mesmerizing display
of light and color every time that you turn
on the screen.

Fonts that Flatter
Bring out the character in every letter,
by giving your words the freedom to roam,
and the capacity to amaze!
Wallpapers that Wow
New wonders await – the HUAWEI Themes
wallpaper library draws from a bottomless well
of cultural motifs, showcasing a boundless
wealth of creative ingenuity!
Ringtones that Resonate
Call up new sources of joy, with video ringtones of
your choice – to indulge your ears, and your eyes!
Sound Solar
Galaxies

Sound Evening
glow

Sound Future
Technology

Sound Color
Dynamic Lines

Deformation of
ball

Peak wave 2 science
and technology

Smooth line 2

Dazzle light center 2
Trendy Watch Faces,
for Personality on Full
Display
Transform your watch into a bona fide fashion
accessory, then turn your wrist to produce a
dazzling spectacle.
This feature is designed for Huawei wearable devices. You can select from and download a broad array of
watch faces from the Watch Face Store in the Huawei Health app, or simply use the default watch face.
Interested in creating Themes?
Sign up here for updates
and opportunites.