Total Control over Your Own Data
Privacy and security safeguards kick into gear from the moment that you power on your device, and remain in effect at all times. We offer a vast and versatile privacy management toolbox that allows you to manage your data in the manner you see fit. You can adjust the privacy settings and optimise data and permission access policies at any time, to ensure that your device is responsive and responsible.
Data Protection for
App Access
Keeps you informed about how apps access your personal data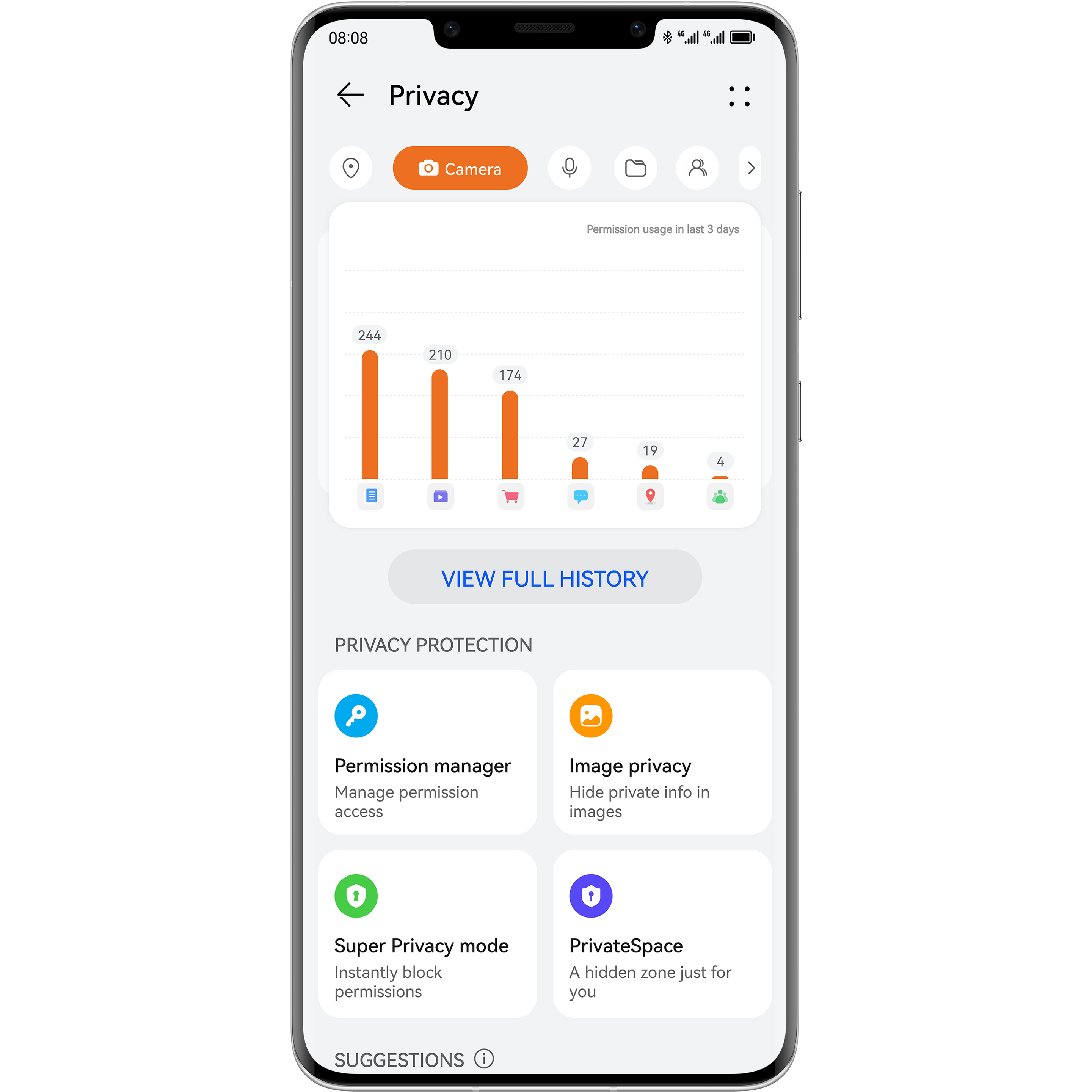 Privacy Centre

Privacy Centre shows you which sensitive permissions are authorised for each app, with a full array of detail that's clear at a glance. It also provides valuable data-driven privacy tips, which make it easy to optimise controls over your personal data.
Privacy Centre, is a one-stop portal that provides instant access to what you need, whether it's image privacy settings or Super Privacy mode.

App Security Centre

App Security Centre isolates data and analyses app behaviour to detect and thwart non-compliant, malicious, and risky apps. It prevents any such apps from obtaining sensitive user data (contacts, SMS messages, call records, and calendar events), and prohibits controlled apps from displaying background pop-up windows and obtaining permissions for Floating window, Location, and Media and files. Apps can be freely added and removed from the control list, as needed.

Super Privacy mode

Enabling Super Privacy mode prevents all apps from obtaining camera, microphone, and location data from your device, providing an extra level of protection.
Walled-Off Device Data
Protects you from power-on to power-off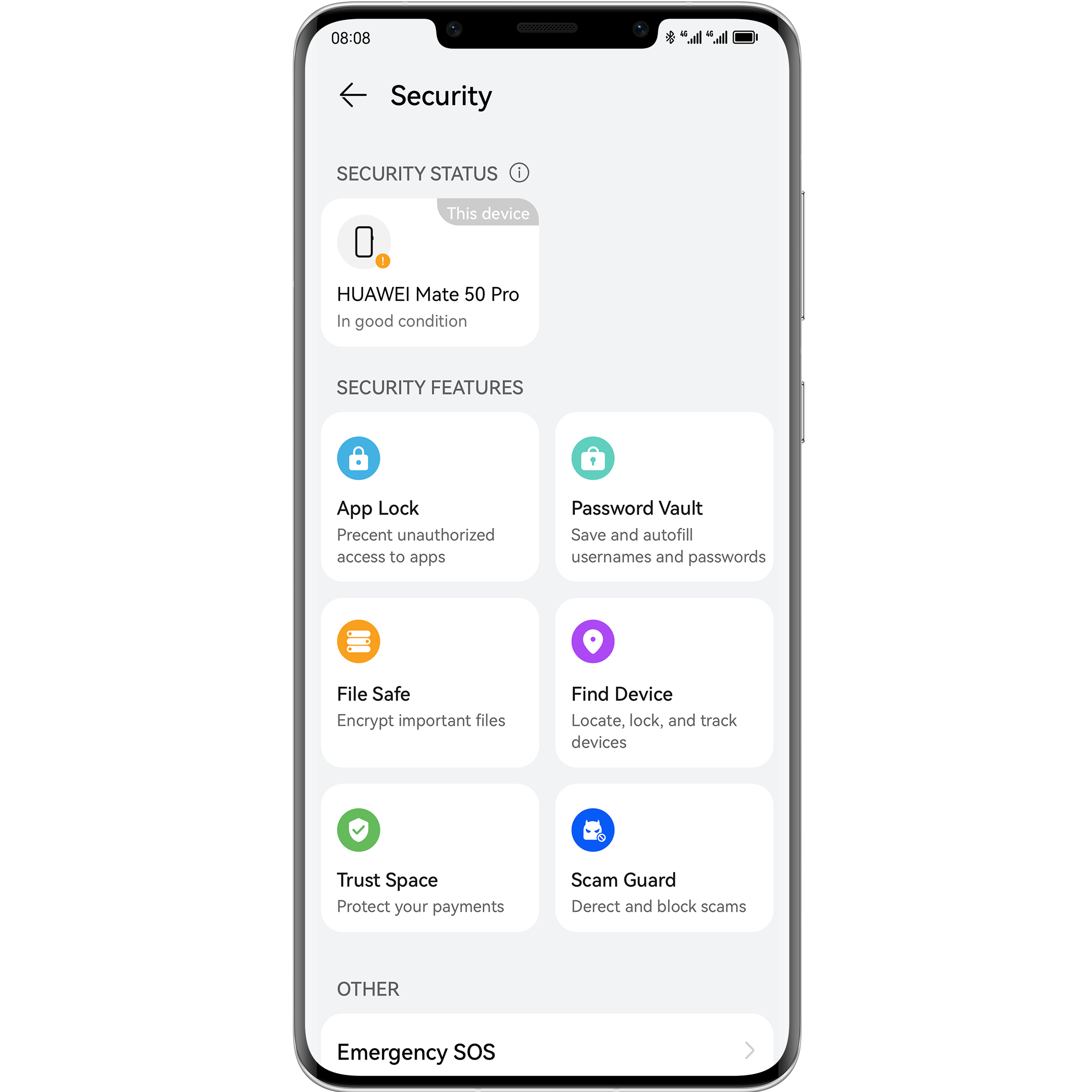 Security Centre

Security Centre provides a unified aggregation portal to detect device security status. It performs a wide range of functions, including virus scans, harassment blocking, WLAN security check, fake mobile tower blocking, and TrustSpace, for the current device and Super Devices logged in to the same account. Security Centre makes it easy to browse security logs, and provides handy tips for how to better protect your data. The platform's anti-fraud reporting feature allows you to view potentially fraudulent calls and messages, and detect fraudulent apps that have been installed.

Notepad Lock

Locking notes in Notepad gives them an airtight-level protection, by ensuring that no one else can view them without your authorisation. Locked notes can't be screenshotted or recorded.
You can even apply lock screen password, fingerprint, or facial recognition protection to your locked notes, for added convenience.

File Safe

Storing images, audio, video, and files on your device to File Safe prevents them from being accessed by anyone else, if you ever lose your phone or lend it to someone else. Identify verification is required to access any data or files in File Safe.

App Lock

You can apply App Lock to any app, so that it can only be opened when your identity is verified, such as by password or biometric identification — this applies even when your device is unlocked.

PrivateSpace

PrivateSpace is an independent space that is isolated from MainSpace, in which app data is completely off limits to anyone else. You can even transfer files between PrivateSpace and MainSpace, including videos, audio, images, and contacts. Setting an independent fingerprint or password for PrivateSpace allows you to access different user spaces with different credentials.

Biometric protection

Your fingerprints, face, and voiceprint are unique traits that you can use to unlock your device. The pre-processing, enrolment, and authentication of biometric data is performed in a secure, isolated, and trusted environment. We pledge that your original biometric data will never be stored on your device, or anywhere else. Raw biometric feature data is encrypted after being converted into a feature template. The data is only stored in the TEE security isolation area, and will never be transmitted or stored to any location other than the cloud server or your device.
Data Sharing Safeguards
Up to you to decide what to share
Image Privacy Protection

Images can contain sensitive information that you'd rather not reveal, such as location and time stamps. Enabling the Image protection feature in Privacy Centre removes all such information for image sharing via any app. When you share images from Gallery, the app will display Privacy options for you to remove sensitive information from images.

Image hiding

Hide Gallery images and videos so they won't appear on the main screen, and can only be viewed from Hidden items, which can't be accessed by third-party apps. For example, Gallery can help you sort images of ID documents on your device, and related privacy tips will be provided in Privacy Centre, so you can choose to hide the images for enhanced peace of mind.

Hide Private Info

Before sharing an image in Gallery, you can touch Hide Private Info to ensure that sensitive information in the image, such as any phone numbers, and ID card names and numbers are identified and masked.

AI Private View

AI Private View recognises faces, and keeps messages hidden until the device owner's face has been detected. When more than one face, or a face other than the owner's is detected, all message details are automatically hidden.

Hidden Private Messages during Screen Projection

The projection service provides DLNA projection and mirroring projection, which are ideal for PowerPoint presentations, online courses, gaming, and entertainment. When your phone receives any incoming calls or messages during projection, these notifications will not display on the Vision (projection screen). Likewise, when you enter a password using the Huawei input method, the password screen will not display either.

Safe and secure album sharing

Once you enable cloud syncing, you'll be able to manage a shared album of the Vision via Gallery on your phone. Only images that you add to this shared album can be shared with other Vision devices.
Child Safeguards
For children who use Huawei Cloud Services, we take extra measures to provide age-appropriate content, prevent unwanted intrusions, and create a healthy, wholesome digital environment. Certain information may have to be collected in order to provide services, but we will collect, use, and disclose any such information only upon express consent from the child's legal guardian.
Child account

Once a child account has been created, it can be used to sign in to numerous Huawei apps, including HUAWEI AppGallery, HUAWEI Video, HUAWEI Browser, and HUAWEI Game Center with the child mode enabled. Our solutions, which include age-appropriate content screening, risky website blocking, disabled commenting and web page recommendations, and payment method sharing, help protect children from potential hazards and cultivate healthy digital habits.

Protecting data

We only collect a child's personal information after their legal guardian has given consent. In addition, we will use or disclose such information only if such use or disclosure is permitted by laws and explicitly authorized by the legal guardian, or when it is required to protect the child. The legal guardian can access, modify, or delete the child's personal information at any time, in accordance with the privacy notice or supplementary statement for the relevant product and service.