An airtight digital environment, under your control
We prioritize privacy and security above all else, and adhere to this commitment in every phase, from product design and development, to operations and maintenance. With data minimization, on-device data processing, transparent and controllable, identity protection, and data security assurance as our guiding principles, we have employed a wealth of trailblazing technologies (including differential privacy and federated learning) to protect your data, with layer upon layer of safeguards to ensure that it stays under lock and key.
MoreLess
Protecting Your Privacy
HUAWEI ID
You can use your HUAWEI ID to sign in to apps and websites, without ever having to worry that your personal information will be disclosed — the process is secure, transparent, and hassle-free. In the event that you encounter any unexpected issues, we're always on hand to walk you through the solution, with timely notifications that make it a sheer breeze.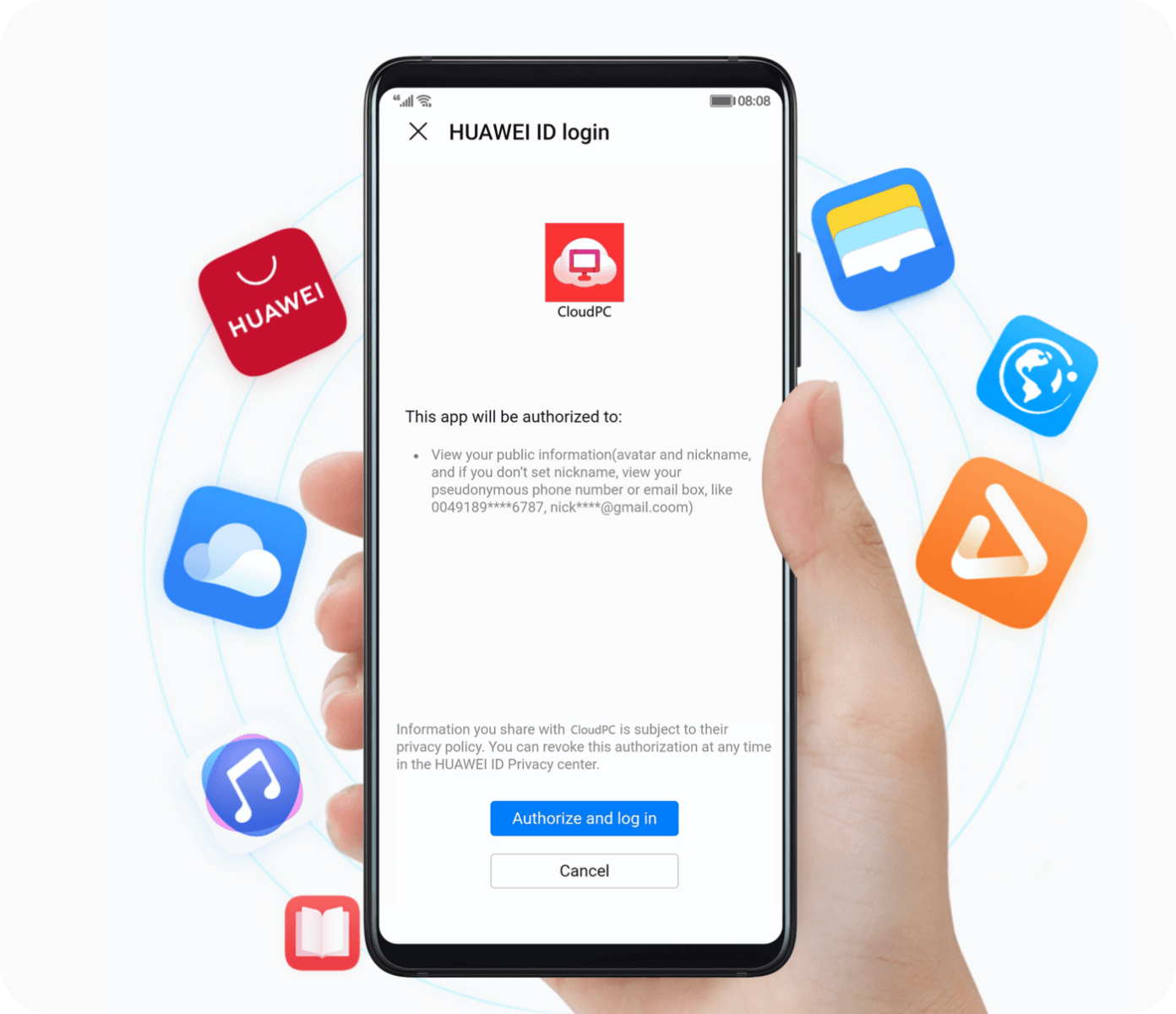 Multi-factor authentication

HUAWEI ID incorporates integrated solutions that take the sign-in environment, sign-in credentials, and device into account, for proactive risk detection that prevents unauthorized users from accessing your account sign-in information or personal information.

Security risk controls

Whenever you change your account or password, or use your HUAWEI ID to sign in on a new device, we always notify you in real time, via SMS message, email, or other contact methods. In the event that there is an unexpected issue, we will prompt you to change your password in the account center. For any issue or query, Huawei online customer service is always on hand to offer timely assistance.

We have adopted a number of sophisticated policies to keep your account safe and secure. These include limiting the number of sign-in attempts and password resets, to prevent account hacking, implementing high-level fraud monitoring to identify attacks, and continually reviewing and adjusting policies to account for new security threats.

Account Kit

Account Kit is an account sign-in service provided by Huawei for developers that is based on OAuth 2.0.

When you use your HUAWEI ID to sign in to a third-party website or app that has been integrated with Account Kit, the service provider will only be able to access your account information after you have expressly authorized them to do so. Better yet, you can withdraw these authorizations at any time in the account center. In addition, we also provide different user IDs for the third-party apps that you have authorized, in order to isolate data and prevent cross-app tracking.
HUAWEI Browser
HUAWEI Browser provides a range of advanced features, including smart anti-tracking, malicious URL detection, privacy mode, ad filter, and smart blocking of automatic app opening and download, which enable you to browse the web to your heart's content with ultimate peace of mind.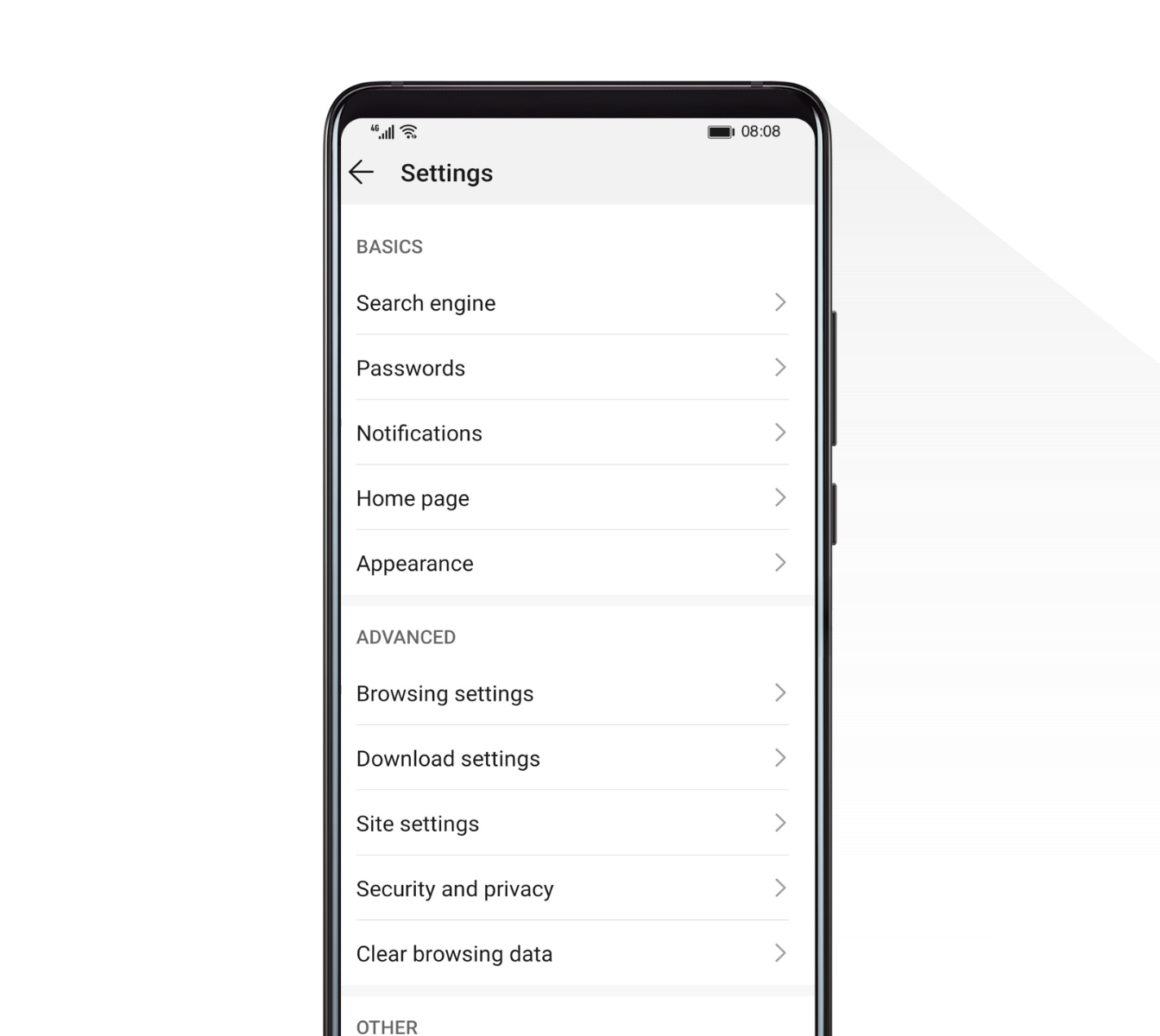 Smart anti-tracking

You may have noticed that after viewing a product on a website, you are likely to be bombarded by ads for the product when even you browse other websites. This is because third parties routinely use cookies to track your browsing from website to website.
The smart anti-tracking feature of HUAWEI Browser identifies the websites that track your activities, and even synchronizes this information to your phone. You can disable tracking cookies via HUAWEI Browser on your phone, to prevent your online activities from being tracked, without hindering your ability to use such websites.
Your web browsing data will remain private, and never be disclosed to advertisers for commercial purposes.

Malicious URL detection

Some phishing and fraudulent websites use disguised services to induce you to access them, and then use deceptive means to steal personal information. Visiting such websites can result in account theft, personal information being leaked, or other consequences.
We work hand-in-hand with top cyber security providers to test the security of websites. We do not send website URLs that you have visited to any third parties. Instead, we will send the information after it has been decoupled from your identity and anonymized, to ensure that neither Huawei nor the third party is able to obtain the visited website content. If we suspect that a website is engaged in phishing, HUAWEI Browser will inform you of any risks, and remind you to exercise caution before accessing the website.
The malicious URL detection feature in HUAWEI Browser is enabled by default.

Controllable recommendations

HUAWEI Browser displays a personalized news feed of third party content, based on your browsing behavior. While enjoying the convenience of this feature, you can rest assured that none of your personal information has been shared with any third-party partner.
HUAWEI Browser also enables you to restrict us from providing such personalized content. Once this feature is enabled, news will be recommended in accordance with general rules (such as popular topics), rather than your personal browsing activities. All of your browsing records will be deleted or anonymized, and each time that you re-enable personalized recommendations, you'll be deemed a new user. This places all of your browsing data under your complete control.

Intelligent search

We work closely with third-party search engines to provide you with a high level of service. For content of interest, you can choose to enter a website name, URL, or search keyword, for direct access. We also limit the data that is sent to third parties when cooperating with them, to ensure that your privacy is respected. For example, we do not transfer cookies or precise locations to third parties, and search results are sent only after they have been anonymized, so that you will not be identified by any third party.

Ad filter

We block ads on a website-by-website basis, and display the number of blocked ads in a widget on the address bar. For websites with a large number of ads, the ad blocker is enabled by default. For all other websites, the blocker can be enabled as needed, and you can even manually label and block any ads that you find irritating.

Smart blocking

Smart blocking is automatically enabled for web page browsing. This feature is able to predict whether you need to open a third-party app from a web page, and automatically blocks unnecessary pop-ups asking you about app opening.

Privacy report

We provide privacy reports for individual websites, which include detailed information, such as the number of blocked ads, as well as numbers of times that automatic app opening, automatic APK download, and tracking websites are blocked respectively.
HUAWEI Mobile Cloud
Store the things that matter, like pictures, videos, and contacts, to keep them up to date on all of your devices. With HUAWEI Mobile Cloud, managing your data has never been more secure… or so flexible! Features like automatic backups, cross-device syncing of frequently used data, and Find Device, mean that precious memories are always at your fingertips!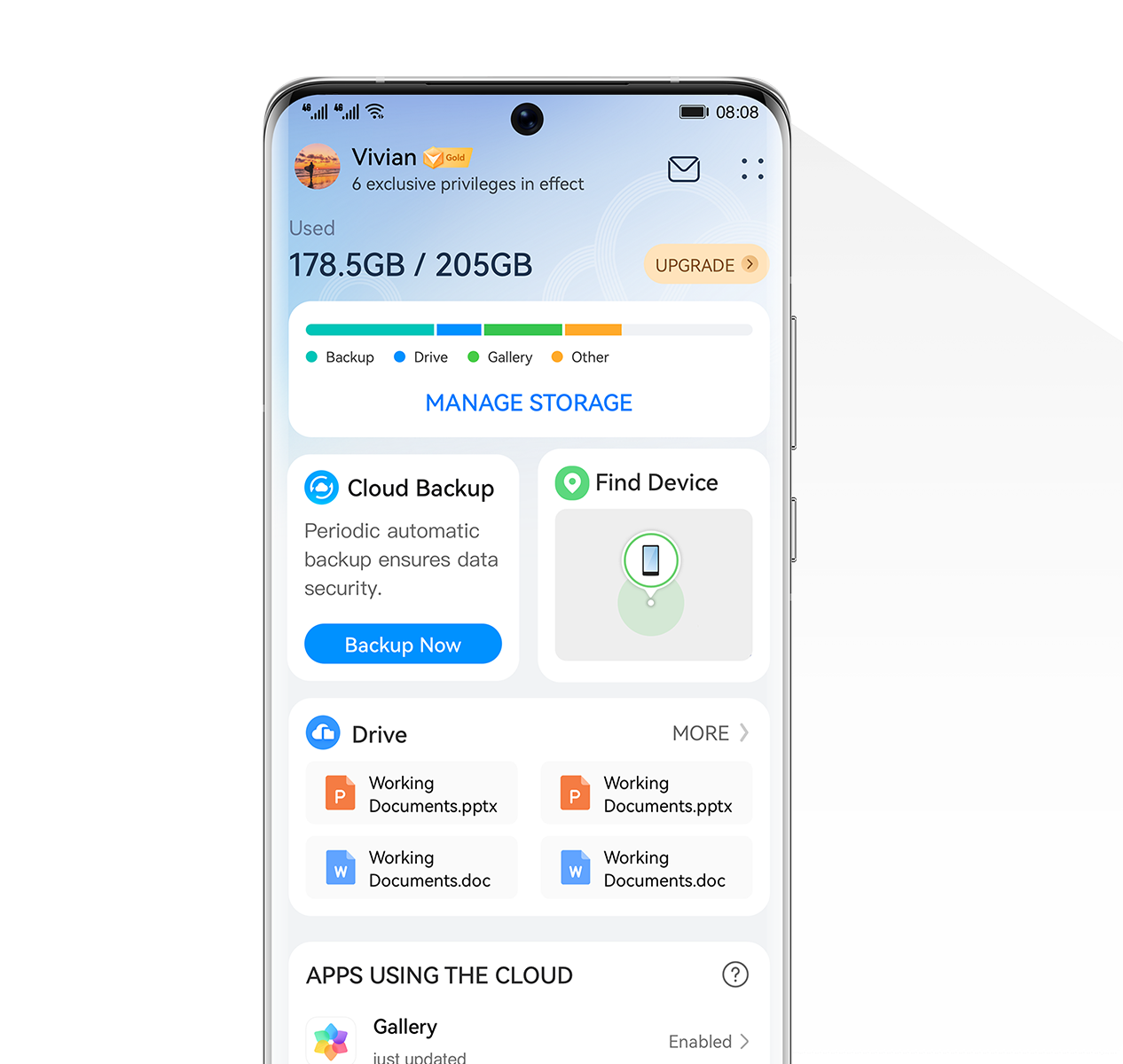 High data reliability

We build and manage data centers around the world in accordance with the most stringent privacy and data security standards in the industry, to ensure that your stored data will never be lost or damaged. Our data durability rate is an astonishing 99.9999999999%.
We have also deployed data centers across Availability Zones (AZs) to minimize any risk of data loss. If a data center is down due to extreme conditions, other data centers will continue to function as normal, ensuring that services can continue to be accessed, with a staggering data availability rate of 99.995%.

Multi-layer data encryption

Client-side encryption: Before your data is uploaded to the server, it is encrypted on the device to ensure that no one else can access or obtain it during subsequent transmission and storage.

Transmit encryption: In addition, we use the HTTPS encrypted channel to transmit data, which is widely used in network transactions and payments, preventing data from being intercepted and tampered with.

Drive Kit

Drive Kit is the cloud storage capability provided by Huawei for developers, which makes it easy for you to upload, download, synchronize, view, and search for the data, such as images, videos, and files, in Huawei Drive.
Developer apps are able to access your Huawei Drive only upon your consent. You can withdraw your consent and sign in to Huawei Drive to manage your app data at any time.
Huawei Drive provides comprehensive security assurance for a wide range of data. All the data stored in Huawei Drive is encrypted during transmission and while being stored on the cloud. Furthermore, no one will be able to access or view the data that you have stored in Huawei Drive without your consent.
HUAWEI AppGallery
HUAWEI AppGallery utilizes developer identity verification, four-layer detection system, and other high-level safeguards to protect data throughout the entire process, from app release to download, installation, and usage. We provide privacy tags that give you a clear sense of how apps use personal information, so that you make an informed selection.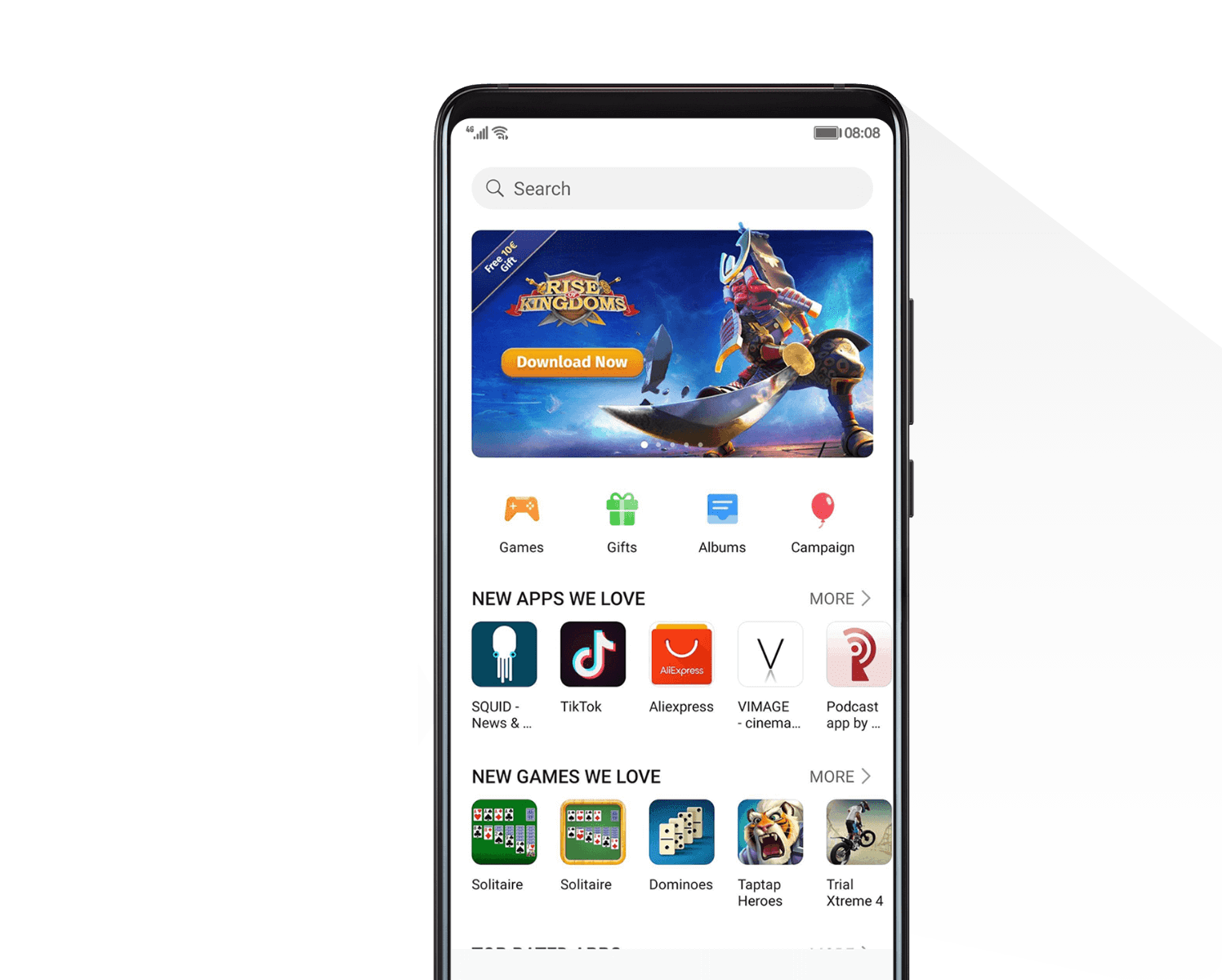 App management

HUAWEI AppGallery manages the app release process (including for quick apps) by reviewing the developer's qualifications, performing security checks prior to app release with regular checks after release, testing downloads and installation, providing security safeguards, and tracking user feedback, thus offering end-to-end security assurance. If an app is found in violation of HUAWEI AppGallery's terms with regard to user privacy or security, we will require the developer to make corrections in order for the app to remain available on HUAWEI AppGallery.

App transparency

We provide privacy tags to give you a clear sense of how apps use personal information. By incorporating all of the key information required by apps, including personal data items and data purposes, and presenting it via tags and an intuitive Pinterest-style layout, we have made it easier to view and understand app privacy statements at a glance, so that you can make informed decisions at all times.
You can view your privacy tags by going to Introduction > Privacy policy, and referring to the detailed explanations for terms, such as Transaction information and Identifiers, in the About personal data module. Armed with this information, you can rest assured downloading and using apps on HUAWEI AppGallery.

App access controls

After installing an app from HUAWEI AppGallery and using it for the first time, the app may request access to your personal information, such as your location and contacts, and you may be prompted to grant the relevant permissions. You can decide whether to grant such permissions, and also revoke them at any time.
HUAWEI Assistant∙TODAY
HUAWEI Assistant∙TODAY provides convenient smart reminders and news feeds, as well as a vast array of third-party services. We do our utmost to process all of your personal information locally, on your device itself. When working with third-party service providers, we adopt random identifiers to prevent such partners from being able to determine your identity.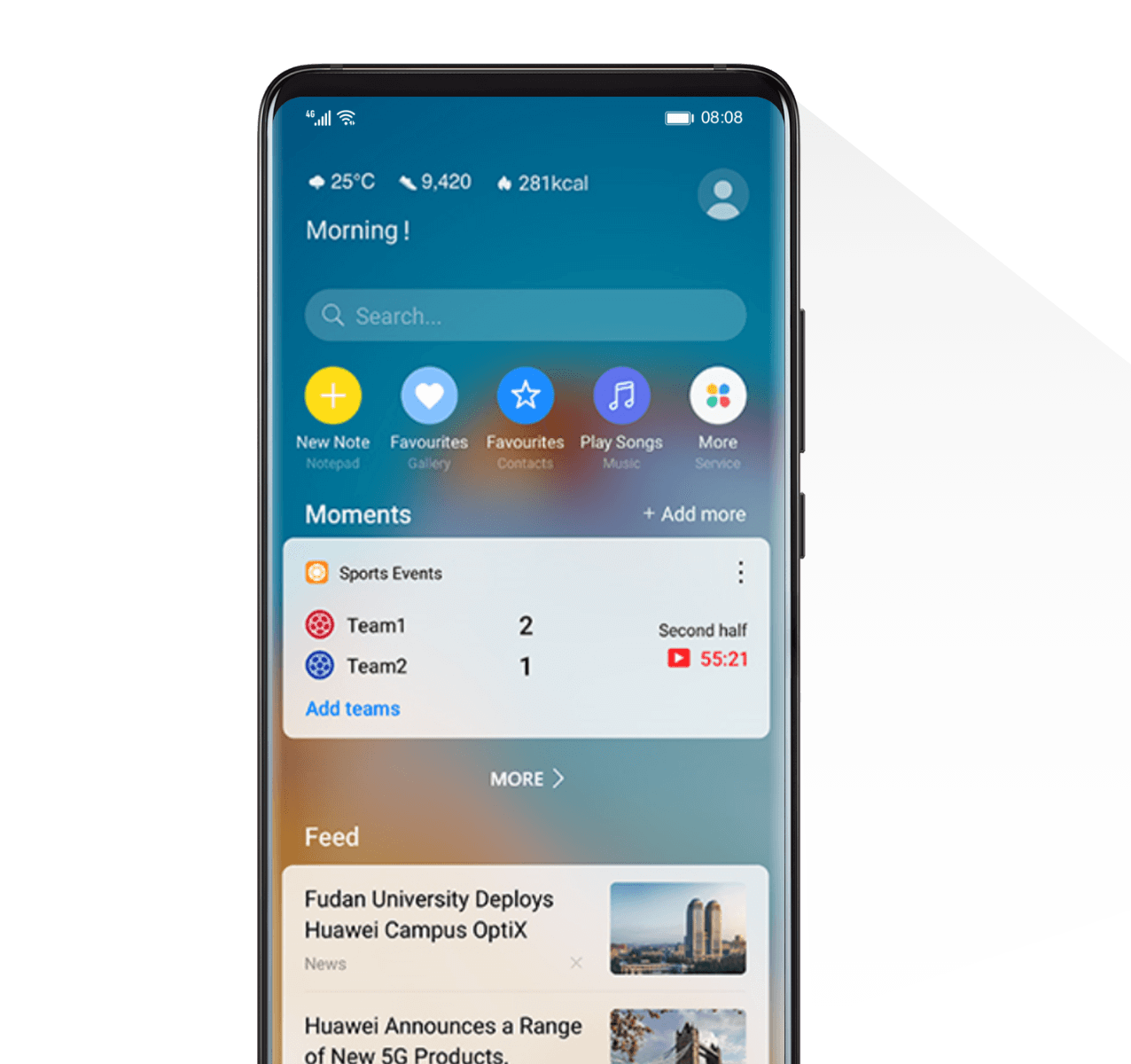 On-device data processing

HUAWEI Assistant∙TODAY reminds you of life events and work schedules, such as friends' birthdays, credit card payment dates, flights, trains, hotel check-ins, and so much more. The information comes from apps like Messaging, Calendar, and Notepad, and is not uploaded to the cloud. Instead, it is only used for the purpose of generating reminder cards on your phone.

Transparency and controllability

The smart reminder service may need to use some of your personal information, but will always clearly inform you of where the information comes from, as well as how the information is being used — ensuring that all services are completely transparent and traceable.
You can also enable or disable the smart reminder service, or subscribe to or unsubscribe from a business account. After disabling the service or unsubscribing from a business account, we will no longer use your relevant personal information. We also offer privacy protection settings that can be switched on or off. For example, after enabling the privacy mode, your browsing history will no longer include any information that you have previously browsed, and after disabling location services, you will no longer receive location-based service recommendations.

Data minimization

We are committed to providing you with the highest possible level of service, while adhering to the data minimization principle, which means that we will not share personal information — with service providers — that is irrelevant to the service you are accessing. For example, while our flight reminder card displays detailed information, such as the boarding gate and baggage claim number, we transmit only the flight number and random identifier to third-party service providers, to ensure that you cannot be personally identified.
HUAWEI Wallet
HUAWEI Wallet offers Huawei Pay and e-wallet features, which allow your phone to double as a transportation card, payment card, door key, etc. We take extensive measures to protect your privacy and security, while also providing smart life services that hardly require you to lift a finger.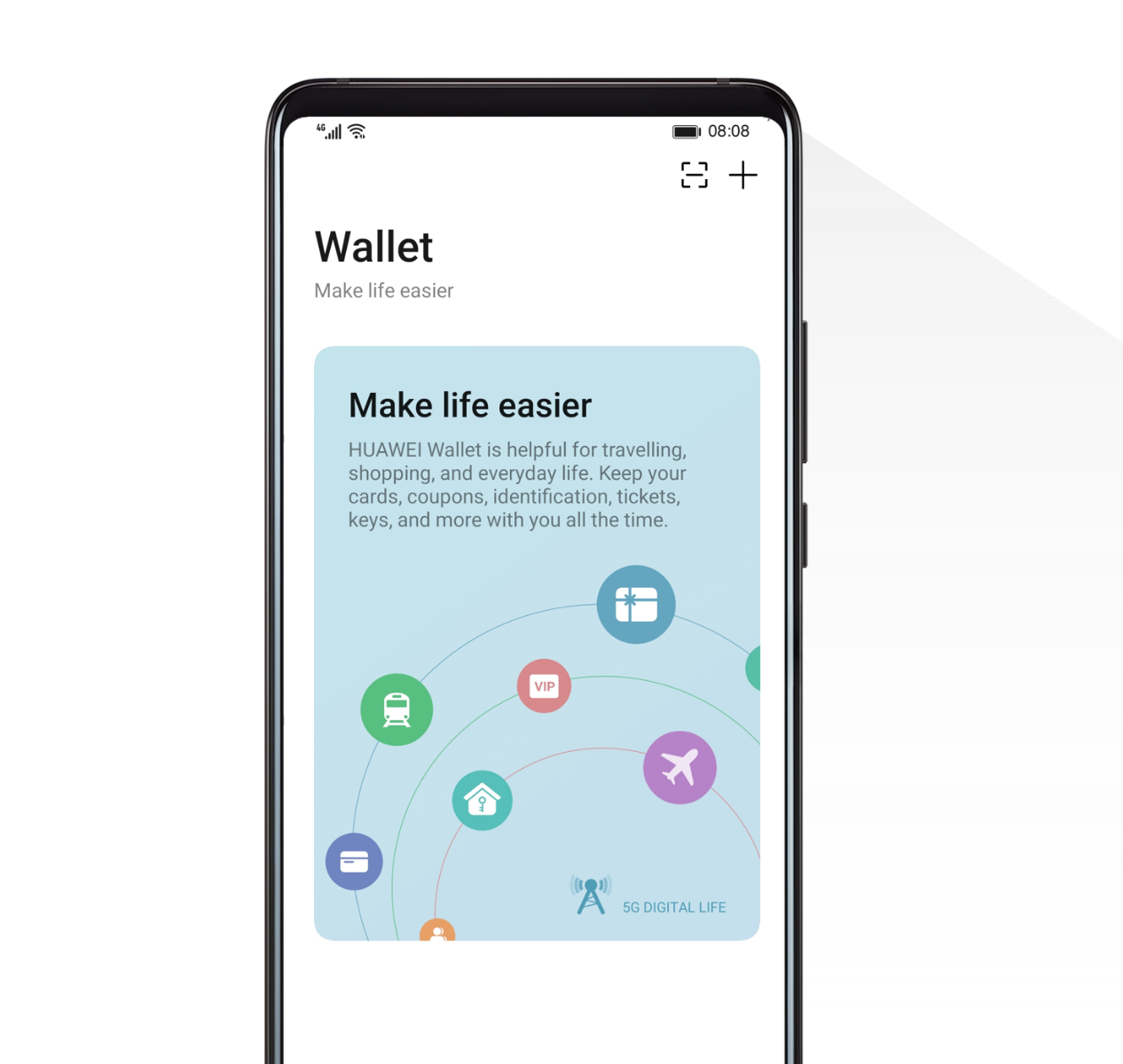 Unique device code

Huawei Pay is a fast, secure, and private payment platform that can be used to complete online payments and in-store purchases alike.
The payment card information that you add to Huawei Pay will be converted by the card issuer into a unique device code, and stored separately on your device's Secure Element (SE) after encryption. SE provides a fully isolated operating space for your device code, protecting your funds from being accessed by malicious actors.

Wallet Kit

Huawei has opened up its Wallet Kit to developers, which makes it easy for your phone to serve as a card, certificate, coupon, ticket, key, etc. Wallet Kit represents an all-new digital wallet paradigm, placing all of your favorite lifestyle services literally at your fingertips.
We have spared no effort to empower developers to protect your privacy. Sensitive card information can now be directly written into the SE of Huawei phones by merchants, using chipsets that have been certified by EMVCo — an international authority on financial-level chipset security certification, as well as ePrivacy headquartered in EU, and other international security and privacy certification authorities. Unauthorized apps are unable to access sensitive data when adding, updating, or using cards.
Petal Maps
Petal Maps only uses the data stored on your device for the purpose of providing personalized recommendations and services, based on computing that is limited to the device itself. Your data will be linked to random identifiers, rather than your HUAWEI ID, to anonymize personal information and prevent it from being tracked. Data will also be encrypted throughout transmission to ensure that it is not disclosed.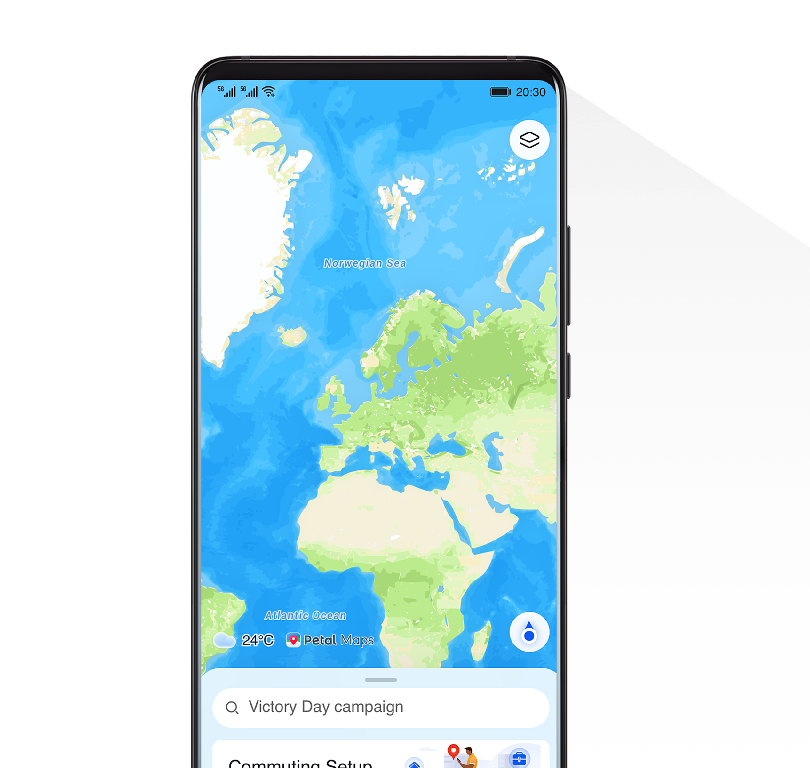 Random identifiers

We always use random identifiers to collect and store your data. When you open and use Petal Maps, your personal information, including your search preferences, places of departure, destinations, route plans, directions, and itineraries, will be linked to random identifiers to ensure that the information is not directly associated with your HUAWEI ID. This anonymizes all personal information and prevents it from being tracked.

Obfuscation

We also obfuscate stored data. For example, we round the longitudes and latitudes of points of interest (POIs) up to two decimal places, to avoid acquiring too precise information about a location and respect your right to privacy.

Abandoning information about the places of departure and destinations

The navigation directions and itinerary information generated during the use of Petal Maps, such as the information about locations within one kilometer of the places of departure and destinations, will be deleted to obfuscate your precise locations and protect your privacy.

End-to-end encryption

We've designed a separate cloud space control button for you within the app, which gives you a greater level of control over where your data is stored.
When you select your device as the only storage location, your personal information will be encrypted and accessible only on the device itself. When you need to access the data on another device, the data can also be shared through the cloud. We apply end-to-end encryption technologies during data synchronization to prevent data from being disclosed.

On-device computing

We only collect the data that is absolutely necessary to provide you with a smart, personalized level of service, and such data is only used for computing on the phone itself.

Incognito mode

Our incognito mode is a breakthrough technology that makes security more convenient and automatic than traditional manual deletion of usage records.
When the incognito mode is enabled, you do not need to sign in to your HUAWEI ID, and Petal Maps usage is completely traceless. Search records, route plans, and navigation records, among other data, will not be obtained by developers, uploaded to the cloud, or stored on your device.
HUAWEI Music & HUAWEI Video
These platforms can provide you with personalized recommendations, based on listening or Video On Demand (VOD) playback records. We've also designed both platforms to ensure that such information cannot be linked to your device when it is uploaded or shared among service providers.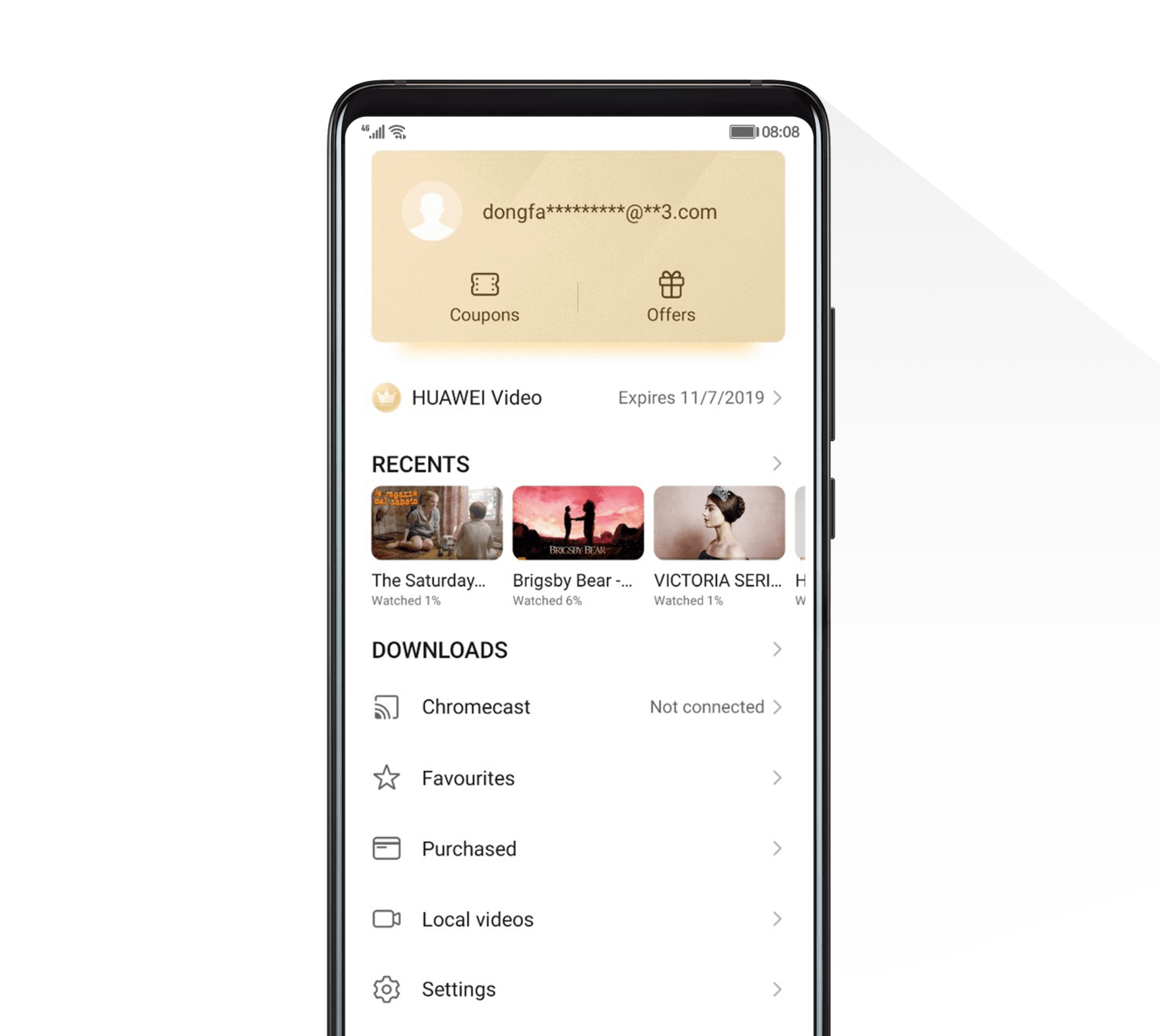 Differential privacy

HUAWEI Music utilizes differential privacy technology, and will continue to apply this technology on a broader basis to improve user experience and protect your privacy to the utmost.
Differential privacy technology does not directly upload the original information about your use of the app. Instead, it generates a summary of the app use information and adds random noise, so that the information cannot be linked to your device. This technology is key to helping Huawei improve some of its services and products, without collecting any information about you.

Federated learning

To balance user experience and privacy protection, we have also used federated learning technology in HUAWEI Video, and will apply the technology to even more service scenarios in the near future.
Thanks to federated learning, we do not need to directly upload VOD records, but can instead use the data model trained on your device and reported to servers, and then utilize the distributed machine learning system to recommend highly relevant content of interest. We collect the model data from each device, for the purpose of improving the app-level recommendation model and enhancing user experience.

Developer identifiers

When cooperating with third-party content providers, we use developer identifiers to isolate such service providers, which ensures that your personal information is not shared with them.
HUAWEI Health
HUAWEI Health is an anytime health assistant that can be tailored to meet your specific needs. You have complete control over how the personal information you have added is used, such as whether it is uploaded to the HUAWEI HiHealth cloud. From there, you can manage or erase the personal health information that you have opted to store on the cloud, whenever you want.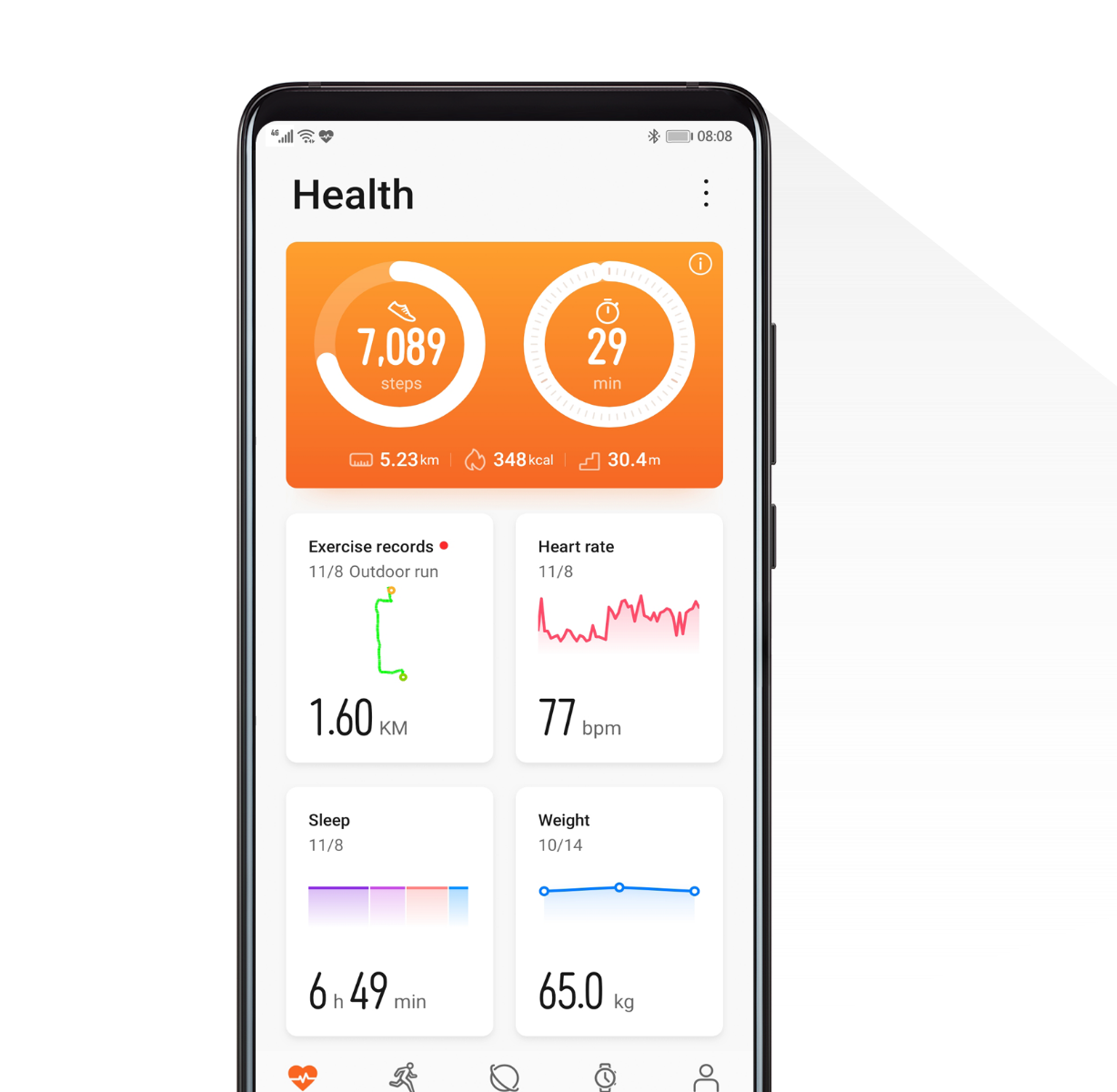 Strict data encryption

Your personal data in the Health app will be stored on your phone using a random key that even Huawei is incapable of decrypting. If you authorize us to collect and process your Health data, it will be transmitted to the HUAWEI HiHealth cloud via HTTPS and encrypted using dynamic keys.

Secure data access

If you select the services provided by a third party and authorize the third party to access your personal data, Huawei will provide secure access controls in accordance with OAuth to safeguard your data. You will enjoy ultimate control over how your personal data in the Health app is used, to whom the data is shared, and who can access such data.
Child Safeguards
For children who use Huawei Cloud Services, we take extra measures to provide age-appropriate content, prevent unwanted intrusions, and create a healthy, wholesome digital environment. Certain information may have to be collected in order to provide services, but we will collect, use, and disclose any such information only upon express consent from the child's legal guardian.
Child account

Once a child account has been created, it can be used to sign in to numerous Huawei apps, including HUAWEI AppGallery, HUAWEI Video, HUAWEI Browser, and HUAWEI Game Center with the child mode enabled. Our solutions, which include age-appropriate content screening, risky website blocking, disabled commenting and web page recommendations, and payment method sharing, help protect children from potential hazards and cultivate healthy digital habits.

Protecting data

We only collect a child's personal information after their legal guardian has given consent. In addition, we will use or disclose such information only if such use or disclosure is permitted by laws and explicitly authorized by the legal guardian, or when it is required to protect the child. The legal guardian can access, modify, or delete the child's personal information at any time, in accordance with the privacy notice or supplementary statement for the relevant product and service.
Upholding Your Privacy
Your data, your way
We are committed to protecting your privacy and data security in every respect, from the first time that you use your device, and each time that you access a product or service of ours. We provide a multitude of privacy management tools and safeguards to give you greater control over your data, and protect your digital profile from malicious actors.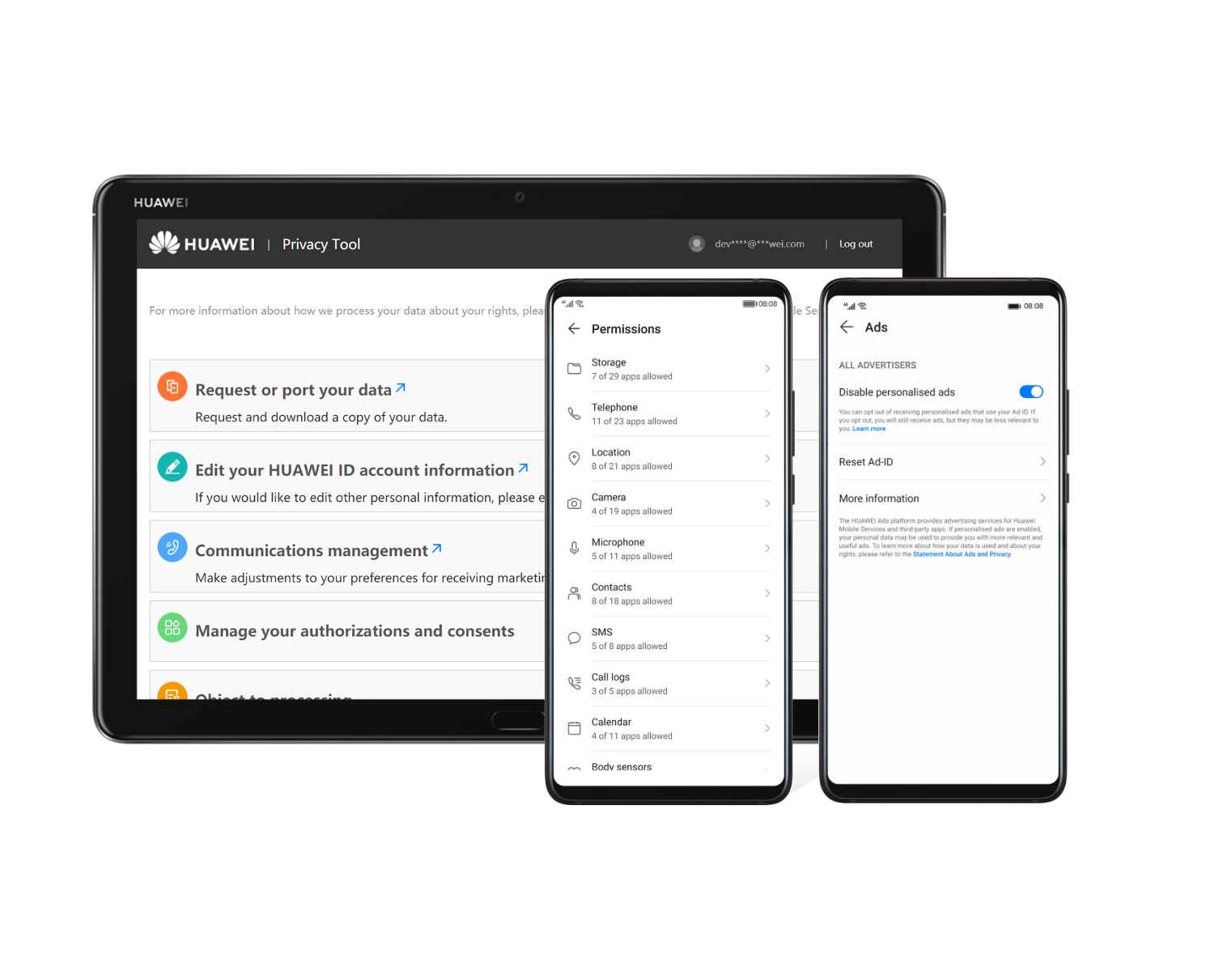 Privacy tool

We aim to help you exercise greater control over your data, while also using Huawei products and services with optimal ease.

The

Privacy Tool

helps you manage your personal information more conveniently, including obtaining a copy of your personal information, correcting or deleting your account information, controlling your account access permissions granted to third-party apps, and modifying your preferences for the receipt of marketing messages.

Advertising

We attach enormous importance to user privacy, strictly comply with Huawei's rigorous privacy policies, and only display ads that are relevant and appropriate.
When placing you in a user group based on personal information, we will always include at least 5000 people in such groups. This aims to protect your privacy. Additionally, your health information, payments, contacts, call logs, or email will never be used for advertising or obtained by any partner.
You can turn on Disable personalized ads at any time. Once you do so, we will no longer show you any ads that are based on your interests.

Controlling targeted ads

You can reset the Ad-ID to control targeted ads. In accordance with Huawei's rules, advertisers can use Ad-IDs to control the number of times specific ads are displayed to you, assess the effect of ads, and push more related ads to you. You can choose to disable or reset the Ad-ID at any time.
If you turn on Disable personalized ads, your Ad-ID will be replaced with an all-zero, non-unique value to prevent all targeted ads from being launched.
If you enable Reset Ad-ID, your device will generate a new Ad-ID. The data linked with your previous Ad-ID cannot be linked with the new one, which prevents advertisers from tracking you on a continual basis.


Controlling data shared with apps

When you install an app from HUAWEI AppGallery and use it for the first time, the app may need to obtain your device storage, contacts, location, camera, and other permissions in order to provide certain services. You will receive the relevant permission notifications and instructions.
You can decide whether to grant these permissions, and can cancel any granted permissions at any time in Settings.

Find Device

If your Huawei device is lost or stolen, you can sign in to the official cloud website (cloud.huawei.com) or use the Find Device function on another Huawei device, to locate the lost device, and have its current location displayed on a map. You can even ring your device to help you find it.
You can also lock the lost device and make it report its location and movement trajectory. The reported trajectory data is encrypted and cleared automatically once you unlock the device. Even if you are unable to find your device, you can remotely erase your personal data and permanently delete all content and settings from your device. Once a device has been remotely erased or unlawfully reset, the activation lock function will be enabled, after which you'll need to enter the HUAWEI ID and password linked to the device to activate the device and continue to use it.
These smart features reduce the chance that your device will be lost permanently, and minimize the risk of data theft in the event that the device cannot be recovered.
Built-in Privacy Safeguards
Privacy compliance framework

We regard privacy protection as a key pillar of product design. Therefore, we design, develop, operate, and maintain our products in compliance with the goal of protecting user privacy, and continually optimize our products and services to bolster their privacy capabilities. We have established a global privacy compliance framework that is based on the broadly accepted Generally Accepted Privacy Principles (GAPP) and EU General Data Protection Regulation (GDPR), as well as local laws and regulations, to meet the full range of privacy needs for a global user base.

Local deployment

We provide products and services through resources and servers deployed around the world, to ensure that users' data is protected in full compliance with legal and regulatory requirements. If local servers are required by laws and data is not allowed to be transferred across borders, users' data will be stored on local servers and operated and maintained by local subsidiaries that are subject to local laws. For example, the personal information of a user in the Chinese mainland will be stored on a server in the Chinese mainland, whereas that of a user in the EU will be stored on a server in the EU.

Data minimization

We insist on only collecting the personal information that is absolutely necessary for providing relevant products and services. Furthermore, we are committed to taking reasonable and feasible measures to minimize the sharing of personal information, and prevent the misuse or disclosure of personal information.
We use the unique device ID as the primary identifier for device data collection, as it cannot be identified by non-Huawei developers. This prevents user data from being shared between developers. We assign random IDs when sharing data with developers, and each developer will obtain different device IDs and user IDs, even for the same user, to ensure that personal data is isolated and not linked with any specific users.

On-device processing

Thanks to the formidable processing capabilities of Huawei devices, we are able to save and preferentially process data on the device itself. Users' personal information will not leave their device, unless certain data has to be transferred to the cloud for processing, to enable a function or provide a service.

Transparency and controllability

We regard privacy as a fundamental right, and insist that users have access to adequate knowledge about how their personal information will be used, and that they are empowered to make decisions about such information on their own.

Whether a user uses an app for the first time or starts using a new function, we will always tell them in a clear manner how the app or service will collect, use, save, share, and transfer their personal information, and will process the personal information only upon their consent. In addition, to help them better understand how personal information is processed, we offer HUAWEI AppGallery privacy tags, which outline how personal information is used via an intuitive Pinterest-style layout.

We provide a one-stop privacy management platform via

Privacy Tool

to help users better manage their personal information and privacy settings: They can obtain copies of their personal information online, correct or delete account information, decide whether to grant account access permissions to third-party apps, and set preferences for receiving marketing messages, among other actions. This platform is designed to help them use Huawei products and services in a carefree, hassle-free manner.

Identity protection

Our products and services come equipped with a number of innovative privacy protection technologies to minimize Huawei or third party access to users' personal information, helping them conceal their identities and ward off cyberstalkers.
For example, when we work with third parties, we link random identifiers, rather than user IDs, with personal information. The random identifiers are entirely unhelpful with identifying users, even when sent to remote servers. We have used the differential privacy technology in some of our products and services as well. Instead of directly uploading users' original data, this technology generates a summary of the original data, and incorporates random noise into the summary, so that the data cannot be linked with any specific user. All of those technologies are crucial to helping us enhance relevant services and products, prevent the collection of user-related data, and protect user identities.

Data security assurance

User data security is our main priority when we design products.
To safeguard user data, and allow users to enjoy secure HUAWEI ID sign-in, we utilize the following capabilities and technologies: (a) data protection powered by HarmonyOS; (b) security encryption capabilities provided by the SE and Trusted Execution Environment (TEE); (c) industry-leading data protection technologies during service processing and data exchanges; and (d) other technologies used during transmission, service processing, and storage, such as end-to-end encryption, trust relationship authentication for the certificate chain, signatures to prevent data tampering, and mutual trust between devices in a trust circle.
We safeguard users' data — regardless of whether it is stored on the cloud or shared over the internet — by preventing it from being accessed or tampered with by unauthorized parties.