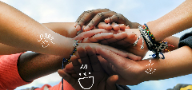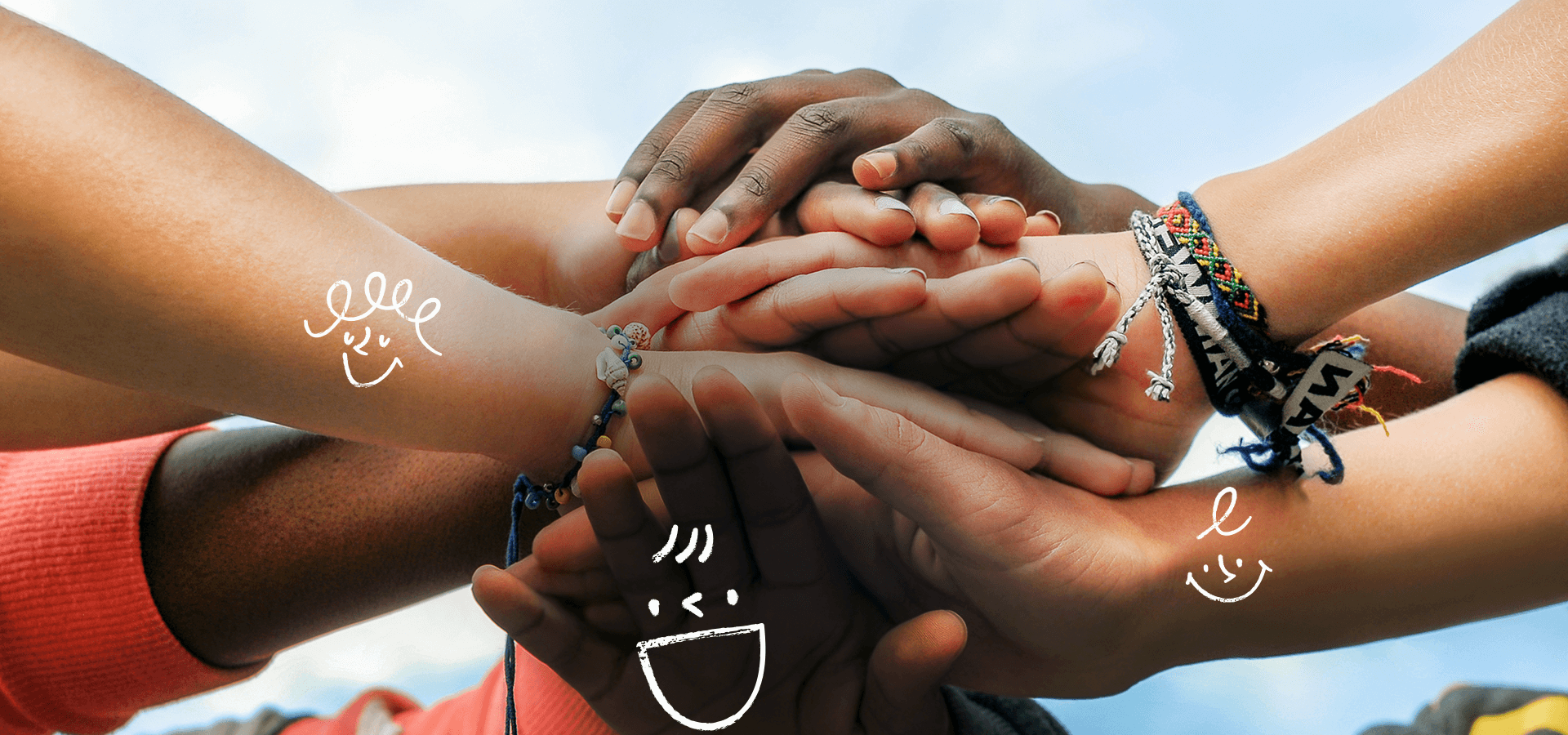 Technology
leaves no one
behind
We designed considerate features that are designed to meet the needs of every single user.
eyes
A sight for all
We make each glance count, and make sure that
each glimpse goes further.
Colour corrections
Clear at a glance
By enhancing specific colours, the display adapts to meet the needs of colour-blind and colour-weak people.
Air
gestures
Just raise your hand to make a call
The number keys on the dial pad will display onscreen when you lift your hand, making input faster and more convenient.
Voice
features
Hassle-free voice commands
Voice controls allow you to wake your device, field incoming calls, and find your phone, without lifting a finger.
Hearing
enhancements
We bring out each voice in your life.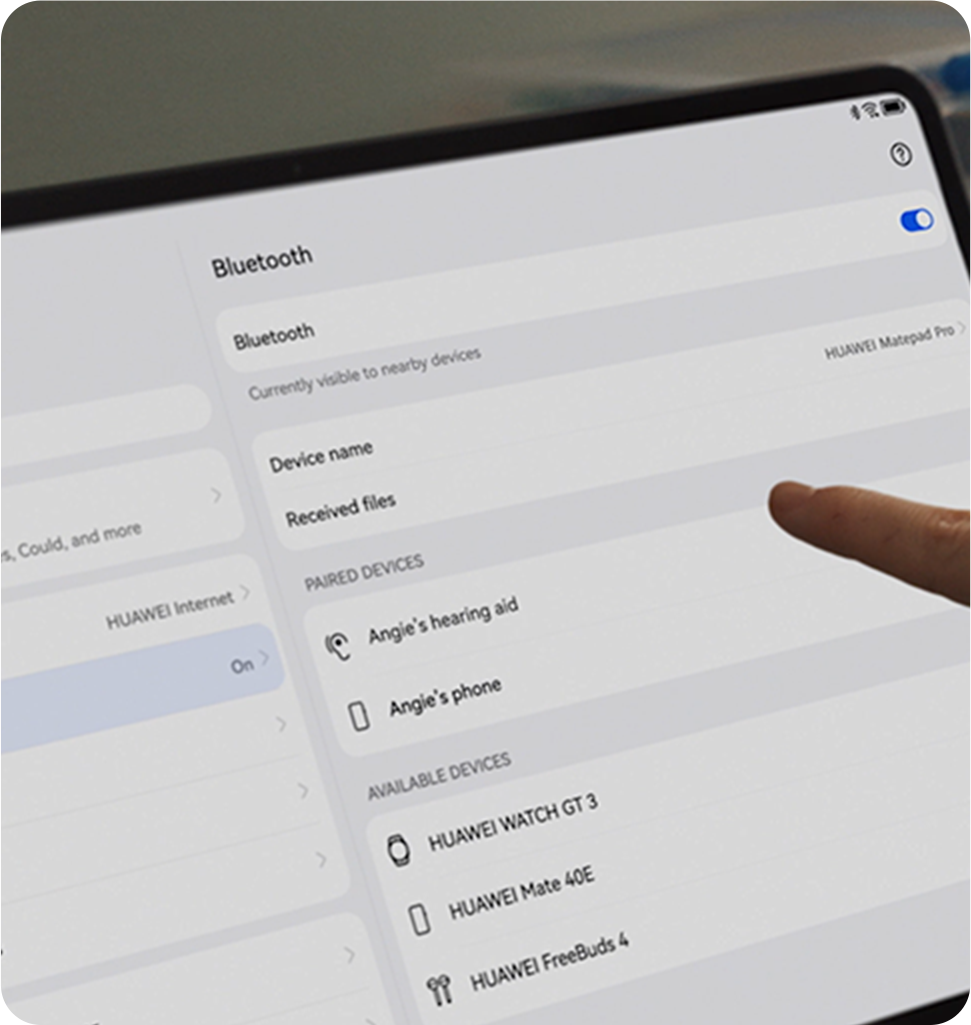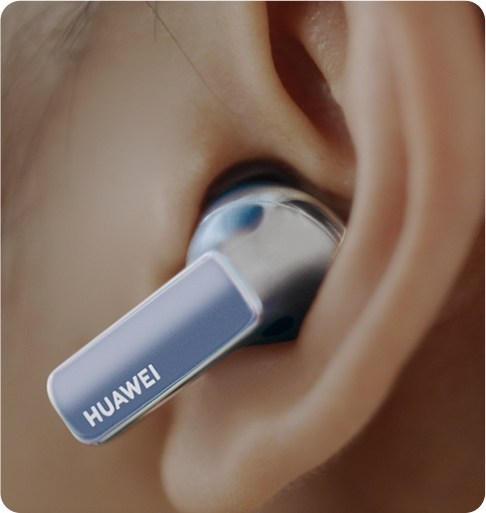 Seamless
connections
Tap to connect to a hearing aid device
One-touch Bluetooth connections allow you to connect to a hearing aid with just a tap.
*This feature is only supported on certain phone models. The actual product shall prevail.
Voice
enhancements
Volume tailored to you
Voice enhancements can be tailored to your hearing level. Make calls in noisy environments, and never miss a word.
*This feature is only supported on certain phone and headset models. The actual product shall prevail.
Hearing
protection
When it comes to your hearing, we're all ears
We even offer science-based hearing health tips, based on your listening habits.
Technology for all
ages
Age should not prevent anyone from
enjoying digital living.

Screen sharing
and graffiti tagging
One screen connecting two generations
When elderly users have trouble with something on their phone, you can use the screen sharing feature to show them the solution.
Learn more about Huawei accessibility stories
Accessibility user feedback
Technology doing what
modern medicine can't
This neat, compact box contains everything he needs, from tuning wrenches, to forks and stop clips. He sometimes bends to listen to the tones, or stands straight to feel the vibrations while pressing keys, and then uses his tools to fine-tune the strings. While this may sound typical for a piano tuner, it is hardly a typical profession for a visually impaired person, especially when he has to deal with intricate piano parts and pegs.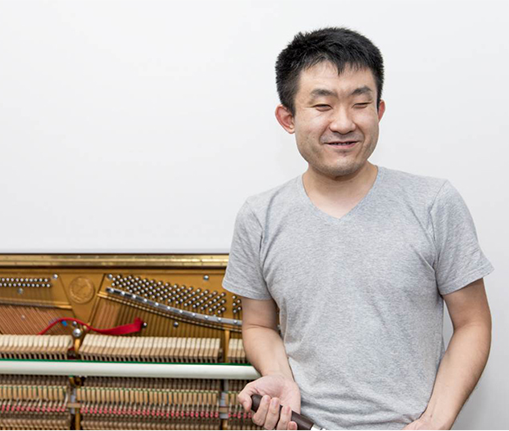 This neat, compact box contains everything he needs, from tuning wrenches, to forks and stop clips. He sometimes bends to listen to the tones, or stands straight to feel the vibrations while pressing keys, and then uses his tools to fine-tune the strings. While this may sound typical for a piano tuner, it is hardly a typical profession for a visually impaired person, especially when he has to deal with intricate piano parts and pegs.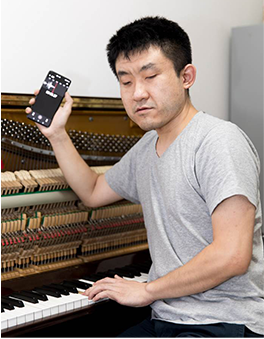 Wang Zhongwei uses the sound recorder function of his Huawei phone in his work.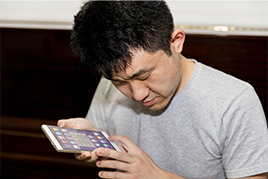 Wang Zhongwei still keeps his HUAWEI P8max.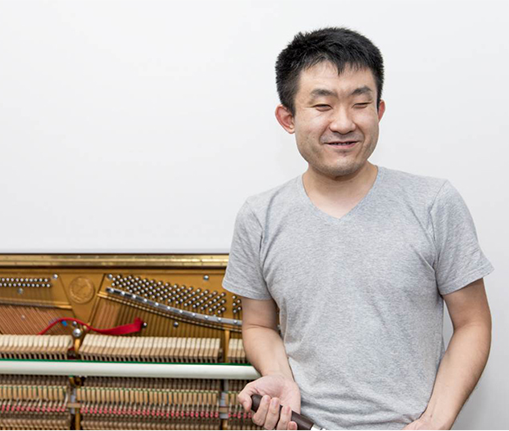 Wang Zhongwei, who is now a piano tuner, has been visually impaired person since birth. However, he is remarkably sensitive to sound, and this talent, combined with his upbeat personality, drew him to piano tuning. By drawing his body close to the piano to feel its vibrations, touching the strings gently, recording the sound, and re-listening repeatedly, he fine-tunes every pitch to his exact specifications.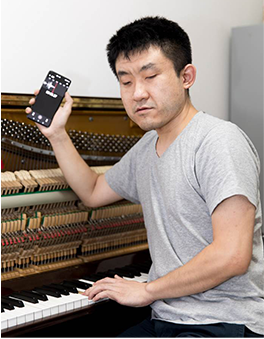 Wang Zhongwei uses the sound recorder function of his Huawei phone in his work.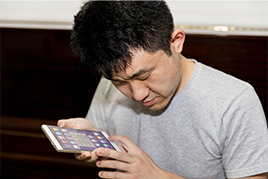 Wang spent nearly 10 years learning Braille and pursuing his education with the help of tools like magnifying glasses. He also has nearly a decade of experience using electronic products. In 2015, Wang got his first Huawei phone, P8max, and started his accessibility journey.
Since then, the accessibility features offered by Huawei phones have become an "indispensable daily companion". With the ScreenReader feature, he can operate his phone anytime and anywhere, without requiring help from others, and freely access the myriad of learning and support resources at his disposal.
Wang began working as a piano tuner in 2018. In addition to the accessibility features, he often uses the recorder function on his mobile phone during tuning. "This is one of the things I depend on the most." Wang said of the recording quality of Huawei mobile phones.
During the tuning process, he repeatedly touches the position of the peg to determine the string, turns the tuning wrench in his hand, presses the piano key to play the sound, and captures the changes in pitch and tone with his ears. Wang uses a Huawei mobile phone to record the piano before and after tuning, for his reference, which has helped him improve his craft.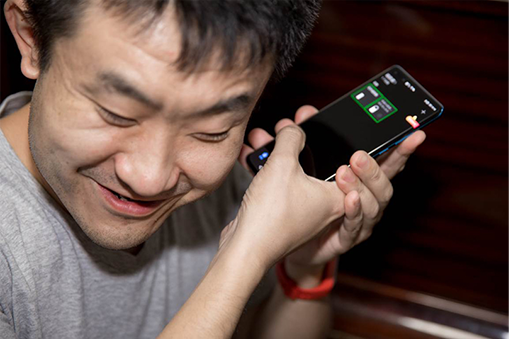 Wang Zhongwei still keeps his HUAWEI P8max.
"Whether I'm tuning a piano, singing, rehearsing, or attending a concert, I always use my phone to record what I'm hearing and then play it back later. Now that it's easier to use more devices, thanks to the HUAWEI AI Life app, my life has never been more convenient." said Wang.
By using the ScreenReader feature, Wang can turn on the air conditioner at home via the AI Life app, and change the temperature and direction of the airflow. When friends come to visit, he can also set up guest Wi-Fi via the app, which is both secure and convenient.
An accessibility experience that covers all of the different facets of daily life is the most valuable kind. Wang loves Huawei's AI Life app, because in his words: "It helps me manage all the appliances and smart devices that I use. The way I interact with the appliances and devices would have been inconceivable for me in the past, when each device had its own remote control and lacked voice assistance. If I wanted to use a device, I had to depend on someone else to help me."
Ambition meets visual impairment: an aspiring lawyer shows that no profession is off limits
"Getting the National Judicial Examination Certificate won't be highlight of my life. It's just the beginning." said Chen Lei, a newly-minted lawyer with near-total visual impairment, who managed to pass National Judicial Examination in a remarkable three months.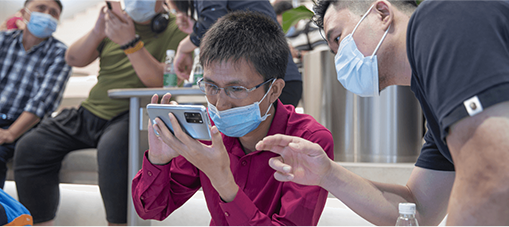 Chen didn't even major in law at university, nor was he born with visual impairment. We met him at the accessibility experience activity held at the Huawei global flagship store in Shenzhen, where he was assisting other visually impaired users with how to use the accessibility features in Huawei phones, explaining everything in his characteristically logical and articulate manner.
A native of rural Hubei, Chen was admitted to Jilin University in 2006, where he majored in automotive engineering and excelled academically. He was planning a career at a major automaker in China, until his third year, one year from his graduation, in 2009, when fate intervened. He was hit by fungal meningitis, and after narrowly escaping death, he was left with optic nerve atrophy, which rendered him almost completely blind. Though his eyes can perceive light, his vision is blurred, as he describes it: "like looking at a flicker of snow on a disconnected TV."
Given his severe visual impairment, Chen was given more time on his graduation project than his peers, and ultimately graduated in 2011, "I was suddenly unsure what I can do. It seemed that everything I had learned at school had abandoned me." Then by chance, he learned that visually impaired people could learn to use computers, so he started to teach himself with the help of screen-reading software. With the freedom of a keyboard, and under the guide of a screen reader, Chen was soon plugged in to the colourful world of the Internet.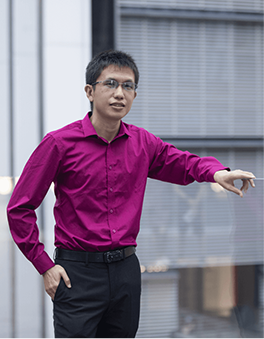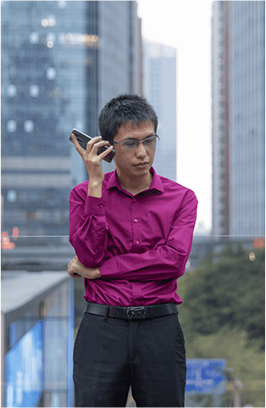 Chen had tried telephone sales and distributing leaflets, which are not demanding on vision, before his breakthrough. "I think I finally found myself in 2013, when I made up my mind to change the course of my life." he said. "I buried myself in books for a whole year. I read, widely, including culture, history, philosophy, and economics." Chen embarked on a new intellectual journey, made possible by his experience with electronic devices and the assistance of smartphones.
Ever since then, Chen has had the confidence to meet all of his challenges head on, and become an avid reader. But how to get access to more books? And how to read without being limited by the inconvenience of carrying around a computer? Previously Chen had been using a feature phone, and had needed to memorise phone numbers before making calls.
Then in 2015, Chen bought his first Huawei mobile phone, which came equipped with ScreenReader, a Huawei accessibility feature that reads on-screen text aloud. With the assistance of this feature, Chen gained access to a wealth of digital reading content, and was able to teach himself enough about e-commerce to get a job in that field. "The ScreenReader in 2015 was far less smart than today's." Chen noted, and he was inspired to assist Huawei with enhancing its accessibility experience, offering feedback through the consumer service hotline, receiving a follow-up from Huawei engineers in Shanghai. Later when he revisited Huawei stores to check out new releases, he found that "the ScreenReader feature on the Huawei mobile phones had been greatly improved."
In 2016, Chen decided to settle down in Shenzhen. Despite of his severe visual impairment, he successfully completed a complex online property with the help of ScreenReader, ultimately closing the deal with a timely offer during a tense bidding phase.
"I was not satisfied with just making a living. I wanted to live life to the fullest, knowing that I have decades and decades of potential new experiences." Developing a passion for the law, immersing himself in foreclosure, second-hand house transaction, and credit, Chen took the initiative and enrolled to take the National Judicial Examination, which would enable him to become a lawyer. This decision was made on May 28, 2019, only three months before the examination. Chen used his phone and the ScreenReader to prepare for the exam — studying relentlessly every day.
"My phone gave me a new commitment to my studies. Searching for materials, listening to classes, and taking practices exams was no more difficult than it would have been for someone else." Chen said.
Of the more than 50,000 people that signed up for the National Judicial Examination in Guangdong Province in 2015, there were just three visually impaired examinees in Guangzhou and Shenzhen, all of whom were seated separately in a specially-equipped examination room. As one of these three, Chen's hard work was rewarded, and he passed the exam. Now, he is an intern lawyer at a law firm, responsible for a wide range of cases, including labour disputes, contracts, traffic accidents, and intellectual property rights.
Chen has always been inquisitive and optimistic about the potential for technology to change lives. During the accessibility experience activity in Huawei global flagship store in Shenzhen, he showed immense interest in Huawei smart glasses, and thought that they could be used together with headsets to revolutionise daily life for users such as himself. He has also discovered HUAWEI AI Lens, a camera feature that recognises objects and text, and has used it to handle his daily paperwork.
Chen is also a marathon runner in his spare time, having run a dozen marathons in Shenzhen and Guangzhou since 2016. He likes running because it relaxes his mind and keeps him fit.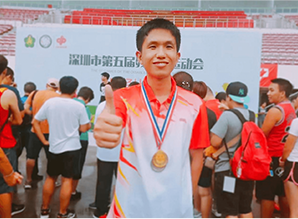 "I expect that accessibility features will appear in more and more tech products, and visually impaired people like myself can live more fulfilling lives", he said with a sense of expectation.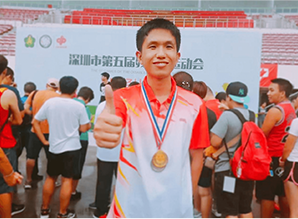 80-year-old grandpa
teaches his peers
Song Maoxin is an 80-year-old retired researcher and lover of electronics, who has been nicknamed "gramps" by his fans and those close to him, other technology enthusiasts, most of whom are much younger than him.
His recent article entitled On the Eve of Huawei HarmonyOS Launch — How Much Do You Know About the Development History of Huawei EMUI? went viral in the Huawei Fan Club, garnering over 200,000 views. In the article, he mapped out the evolution of Huawei phone models and Huawei EMUI versions, from EMUI 1.0 to EMUI 11, and gave his expectations for Huawei HarmonyOS 2.
In addition to posting articles online, Song has begun teaching many elderly people in his community about how to use their mobile phones. Each week, he has two classes, with two to six students regularly showing up. Although the size of his classes is small, Song never shortchanges his students. He carefully selects the features to be taught in each class, designs lesson plans and coursework, and rewards students with small gifts. His efforts have paid off. Students in their 90s are now confident sending out red envelopes, browsing WeChat group messages, and using phone memos.
"My students are used to writing things down in notebooks, but they don't always carry their notebooks with them and some even forget where they have stored their notebooks. So I teach them to use phone memos. If they don't recognise pinyin, I teach them to hand write. If they cannot write, I teach them to make voice memos. Once they have learnt how to do so, they're always so grateful, telling me 'this is so easy to use!' Teaching them requires a lot of patience." Song continued, "To reinforce memory after class, I leave homework for my students. Those who finish their homework well will get a reward, for example, the Parent's Mobile Phone Instructions published by Huawei."
The Parent's Mobile Phone Instructions is just one example of Huawei's efforts on facilitate digital inclusion. To help the elderly assimilate into an increasingly digital world, we need young people to mentor the elderly, in just the same way that their parents and grandparents taught them key life skills. This "gramps" is a shining example of how elderly users can adapt seamlessly to digital society, and blaze a trail for others.