WHO IS HUAWEI
Huawei is a leading global provider of information and communications technology (ICT) infrastructure and smart devices. With integrated solutions across four key domains – telecom networks, IT, smart devices, and cloud services – we are committed to bringing digital to every person, home and organization for a fully connected, intelligent world.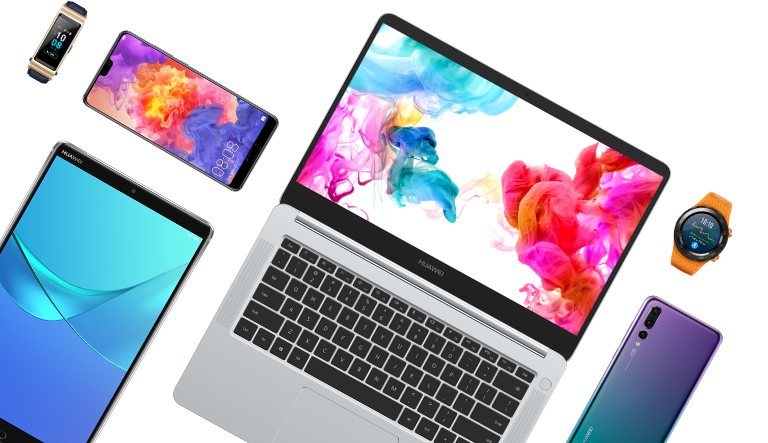 About Huawei Consumer Business Group
As one of Huawei's three business groups, Huawei Consumer BG is the leader of the all-scenario AI life. It covers smartphones, PC and tablets, wearables, mobile broadband devices, family devices and device cloud services. Huawei Consumer BG is dedicated to delivering the latest technologies to consumers and sharing the happiness of technological advances with more people around the world. Walk the walk and make dreams come true.
Milestones
2020
Sep: Huawei Developer Conference 2020 (Together) announced major upcoming updates for HarmonyOS 2.0, EMUI 11, HMS(Huawei Mobile Services), HUAWEI HiLink, and HUAWEI Research, empowering global developers and ecosystem partners to provide enhanced and innovative experiences for users.
Aug: Huawei has ranked 49th on the Fortune 500 list. This year's ranking represents an 12 point jump from 2019.
Jun: Huawei ranked 45th in the latest BrandZ Top 100 Most Valuable Brands study, up two places from last year. 2020 is the fifth consecutive year where the annual publication features Huawei as one of the top 50 most valuable brands worldwide.
Mar: Huawei launched the HUAWEI P40 Pro+, HUAWEI P40 Pro and HUAWEI P40, the new HUAWEI P40 Series flagship smartphones featuring cutting-edge designs with ground-breaking camera innovations that radically expand mobile photography and video capture possibilities.
2019
Sep: Huawei unveiled its ground-breaking HUAWEI Mate 30 Series at an exclusive launch event in Munich. With the Kirin 990 5G SoC, a revolutionary integrated quad-camera and its unique, iconic OLED HUAWEI Horizon Display, the HUAWEI Mate 30 Series sets new standards in every area from aesthetic design through to hardware engineering and software innovation.
Sep: Huawei unveiled the latest flagship Kirin 990 series: Kirin 990 and its 5G version at the IFA. Kirin 990 (5G) is the world's first 5G SoC. Being the industry's most compact 5G smartphone solution and the first full-frequency 5G SoC, Kirin 990 (5G) enables end users to access superb 5G connectivity experience one step ahead in the first year of 5G commercialization.
Aug: At the Huawei Developer Conference, Huawei launched HarmonyOS – a new microkernel-based, distributed operating system designed to deliver a cohesive user experience across all devices and scenarios.
HarmonyOS is a lightweight, compact operating system with powerful functionality, and it will first be used for smart devices like smart watches, smart screens, in-vehicle systems, and smart speakers. Through this implementation Huawei aims to establish an integrated and shared ecosystem across devices, create a secure and reliable runtime environment, and deliver a holistic intelligent experience across every interaction with every device.
Jul: Huawei announced its business results for the first half of 2019. In Huawei's consumer business, H1 sales revenue hit CNY220.8 billion.
Huawei's smartphone shipments (including Honor phones) reached 118 million units, up 24% YoY. The company also saw rapid growth in its shipments of tablets, PCs, and wearables. Huawei is beginning to scale its device ecosystem to deliver a more seamless intelligent experience across all major user scenarios. To date, the Huawei Mobile Services ecosystem has more than 800000 registered developers, and 500 million users worldwide.
Jul: Huawei released the world's first dual-mode 5G smartphone – the HUAWEI Mate 20 X (5G) in China, after its debut in Switzerland in May.
The HUAWEI Mate 20 X (5G) is the only commercially available 5G smartphone using a dual chipset configuration with Huawei's latest generation 5G multimode terminal chips, the 7nm Balong 5000 and Kirin 980, which support both the SA (Standalone) and NSA (Non-Standalone) 5G networks. The HUAWEI Mate 20 X (5G) received the first license to access China's 5G network in June, marking that the 5G era has finally reached consumers.
Jul: Continuing a multi-year track record of acceleration, Huawei has ranked 61st on the Fortune 500 list. This year's ranking represents an 11 point jump from last year and an impressive 68 point leap from 2017.
Jul: The HUAWEI Mate 20 X (5G) – the world's first dual-mode 5G smartphone – was certified by the Global Certification Forum (GCF), making it the first 5G smartphone in the market to pass all GCF 5G tests.
Jun: BrandZ's annual Top 100 Most Valuable Global Brands study ranks Huawei 47th (up one place from last year) with an eight percent increase in brand value. It's the fourth consecutive year that Huawei has been featured in the top 50.
Apr: Huawei announced its business results for the first quarter of 2019. Huawei's Consumer Business Group continues to create value for consumers with its innovative products. Its core strategy is to deliver an intelligent experience to consumers across all scenarios. In Q1 2019, Huawei shipped 59 million smartphones. In other business segments like PCs, wearables, and smart home, Huawei has been welcomed by global consumers for its leading, innovative products and superior user experiences.
Mar: Huawei rewrote the rules of photography with the groundbreaking HUAWEI P30 Series that features the innovative HUAWEI SuperSpectrum Sensor, an optical SuperZoom Lens (5X optical zoom, 10X hybrid zoom and up to 50X digital zoom), a new HUAWEI ToF (Time of Flight) Camera, and the enhanced optical and AI image stabilization technology. With these revolutionary technologies, the HUAWEI P30 and HUAWEI P30 Pro can capture incredible photos and videos in every scenario.
Feb: At MWC 2019, Huawei launched the HUAWEI Mate X, the world's fastest 5G foldable phone. The HUAWEI Mate X won GSMA's "Best New Connected Mobile Device at Mobile World Congress 2019", the most important award presented. The HUAWEI Mate X features a Falcon Wing Mechanical Hinge design, 7nm multi-mode modem chipset (Kirin 980 + Balong 5000), and a high-capacity 4500 mAh battery supporting the world's fastest 55 W HUAWEI SuperCharge.
Huawei also introduced the updated HUAWEI MateBook X Pro, HUAWEI MateBook 13 and HUAWEI MateBook 14. These products deliver outstanding high-speed connectivity to users and bring a hyperconnected experience closer than ever before.
Jan: Huawei launched its 5G multi-mode chipset, the Balong 5000, and the first commercial 5G device powered by it, the Huawei 5G CPE Pro.
These new products will provide consumers with a brand new 5G experience across multiple scenarios.
2018
Oct : Huawei unveiled the HUAWEI Mate 20 Series powered by the Kirin 980, Huawei's densest and highest performing system on chip (SoC). This flagship series encompasses four devices: HUAWEI Mate 20, HUAWEI Mate 20 Pro, HUAWEI Mate 20 X and PORSCHE DESIGN HUAWEI Mate 20 RS.
The HUAWEI Mate 20 Series'Matrix Camera System includes Leica Ultra Wide Angle Lens that lets users not only see wider, but also closer with its new macro distance capability.
Oct: Huawei was named the world's 68th most valuable brand in Best Global Brands 2018, released by leading brand consultancy Interbrand. Huawei climbed two places from 2017, and its brand value increased by 14% to US$7.6 billion.
Aug: Huawei unveiled Kirin 980, the world's first 7 nm process mobile phone SoC chipset.
Aug: According to IDC, in the second quarter of 2018, Huawei became No. 2 in global smartphone market share.
May: Huawei is the only Chinese company to feature in the annual ranking of the world's Most Valuable Brands 2018 compiled by Forbes with a brand value of US$8.4 billion.
Mar: Huawei unveiled HUAWEI P20 series smartphones and Porsche Design HUAWEI Mate RS. HUAWEI P20 Pro scored 109 from DxOMark, which was the highest score so far.
Feb: Huawei unveiled the HUAWEI MateBook X Pro, the HUAWEI MediaPad M5 Series
2017
Oct: Huawei announced the HUAWEI Mate 10 Series, which will open the door to new AI mobile applications by combining innovative hardware, the Kirin 970 chipset and EMUI 8.0.
Sep: Interbrand announced its 2017 Best Global Brands Report and confirmed Huawei's move to No.70. Brand valued at USD $6.676 billion, growing by 14% over the past year.
Sep: Huawei unveiled the Kirin 970 at IFA 2017. Kirin 970 was awarded IFA 2017 Best Product by Android Authority.
Aug: HUAWEI P10 took the title of "EISA Smartphone Camera 2017-2018" and the WATCH 2 was "EISA Wearable 2017-2018" from the European Imaging and Sound Association.
Jul: Huawei's 2017 H1 Smartphone shipments rose to 73.01million, a year-on-year increase of 20.6%.
Jun: Huawei was ranked No. 49 on the Brand Z Top 100 Most Valuable Global Brands 2017 rankings.
May: Forbes released its list of the Most Valuable Brands of 2017. HUAWEI ranked the 88th with a brand value of $7.3 billion, and was the only Chinese brand making the list.
Feb: Huawei unveiled its second-edition smartwatch, the HUAWEI WATCH 2 and Porsche Design HUAWEI Smartwatch.
Feb: Huawei launched the HUAWEI P10 and HUAWEI P10 Plus. The smartphones showcase striking colors and finishes, and introduced new Leica front and back cameras.
2016
Nov: Huawei unveiled HUAWEI Mate 9 and Porsche Design HUAWEI Mate 9 in Munich, Germany.
Oct: Huawei was listed again on Interbrand's list of 100 Best Global Brands 2016, moved up 16 spots, ranked 72nd and was one of the top risers in tech category.
Sep: Huawei and Leica announced the opening of the Max Berek Innovation Lab that will support further R&D around optical systems, VR, AR and software-based technologies.
Sep: Huawei released HUAWEI Nova, HUAWEI MediaPad M3 and HUAWEI P9 in red and blue.
Aug: Huawei established Huawei HiLink Smart Home Ecosystem. Huawei HiLink smart home solutions, smart home APP and smart products of various partners were released as well.
Aug: HUAWEI P9 won European Consumer Smartphone 2016-17 at EISA Awards (European Imaging and Sound Association).
Jun: Huawei established Mathematical and Algorithmic Sciences Lab in France to strengthen Huawei's capabilities in basic science, especially in algorithm.
Apr: London, UK, Huawei launched the first dual Leica lens smartphone series-HUAWEI P9, setting a new standard in smartphone photography.
Mar: Huawei named Lionel Messi as its brand ambassador.
Feb: Huawei released HUAWEI MateBook at 2016 MWC. Meanwhile HUAWEI MateBook won 15 awards.
Jan: Huawei together with international luxury brand Swarovski revealed the first female Android Wear™ HUAWEI WATCH Jewel and Elegant at CES
2015
Nov: Huawei launched flagship HUAWEI Mate 8 and released HUAWEI Watch Chinese Edition on the same day.
Nov: Huawei revealed HiSilicon Kirin 950 chipset. It is the first commercial 16FF+ mobile SoC on the market and the first that has the big.LITTLE architecture of a quad-core Cortex-A72 2.3GHz along with a quad-core Cortex-A53 clocked at 1.8GHz.
Oct: Huawei climbed to the 88th spot on 2015 Interbrand Top 100 Best Global Brands.
Sep: Google unveiled Nexus 6P, a new piece created by Huawei and Google, at the launch event in San Francesco. It was called "the Android smartphone that tempts Apple fans".
Sep: Huawei launched new flagship smartphone Mate S with innovative Force Touch technology at the IFA, in Berlin, Germany. Huawei Watch released at the same time.
Aug: Huawei P8 received "European Consumer Smartphone 2015 – 2016" award from EISA.
May: Huawei was listed in Brand Z's Top 100 Valuable Brands, ranked 16th in the tech brands. According to Brand Z, Huawei's brand value topped USD 15.335 billion in 2015.
Apr: Huawei launched annual flagship smartphone P8 and P8max with 6.8 inch screen.
Mar: Huawei opened Paris Aesthetics Center, which is staffed by 10 designers specializing in luxury design, fashion, automotive, 3D, digital, and brand strategies.
Mar: Huawei launched Huawei Watch, TalkBand B2, and TalkBand N1, the next-generation phablet, MediaPad X2, and the brands vision, "Dreams Inspire Creativity".
2014
Sep: Huawei unveiled the several flagship smartphones, include Ascend Mate7, Ascend G7, Ascend P7 Sapphire Edition and EMUI 3.0, in Berlin, Germany.
Aug: Ascend P7 awarded 'European Consumer Smartphone 2014 – 2015' by EISA.
Jun: Huawei launched Kirin 920, the industry-leading octa-core chipset.
May: Huawei unveiled the 4G LTE Ascend P7, one of the world's slimmest smartphones (6.5mm).
Feb: Huawei introduced the 7-inch 4G LTE-enabled MediaPad X1, Ascend G6 4G smartphone, and the world's first LTE Cat6 Mobile WiFi called Huawei E5786.
Jan: Huawei launched the first LTE-enabled Huawei Ascend Mate2 4G, a high-end flagship smartphone with speeds of up to 150 Mbps, at the Consumer Electronics Show in America.
2013
Dec: Huawei introduced Huawei's subsidiary independent brand Honor in China, and unveiled Honor 3C, 3X and E5730.
Jun: Huawei launched a new generation smartphone Huawei Ascend P6 in London, one of the slimmest smartphone worldwide.
Feb: Huawei announced the new global consumer "Make it Possible" brand campaign at the Mobile World Congress in Spain.
Feb: Huawei introduced the world's only and first LTE Cat4 Ascend P2 smartphone at the Mobile World Congress in Spain.
Jan: Huawei unveiled the 6.1-inch Huawei Ascend Mate with the world's largest screen and Huawei's first Windows Phone 8 smartphone, Ascend W1, at the CES in America.
Jan: Huawei launched the Huawei Ascend D2, a high-end flagship smartphone featuring a 5-inch HD 443 PPI Super Retina screen, at the Consumer Electronics Show in America.
2012
According to IDC, Huawei was the world's third largest smartphone manufacturer in Q4.
Feb: Huawei launched the Huawei Ascend D1 quad, the world's fastest quad-core smartphone, at Mobile World Congress in Spain.
Jan: Huawei introduced the new Huawei P serials of fashion smartphones at CES in America by launching the Huawei Ascend P1 S(6.68mm)was the world's slimmest smartphone.
2011-2003
2011 Aug: Huawei debuted its cloud service, and introduced the world's first cloud-enabled smartphone, Huawei Vision.
2011 Mar: Huawei sold over one million C8500 smartphones in China within 100 days of its official launch.
2010 Sep: Huawei launched the first IDEOS smartphone with Google's Android 2.2 operating system at IFA in Germany.
2010 Aug: Total shipments of Huawei's mobile broadband products reached 100 million units.
2009 Feb: Huawei debuted its first Android smartphone and announced its cooperation with T-Mobile at the Mobile World Congress in Spain.
2008 Nov: Huawei's E180 was named the 'Best Mobile Broadband Product' at the Asia Mobile Awards.
2007: Huawei achieved global recognition for its mobile WiFi design, receiving the Red Dot Design Award for the E270, and the IF Product Design Award for the E172.
2006 Jun: Huawei launched the world's fastest and most compact HSDPA USB Modem, the E220, in Singapore.
2005 Jun: Huawei's first 3G mobile phone, the U626, was awarded the 'Best 3G Smartphone' by the Charlton Media Group.
2004 Feb: Huawei exhibited China's first WCDMA mobile phone at the 3GSM Conference in Cannes, France.
2003 Jul: Huawei established its handset department.